Western Digital Delivers WD Blue SN550 Value Gaming SSDs With 2.4GB/s Performance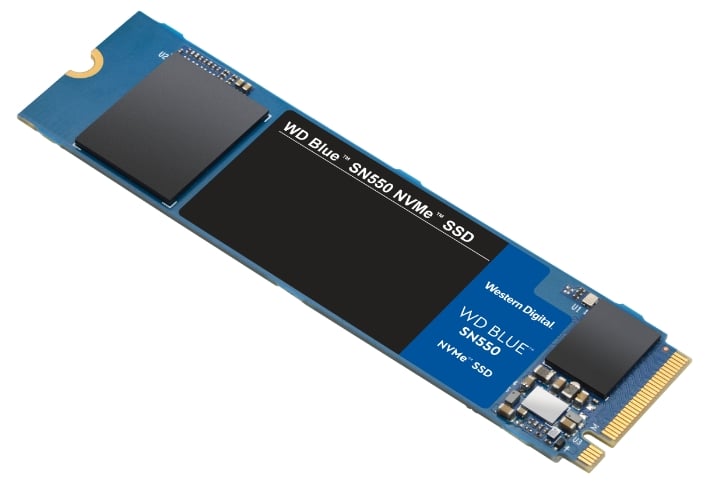 Western Digital today announced its new WD Blue SN550 family of SSDs, which will in effect replace the
existing SN500 SKUs
. These aren't the company's highest-performing storage solutions, but they do offer a compelling balance of good performance at reasonable price points for those looking to replace a HDD or simply build a low-cost gaming rig.
WD SN550 SSDs uses a 4-lane PCIe 3.0 interface along with a Western Digital-designed SSD controller and an in-house 96-layer 3D TLC NAND. Although these are considered entry-level PCIe SSDs, they offer a significant boost in performance over Western Digital's existing SATA products, with the company citing a 4x uplift in read speeds.

Western Digital is offering the WD SN550 family in three storage configurations: 256GB, 512GB, and 1TB. Sequential reads for all three SKUs are rated for the same 2.4GB/sec, while sequential writes are dependent on storage size. As you might expect, the 250GB SKU puts up the poorest showing here at 950MB/sec, while the 1TB SKU delivers the best sequential write performance at 1.9GB/sec. Random reads range from 170K IOPS (256GB) to 410K IOPS (1TB), while random writes range from 135K IOPS (256GB) to 405K IOPS (1TB).
"The WD Blue SN550 is a great option for customers looking for an all-NVMe portfolio," said Eric Spanneut, Western Digital VP and GM for the Client Business Unit. "For a system builder, it means Western Digital delivers a full portfolio of NVMe and SATA SSDs, as well as high-capacity hard drives. This gives them immense flexibility to build systems for our customers' varying needs."
The new WD SN550 family is priced at $54.99, $64.99, and $99.99 respectively for the 256GB, 512GB, an 1TB SKUs, and all come backed by a 5-year warranty. However, expect for those prices to start falling once they enter the channel.