WD Gives Seagate A Run For Its Money With Xbox Expansion Cards As Games Balloon In Size
It took a hot minute but there's finally some competition to leverage the expansion port that Microsoft built into its Xbox Series X|S game consoles. Specifically, from Western Digital with its new and officially licensed WD_Black C50 lineup. Like the expansion cards that Seagate offers, the WD_Black C50 drives tap into the Xbox's
Velocity Architecture
for hyper-fast I/O performance.
This is key because it means you're getting similar performance to your Xbox's internal storage, but in an external and portable form factor. As such, the plug-and-play drives make it easy to take your games from one console to another, which can come in handy if you want to take your catalog to a friend or family member's house. The real benefit, though, is competition.
Since the launch of the
Xbox Series X|S
in 2020 and up until now, Seagate was the only game in town for the coveted expansion slot. Seagate initially offered a 1TB card for $219.99, then later added 2TB and 512GB options for $399.99 and $139.99, respectively. Oof, right?
Perhaps catching wind of WD's pending launch, Seagate recently dropped the price of all three models to
$279.99
(2TB),
$149.99
(1TB), and $89.99 (512GB). The 512GB model is hard to find in stock from a first-party seller, but all three capacities now carry much more palatable MSRPs.
Meanwhile, Western Digital enters the fray with two capacity options—
1TB for $149.99
and 500GB for $79.99. The 1TB model is available to preorder at Amazon (it releases on July 7), while the 500GB model appears to only be listed at
WD's webstore
for the time being.
"As game files get larger, the WD_Black C50 Expansion Card for Xbox is the fast and easy way to give your Xbox Series X|S a big capacity boost and keep more titles installed. Just plug this officially licensed card directly into the console for similar performance as the Xbox internal storage. Included with your purchase is a 1-month membership of Xbox Game Pass Ultimate," WD explains.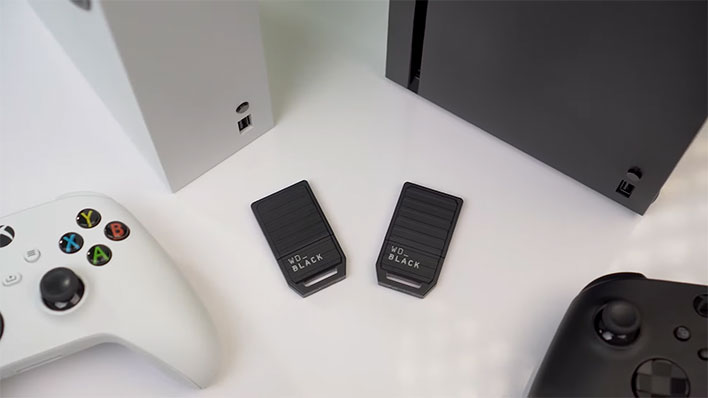 To WD's point, it's not unusual for games to take occupy 100GB of space or more. For example,
Star Wars Jedi: Survivor
takes up 139GB on the Xbox Series X (though 'just' 44GB on the Xbox Series S), while
NBA 2K23
chews up around 152GB of storage space.
Note that the Xbox Series X comes with a 1TB NVMe SSD tucked inside, and the Xbox Series S has just 512GB. In terms of usable space (the OS and other bits eat up some of the storage), you're looking at around 802GB on the former and 364GB on the latter.
These expansion cards offer a way to squeeze more games onto your console while not giving up much performance. And with WD getting in on the action, pricing is much better than it was (though the PC platform still wins, in terms of bang for your buck in the realm of storage).