Virgin Galactic Is Launching Civilian Astronauts To Space Today, How To Watch It Live
Virgin Galactic is preparing for its first launch of civilian astronauts into space this morning. The flight will include two pilots, a company representative, and three inspirational private customers.
Virgin Galactic, owned by British billionaire Richard Branson, has been promising to start taking private citizens into space for quite some time now. The company will do so in a manner quite different from that of Jeff Bezos'
Blue Origin
, however, utilizing a rocket-powered space plane, the VSS Unity, to achieve space flight. The entire event will be live-streamed on Virgin Galactic's website this morning.
The crew and passengers will begin their journey in New Mexico, where they will board the VSS Unity which is attached beneath a wing of the mothership, called VMS Eve. Once onboard, VMS Eve will take off like any other plane and navigate its way to more than 40,000 feet (12,192 meters). Once Eve obtains the needed altitude, Unity will be released as it fires its rocket engine for approximately one minute while traveling upward.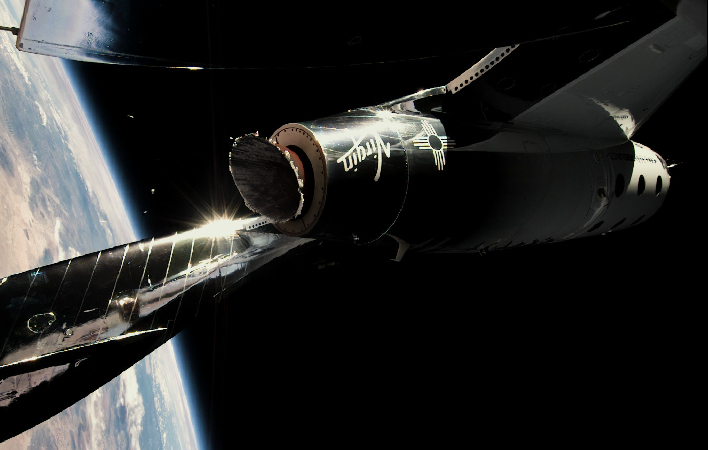 Unity is slated to travel more than 50 miles (80 kilometers) above Earth, which is the altitude the American government considers to be the edge of outer space. Like those traveling on a Blue Origin space flight, the passengers on VSS Unity will experience weightlessness for a few minutes as it begins to glide back toward Earth. The flight is expected to last around an hour and a half.
Two of the civilian passengers, Keisha Schahaff and Anastatia Mayers (mother and daughter), won their seats onboard VSS Unity from a
drawing
that raised $1.7 million in grants for Space for Humanity.
"When I was two years old, just looking up to the skies, I thought, 'How can I get there?' But, being from the Caribbean, I didn't see how something like this would be possible," remarked Schahaff. "The fact that I am here, and the first to travel to space from Antigua, shows that space really is becoming more accessible."
Fellow civilian, Jon Goodwin, purchased his ticket when Virgin Galactic first opened its sales more than a decade ago. Goodwin, who has Parkinson's disease, stated he was not about to allow his health affliction to stand in his way of being a part of this flight.
"And now for me to go to space with Parkinson's is completely magical," added Goodwin. "I hope this inspires all other facing adversity and shows them that challenges don't have to inhibit or stop them from pursuing their dreams."
For those wanting to watch the event live, it can be viewed above or via
Virgin Galactic's website
beginning at 11am EDT today.