Verizon Fios Shakes Up Cable Market With Mix & Match, Contract-Free Plans
One of the most frustrating aspects of cable bundles is paying for a bunch of channels you do not need.
Verizon
wants to turn this traditional system on its heads nd has just introduced their Mix & Match on Fios. These plans will allow customers to mix and match internet and television plans.
According to Frank Boulben, Senior Vice President of Consumer Marketing and Products at Verizon, "Customers are tired of having to buy a bundle with services they don't want to get the best rates, and then discover that those rates didn't include extra fees and surcharges. We're putting an end to the traditional bundle contract and putting customers in control." Their main purpose is to give customers more choices and more "transparency".
Users will first choose from three internet plans -- 100 Mbps, 300 Mbps and 1Gbps connections. The 100 Mbps plan will ring in at $39.99 USD a month, the 300 Mbps plan will cost $59.99 a month, and the Gigabit Connection plan will be $79.99 a month. It is important to note that Gigabit Connection customers will get
Fios
Home Router with Wi-Fi 6 technology rental for free, while other customers will need to pay an additional $15 a month for the router. Gigabit Connection subscribers will also get a $100 Visa Prepaid Card and
a year of Disney+ for free
.
Customers will then pick their TV plan. The Fios TV Plan gives customers more than 125 channels for $50 a month. Customers can pick their top five channels, and Verizon will recommend a plan based on their preferences. The More Fios TV Plan gives users more than 300 channels, including regional sports, for $70 a month. The Most Fios TV Plan offers more than 425 channels, including sports and movie channels, for $90 a month. Last, users can subscribe to the
YouTube TV
Plan for $49.99 a month. This plan includes local news and sports channels. Fios TV and More Fios TV Plan customers will still need to pay an additional $12 a month for the Set-Top Box.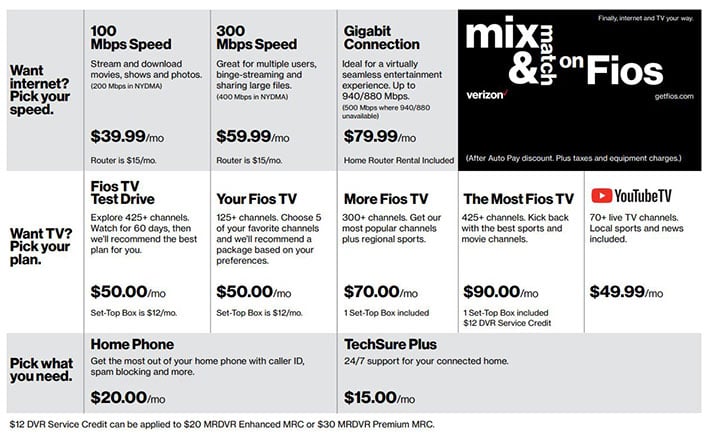 If you are a little unsure about Verizon's new plans, you can test them out with their Fios TV Test Drive. Users will have access to more than 425 channels for 60 days for $50 a month. Verizon will then recommend what plan they believe would be the best for you. You could also add on a Home Phone plan for $20 a month or a TechSure Plus Plan, which provides 24/7 tech help, for $15 a month. It is also important to note that these plan prices do not include taxes or set-up fees.
Is this truly a good deal? On one hand, it is nice to see that Verizon is open to mixing and matching plans. Every person's needs are different. On the other hand, $50 (plus $12 a month for the Set-Top box) could still feel rather steep. On average, most Americans only watch about 20 channels in their households. Verizon's new plan is hardly as "disruptive" as it claims to be, but overall it does seem like a step in the right direction.