Major Astronomy Observatories Go Dark Amid US Space Hacking Campaign
Earlier this month, researchers at the National Science Foundation's NOIRLab detected and responded to an unknown
cybersecurity
incident on its network. While security teams were reportedly quick to isolate the incursion, it shuttered the lab's astronomical observatory operations and shines a spotlight on the ever-increasing threat against space-related information technology assets.
On the morning of August 1st, the security team at NOIRLab
detected a cybersecurity incident
on its computer systems, triggering a response. Though it is unclear what this incident actually entailed, it is reported that this "[forced] the suspension of astronomical observations at Gemini North in Hawai'i" to prevent damage to the observatory. While this was happening, the Gemini South observatory, located in Chile, was offline for engineering work and will subsequently remain offline as the investigation continues.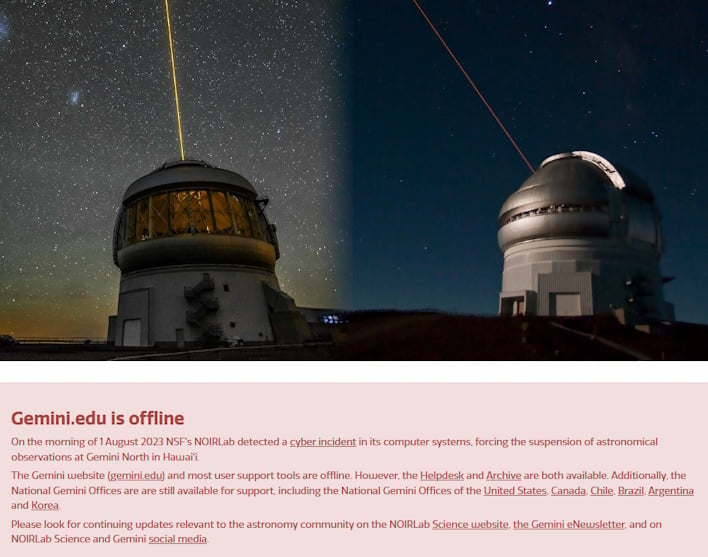 Further, other related observatories on Cerro Tololo in Chile were disconnected as a precautionary protective measure. With this, all observatories, as well as the Gemini website, remain offline as of writing, and it is still being determined when exactly astronomers will be able to fully resume regular operations. However, this incident certainly shines a light on the problem of space-related infrastructure being hacked as the industry grows.
Before this attack, the National Counterintelligence and Security Center
published a bulletin
about safeguarding the US space industry and how it has impacts on global competition, national security, and economic security. Thankfully, however, some of these concerns are beginning to be addressed, especially with competitions like HackASat.
HackASat
is a cybersecurity challenge designed to get people interested in cybersecurity as it relates to space, which, this year, culminated in a final competition at DefCon where participants were attacking an actual satellite in
space
launched as part of an ISS resupply mission.
At the end of the day, we hope that this attack against NOIRLab was not too severe and gives the opportunity to raise awareness for this sort of issue. However, we will have to wait and see how it pans out shortly, but in the meantime, let us know what you think of space hacking in the comments below.