Tim Sweeney Teases Fortnite Making An Epic Return To iOS This Year
It has been more than two years since Apple unceremoniously booted Fortnite from the App Store, but Epic's time in the wilderness may be coming to an end. Epic CEO Tim Sweeny posted a teaser that suggests the popular game could be coming back to Apple's platform in 2023, but probably not on the App Store.
Epic
planned to get banned
from the App Store, but the publisher probably didn't expect its absence to be so lengthy. In 2020, Sweeny was publicly agitated about Apple's 30% fee for App Store sales. Epic decided to add a direct payment option to the game, which circumvented Apple's fees and blatantly violated the App Store policy. In retaliation, Apple pulled Fortnite, and Epic filed a lawsuit.
Sweeny's plan probably included
winning
the lawsuit and returning to the App Store as a conquering hero. However, the courts
sided with Apple
, and Fortnite has been unavailable on the iPhone ever since.
The 2023 teaser
most likely doesn't signal any change in Apple's treatment of Epic specifically, but the company is rumored to be preparing for app sideloading in iOS 17. This change, a response to the European Union's Digital Markets Act (DMA), will make it possible to install apps from outside Apple's walled garden. That's what Epic wanted all along, but it took a new EU regulation to make it happen.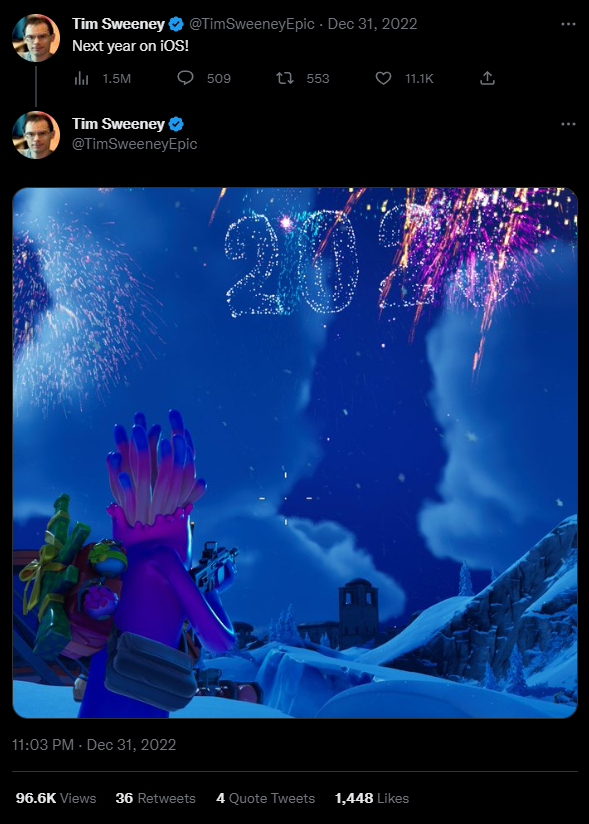 The teaser, which features a Fortnite avatar gazing into the sky with "2023" fireworks, doesn't tell much about how any of this will work—Epic probably doesn't know itself. Apple will probably take the narrowest path to compliance it can. That could mean limits on the features, number, or types of apps you can install from outside the App Store. The sideloading capability might also be limited to Europe. If there's any route to get Fortnite back on the iPhone, Epic is going to take it now that its legal efforts have sputtered out.
If you need your mobile Fortnite fix before iOS 17 launches, you can still stream the game to Apple devices
via GeForce NOW
. You'll get the more capable desktop version of the game, but you need a controller and a robust internet connection to play.