These Free Amazon Ring Camera Features Are Being Stripped Away And Paywalled
Amazon-owned Ring is one of the largest providers of smart home cameras and security products, but any users who were trying to get by with the free service tier might be looking to jump ship soon. According to notices sent out by Ring, the company's cameras and security system will lose several key features in the coming weeks, forcing people who bought the hardware to pay a monthly fee just to keep the devices working like they have since launch.
The Ring Video Doorbell is its most popular product, but it offers a range of other smart home cameras, all of which support
end-to-end encryption
. All those devices
will get a downgrade on March 29th
. On that day, only paying subscribers will have access to the Home and Away modes. For the uninitiated, all smart camera systems have some version of this functionality. In Home mode, your cameras know you're going to be there, probably wandering through the frame of a security camera every now and then. So, it doesn't pester you with notifications. In Away mode, the cameras will make sure you know if they see something.
Home and Away functionality is a core part of the experience, and it's been included on Ring hardware since launch. Similar features are free on competing systems from
Google
, TP-Link, and others. Ring is also limiting Alexa functionality for the cameras unless you have a paid subscription.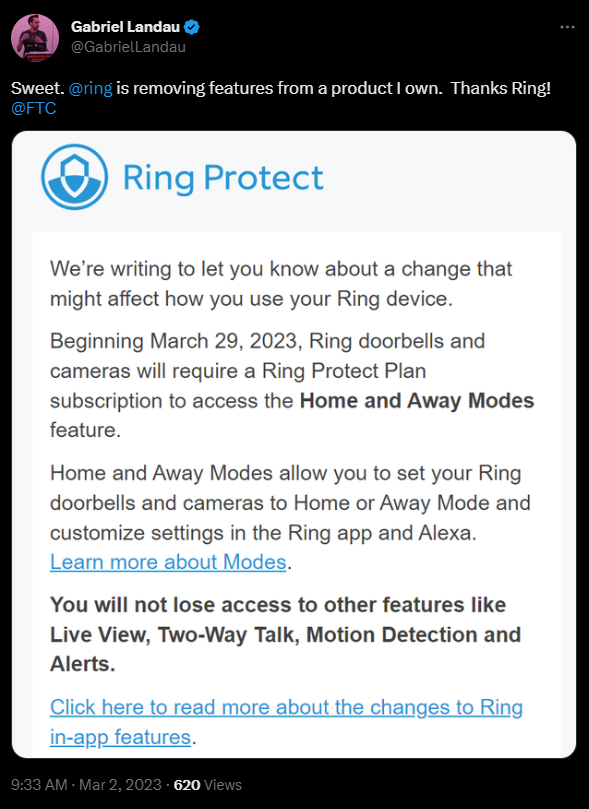 Ring's Alarm security suite is also losing features for free users. Starting on the same day, March 29th, new Ring Alarm systems won't allow toggling Home and Away mode from the app or Alexa. Instead, you'll have to use the physical keypad. This functionality is possibly even more essential to a security system than it is for a camera, but there is one small mercy here. The Alarm changes only apply to newly purchased systems. Current users won't lose app functionality, at least for now.
Naturally, Ring customers are not pleased with the changes, with many pledging to drop the brand and move to a competitor. However, that's easier said than done if you've spent hundreds of dollars on Ring hardware. Those who choose to stay with Ring products might have no choice but to pay for a Ring Protect subscription, which starts at $4 per month for a single camera. The $10 per month plan includes multiple cameras, and the $20 tier adds professional monitoring for Ring Alarm users.