TCL Mini-LED TVs To Take On OLED Image Quality At Lower Costs For CES 2020 Debut
Brighter, more vibrant TVs are coming as the industry at large continues to push the envelope, with companies trying to separate their respective products from one another. Incidentally, TCL has been a big player in this space. TCL recently laid claim to the "world's first TV with mini-LED technology" with its
8-series
, and now the company tells us it plans on showcasing the next-generation of
mini-LED technology
at the Consumer Electronics Show (
CES
) in Las Vegas next month.
The company has aspirations of being "a dominant player in the global TV industry," and pushing mini-LED technology is one way to get there. As currently utilized, TCL's higher-end models leverage mini-LED backlighting, with over 25,000 thousand mini LEDs collectively beaming a brighter picture than what is typically had from edge, direct, or full-array backlighting.
"With a traditional backlight, there are LEDs that 'shine' through the LCD layer of the TV, and that's how you get your picture. Traditionally, the number of LEDs range from a dozen or so on a basic LED TV, but can go up to a few hundred on some of the best full-array, local dimming sets...With our new mini-LED backlight, TCL has delivered a quantum-leap in the number of LEDs, with more than 25,000 on the 75-inch 8-Series," TCL explains.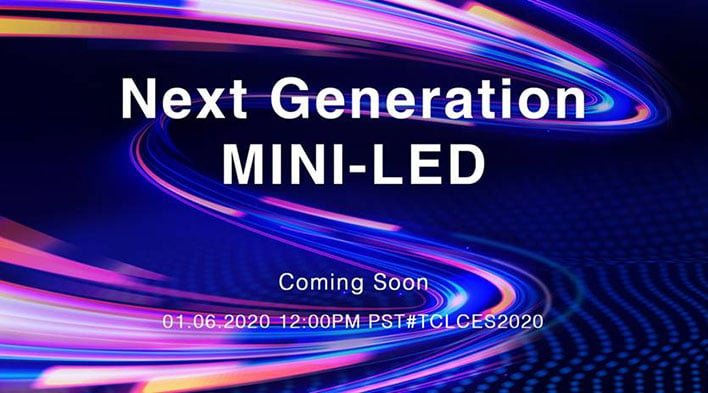 It's not clear what changes
TCL
will bring to the table at CES when it displays TVs based the next-generation of mini-LED technology. Perhaps even more LEDs, or the company could simply be talking about supplementary features that work in conjunction with the backlight. We'll have to wait and see. All TCL is really saying right now is that it will "raise the bar" during its unveil.
Mini LED technology is interesting because it can produce brighter images than an
OLED
screen, and without the side-effect of burn-in. To be fair, OLED technology has made strides in preventing burn-in, but it is still a downside, particularly with watching bright, static content (news tickers, game HUDs, and channel logos, for example).
It also sets the stage for an interesting showdown between TCL and
LG
, the latter of which has been cranking out OLED TVs at a furious pace.