Steam Deck Is Getting Undervolting Controls, Here's How To Access Them Now
Valve's latest preview update for the Steam Deck's SteamOS, version 3.5.1, is largely a patch for bugs but includes one big ticket feature enthusiasts have been clamoring for: undervolting. This is thanks to the version 118 BIOS firmware that this preview update also introduces, and while it gets rid of the old overclocking settings, undervolting is arguably the more coveted and useful feature for tinkerers. If you're looking for a way to breathe new life into your Deck while
waiting for its successor
, this is probably it.
All CPUs, like the AMD APU in the Steam Deck, operate on what's called a frequency-voltage curve. Basically, a higher frequency (which offers better performance) requires more voltage, and that in turn also increases power consumption. The less voltage you need for a higher frequency, the better, because it means more efficiency, or more performance at a lower power consumption. However, not all chips are equally good, and chip makers like AMD tend to apply the same frequency-voltage curve to all chips to provide a consistent experience, even to processors that can do better.
The new undervolting menu in the Steam Deck's BIOS allows you to undervolt three key components in the Deck APU: the CPU cores, the GPU cores, and the SOC. The options are somewhat limited though, as you can only undervolt in 10 millivolt (or mV) increments, and the maximum undervolt you can do is negative 50mV on each component. While 50mV might not sound like much here or there, it can make a fairly decent difference over a long period of time. Given the quality variance of these APUs, not all of them will be able to even hit -50mV.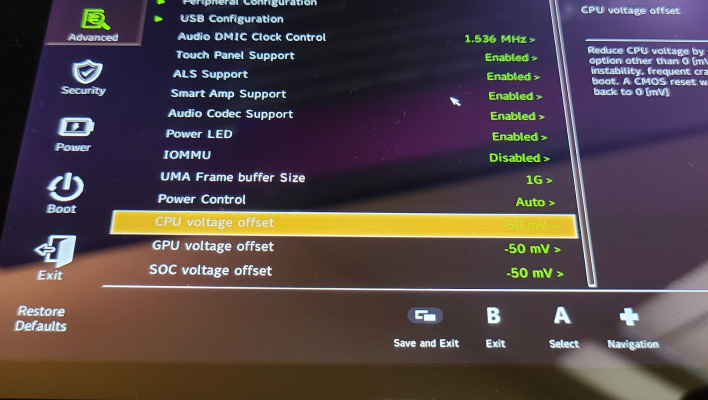 To get the
SteamOS 3.5.1 update
yourself and to start undervolting your Steam Deck, all you have to do is go to the Settings menu, the System submenu, and then switch yourself over to the
Preview update channel. Then download the update (make sure your battery is at 20% or more, otherwise you won't get the new BIOS), apply it, turn your Deck off, and then turn it back on by pressing the power button and the increased volume button at the same time to get into the BIOS.
To find the undervolting options, go to the Setup Utility menu at the bottom right, open up the Advanced settings tab, and scroll to the very bottom. Above you can see that I've applied -50mV to everything on my Deck, but unfortunately it wasn't entirely stable and I experienced weird slowdowns when navigating SteamOS, so I'll have to dial back my offsets so that my Deck is more stable.
On a very low quality chip though, it's possible that you apply so little voltage your Deck can't even boot. However,
SteamDeckHQ
reports that Valve predicted this would happen with some users, so this new BIOS also comes with a way to reset it., All you need to do is hold the decreased volume button, the triple dot button, and the power button at the same time. Then you can reenter the BIOS as normal and apply a weaker offset or just forget about it entirely.