A $99 Steam Deck Display Upgrade Is Coming With A Higher Resolution And This Other Perk
Valve may not be in a rush to release a
second-generation Steam Deck
console, but as is the case with many types of PC systems, you can take matters into your own hands and upgrade certain components for added oomph. One of those is the display, or at least it soon will be. FX Technology Limited is teasing a higher resolution 'DeckHD' screen that it says is like putting your "Steam Deck on steroids."
DeckHD retains the same 7-inch form factor as the
Steam Deck
's display, and it's also an In-Plane Switching (IPS) panel like that one. However, it bumps the resolution up from 1280x800 (Steam Deck) to 1920x1200 (DeckHD), with the same 60Hz refresh rate and 400 nits of brightness. It also features an anit-glare coating, which is an amenity only found on the top Steam Deck SKU.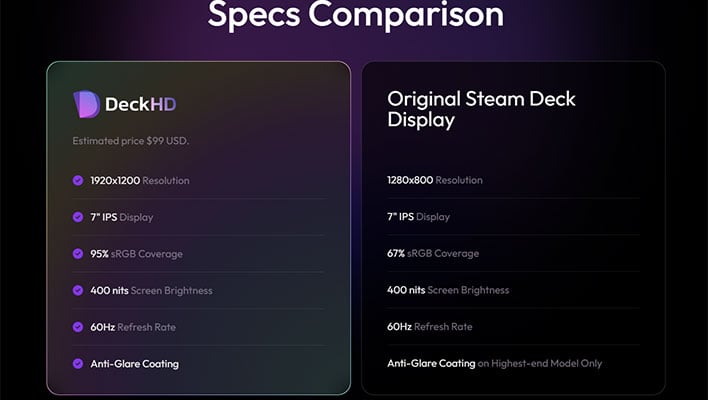 Beyond the bump in resolution, DeckHD is poised to offer an upgrade in visual fidelity. In theory, anyway—according to the spec sheet, it achieves 95 percent coverage of the sRGB color space, compared to 67 percent sRGB coverage on the Steam Deck's original display. For those who prefer an AdobeRGB comparison, the split is 74 percent (DeckHD) versus 45 percent (Steam Deck).
The
ASUS ROG Ally
, meanwhile, also features a 7-inch IPS display, but with a 1920x1080 resolution, 120Hz refresh rate, 500 nits brightness, and 100 percent coverage of the sRGB color space.
While a wider color gamut alone doesn't necessarily guarantee superior visuals, that's often the case. DeckHD is also packing more pixels into the same physical real estate for a tighter PPI (pixels per inch) configuration, so we can reasonably assume that it's an overall visual upgrade.
There are a couple of caveats, though. For one, this means performing surgery on your Steam Deck that extends beyond a typical PC upgrade. You can reference
iFixIt's guide
on replacing the Steam Deck's screen to see how involved the process is, but you're looking at dozens of steps.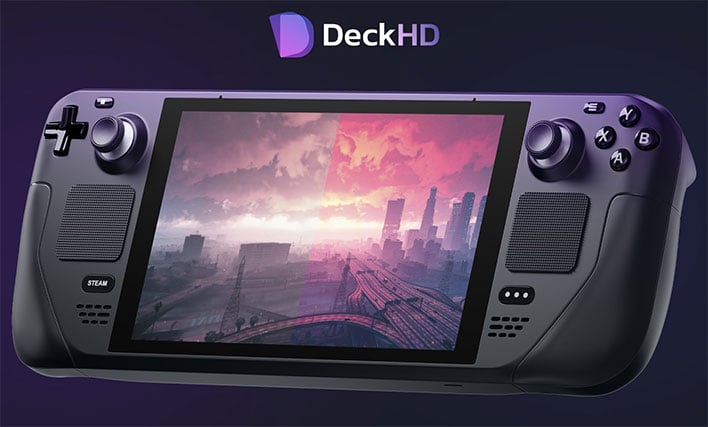 The other caveat is that not all games will run well at 1920x1200, depending on the specific title and settings. Valve's Steam Deck is powered by a custom AMD chip with a 4-core/8-thread CPU based on Zen 2 and 8 RDNA 2 compute units, and performance is bound by what the SoC can handle.
That said, the DeckHD is still an intriguing option. It's not yet clear when it will release, but you can sign up for the
DeckHD waitlist
. Pricing is expected to be around $99. Perhaps if there's enough interest, we'll see an OLED upgrade option at some point.