SK Hynix Takes Density Lead With Mass Production Of 238-Layer 4D NAND Flash Memory
It was around 10 months ago when
SK hynix
announced the development of 238-layer triple-level cell (TLC) NAND flash memory, which it markets as "4D" technology, and now it has entered the mass production phase. In doing so, SK hynix paves the way for faster and potentially cheaper solid state drives (SSDs) and smartphone storage.
SK hynix has been using the 4D label for at least a couple of years now. What that basically refers to is placing peripheral circuits under the cell, which itself is dubbed periphery under cell (PUC) technology. It's not really a new dimension, though, but refers to certain logic placement.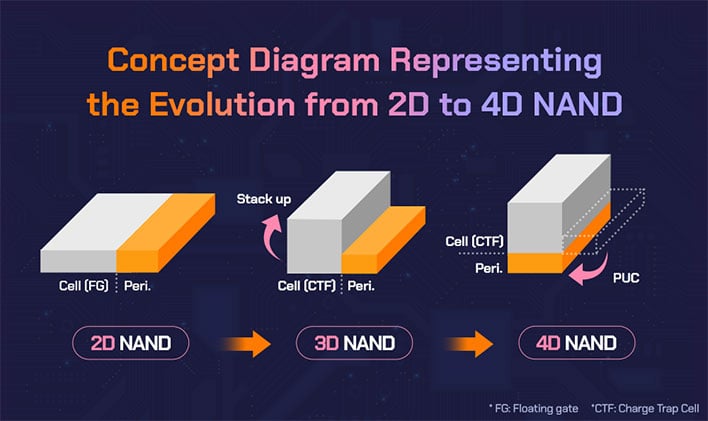 By moving them under the circuits (as opposed to the side), SK hynix is able to reduce chip space, as visualized in the diagram above. Competing stacking solutions like
Micron's 232-layer NAND
employ a similar scheme called CMOS Under the Array (CuA).
"Two other core competencies that are applied to its 4D NAND products include Sideway Source, a technology that horizontally connects the source, and Advanced CTF, that stores electric charges in a CTF (Charge Trap Flash)," SK hynix explains.
In any event, SK hynix says its 238-layer 4D NAND has a 34 percent higher manufacturing efficiency versus its previous-generation 176-layer NAND. One of the major upshots is a "significant improvement in cost competitiveness." Or put another way, potentially higher margins for SK hynix.
"We will continue to overcome NAND technology limitations and increase our competitiveness so that we can achieve a bigger turnaround than anyone else during the upcoming market rebound," said Jumsoo Kim, Head of S238 NAND at SK hynix.

For consumers, there's also a performance uplift. SK hynix's 238-layer NAND can achieve a data transfer speed of 2.4 gigabits per second (Gbps). That's a 50 percent jump from the previous generation. Likewise, the company claims its latest NAND delivers around a 20 percent increase in read and write speeds.
Expect to see
SK hynix's 238-layer 4D NAND
in smartphones first, as it's currently conducting compatibility tests with its smartphone partners. Then down the line, SK hynix says it will expand the reach of its 238-layer 4D NAND across its product portfolio, and it specifically mentioned
PCIe 5.0 SSDs
(as well as high-capacity server SSDs).