Sealed First-Gen iPhone Calls Bidders To Auction In Hopes Of Fetching $50,000
If you know anyone who owns an original iPhone (as in, the first-gen model released in 2007) that's still sealed in its original retail packaging, do them a solid and let them know it could be worth big money. We already saw an
OG iPhone fetch over $39,000
at auction last October, and now another one has emerged with the seller hoping to rake in an even higher amount.
Once again, the first-gen iPhone is being offered up to bidders by LCG Auctions, the auction house that sold a factory-sealed iPhone for $39,339.60 just a few months ago. There were 28 bids placed on that one. It remains to be seen how many bids this follow-up act will attract, only that the auction house expects it to sell for at least $50,000.
The original first-release iPhone in factory sealed condition is widely regarded as a blue-chip asset amongst high-end collectors," LCG Auctions says. "There's little doubt that interest in culturally relevant collectibles is rapidly increasing, and despite the impressive sales numbers, many believe the space is still in its infancy."
Two months before a factory-sealed OG iPhone fetched over $39,000 at auction, another one sold for north of $35,000. So why might this one top $50,000, if the auction's house estimate proves correct?
For one, these sealed, original iPhone models are proving hugely popular among collectors, even though it's a piece of tech that's just 15 and a half years old. Secondly, Apple items are red hot—an
original Apple-1 prototype
that Steve Woz hand-soldered for Steve Jobs sold for over $600,000 last summer. And third, this particular item that's up for auction has an interesting backstory.
It's owned by Karen Green, now a tattoo artist who received the iPhone as a gift from friends to celebrate her getting a management job at Petsmart at the time. While a thoughtful gesture, Green was already signed up with Verizon with three phone lines, and the original iPhone was exclusive to AT&T when it first came out. So, it sat unused and unwrapped all this time.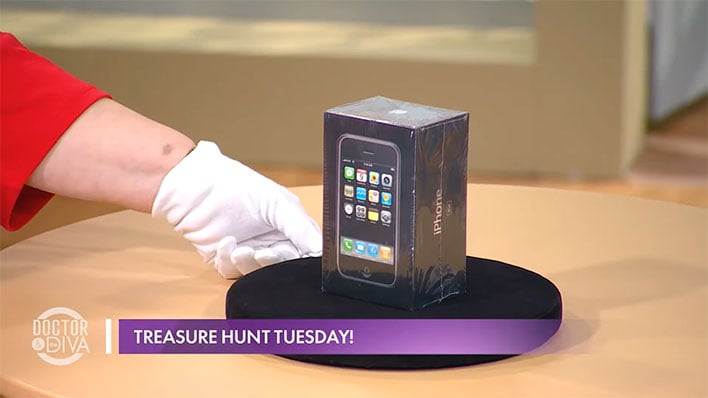 Source: Doctor & The Diva via YouTube
This particular unit has also been featured on the
Treasure Hunt segment
of "The Doctor & The Diva," a syndicated TV show. The episode aired in 2019. One of the hosts estimated the value at $503, while another guessed it was worth $1,500. Taking into consideration that this is the 8GB model rather than the base 4GB version, an antiques appraiser that appeared on the show valued the sealed iPhone at $5,000.
Green was wise not to sell the iPhone for that amount. Having waited just a few more years to offer it up for auction, she may rake in more than 10 times that appraisal, minus whatever fees and commission might be involved.
In an interview with
Business Insider
, Green explains that she would hold onto the phone for at least another 10 years if she could. However, she wants to sell it now and use the money to support her New Jersey-based cosmetic tattoo studio called Tattician.
At the time of this writing, the high bid for the
iPhone at LCG Auctions
sits at $2,500, with 16 days left to go. It will undoubtedly fetch much more than that, but where it lands is anyone's guess.
Top image courtesy of LCG Auctions