Samsung Reveals Pricing For Fan-Requested 4TB 990 Pro SSD Arriving In October
After
teasing a 4-terabyte
(TB) capacity addition to its flagship 990 Pro solid state drive (SSD) lineup last week, Samsung has now revealed when it will be available and how much it will cost—it releases next month with pricing north of $300 for both the standalone 4TB drive and the version that comes with a heatsink attached for better heat dissipation.
Samsung stopped short of offering up a specific release date, but did say the 4TB model will be available from its webstore and "select retailers" in October. The MSRP for the standalone drive has been set at $344.99, while the version that comes with a heatsink will cost $354.99.

Pricing is kind of all over the place for high-speed 4TB capacity SSDs that drive in the same (or similar) fast PCIe 4.0 lane as the 990 Pro. We shared some examples when first covering the 4TB drive teaser last week and pricing has shifted on some of the models. Here's an updated list with current pricing (at the time of this writing)...
Samsung's pricing on its upcoming 4TB 990 Pro is right in the mix with the competition, albeit at the higher end of the spectrum. We'll have to wait and see if the MSRPs stick and, if so, for how long. For example, here's how current pricing shakes out for the other 990 Pro capacities...
Interestingly enough, Samsung's own webstore lists the 1TB model with a heatsink for $89.99 (down from its $129.99 MSRP), while the standalone drive actually costs $10 more at $99.99 (down from its $119.99 MSRP). Go figure.
"We recognize that people need more innovative storage options to meet their day-to-day needs—whether they're downloading games over 100GB or accessing high-resolution content that shows beautifully vivid detail, the Samsung 990 Pro 4TB series delivers the perfect solution, enabling people to save even more games and content to their libraries without compromising on download or upload speeds," said Jose Hernandez, Senior Director of Memory Product Marketing at Samsung.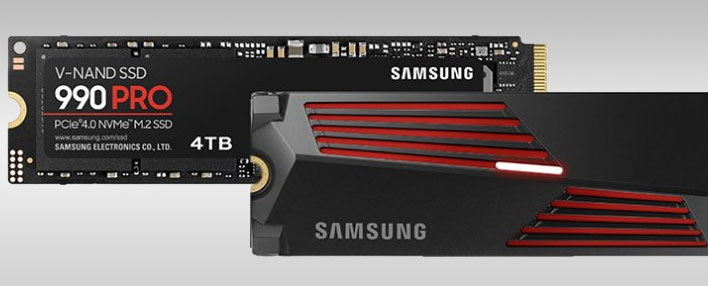 Indeed, Samsung is effectively doubling the maximum capacity of its fastest SSD line. Like the existing 2TB and 1TB models, the upcoming 4TB drive pairs Samsung's own 3-bit triple-level cell (TLC) eighth-gen V-NAND memory with an in-house controller and a chunk of LPDDR4 DRAM (4GB, versus 2GB on the 2TB model and 1GB on the 1TB model) for caching chores.
Rated reads and writes are the same across all three capacities—up to 7,450MB/s for sequential reads, 6,900MB/s for sequential writes, 1,600,000 IOPS for random reads, and 1,550,000 for random writes. To put the sequential read and write metrics into perspective, PCIe 4.0 x4's maximum throughput is 7.88GB/s before accounting for overhead. Be sure to check out our
990 SSD review
to see how our numbers compare with Samsung's.
As for durability, the rated total bytes written (TBW) of Samsung's
4TB 990 Pro
is 2,400TB. As with the other capacities, the 4TB drive comes with a five-year warranty.