Samsung Works With Intel To Develop First DRAM Supporting CXL 2.0
Samsung Electronics has announced development of the industry's first Compute Express Link (CXL) 2.0 memory, and the South Korean semiconductor giant worked closely with Intel to ensure optimal support for
its Xeon platform
.
"Intel is delighted to work with Samsung on their investment towards a vibrant CXL ecosystem," said Jim Pappas, director of Technology Initiatives at
Intel Corporation
. "Intel will continue to work with Samsung to foster the growth and adoption of innovative CXL products throughout the industry."
Samsung Electronics
' new development is a 128GB CXL 2.0 DRAM module with support for the PCIe 5.0 interface with x8 lanes. This amounts to a total bandwidth of 35GB/s which is slower than direct-attached system memory, but CXL 2.0 supports memory switching and pooling which allows multiple hosts to connect and dynamically allocate memory from the shared resource as necessary. This enables data centers to be much more flexible and efficient with compute resources.
CXL is an
open standard
for connecting various memory types to the CPU and is primarily leveraged for high performance data center compute. It is based on PCIe 5.0 and optimized for high-bandwidth, low-latency communication in heterogeneous computing environments. In addition to connecting massive pools of memory, CXL enhances performance with support for memory tiering across different types of memory and remains coherent with a host CPU's system memory.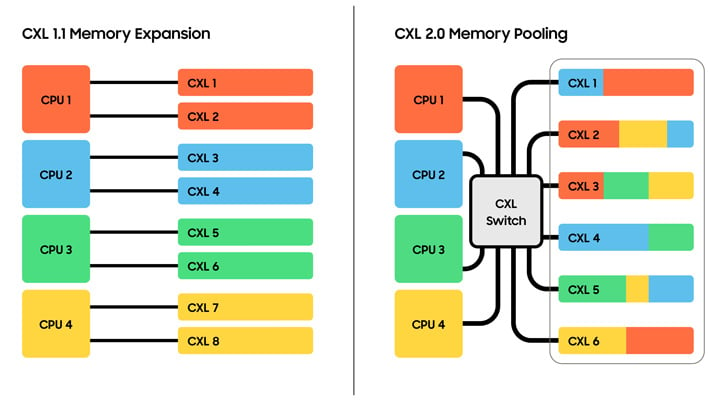 There are three primary types of CXL devices, non-descriptively called Type 1, Type 2, and Type 3. Type 1 is used for specialized accelerators which do not have their own memory, so they need coherent access to the CPU's system memory via the CXL interface. Type 2 is for general-purpose accelerators which do have local memory, but also allows access to the CPU's system memory, or vice versa. Type 3 is for memory expansion and persistent memory, such as the DRAM module announced today, or other forms of non-volatile storage.
"As a member of the CXL Consortium Board of Directors, Samsung Electronics remains at the forefront of CXL technology," said Jangseok Choi, vice president of New Business Planning Team at Samsung Electronics. "This breakthrough development underlines our commitment to expanding the CXL ecosystem even further through partnerships with data center, server and chipset companies across the industry."
Samsung will begin mass production of the CXL 2.0 DRAM later this year and also plans to expand its offerings to cover various capacities to meet the demands of modern datacenters. Samsung will work with Montage to produce CXL 2.0 compliant controllers.
"Montage is excited to mass produce the first controllers to support CXL 2.0," said Stephen Tai, president of
Montage Technology
. "We look forward to continuing our partnership with Samsung to advance CXL technology and expand its ecosystem."
CXL's importance is expected to rise along with the demand for
artificial intelligence
(AI) and machine learning (ML) workloads which require massive amounts of high-speed data processing.