AMD Confirms Great News For Ryzen 7000 Overclockers On Budget Motherboards
Did you read our piece on
AMD's announcements at Computex
? There wasn't a ton of new information, but we did get some juicy details on the red team's upcoming Zen 4 processors and the chipsets that said processors will use, among other things. If you haven't read it, go ahead and do so, because there's important context for this piece in that one.
The slide that accompanied that information made some folks concerned because it listed X670E motherboards as being for "Extreme Overclocking" and X670 motherboards as being for "Enthusiast Overclocking," but the gentlemanly sport of revving up CPU clocks to the ceiling wasn't mentioned at all for the B650 chipset.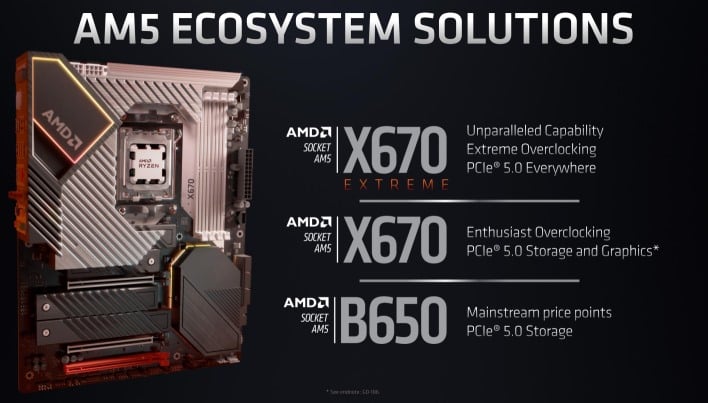 The slide in question.

This simple fact was seemingly enough to set some more-imaginative persons' minds alight, because apparently there was some concern (like
this Reddit post
) that AMD might lock down overclocking on its lower-end motherboards. That would be a first for the family, as the Ryzen processors have always been completely unlocked for overclocking.
Well,
WCCFTech
went right to the source and
asked AMD
directly. As expected, B650 motherboards will be unlocked for overclocking. Of course, mainboards bearing the budget-oriented chipset will likely be much less able in the arena of overclocking simply due to being lower-priced offerings compared to X670 and especially X670E. So saying, there's nothing about the chipset that limits overclocking, but market realities probably will anyway.
That said, enthusiasts looking to push the envelope will likely opt for the higher end X670E chipset anyway. Motherboard makers are already prepping some compelling high-end options for overclockers, like ASUS with its
ROG Crosshair X670E Extreme
.
AMD also confirmed that Zen 4 will have increased clocks out of the box, with max boost clocks topping out somewhere north of 5GHz.