AMD Ryzen 7000 Smokes Alder Lake At Computex Keynote As Zen 4 Excitement Builds
While it's early morning (or late night) here in the US, it's mid-afternoon in Taipei, and
AMD
just finished up its Computex 2022 keynote. Some of the talk in today's event was a recap of the company's recent releases, such as its Ryzen 6000 series mobile processors and the laptops arriving in market powered by them. However, there were also a few other very interesting tidbits regarding the company's forthcoming Zen 4-based
Ryzen 7000
series CPUs and their socket AM5 platform, as well as other platform technologies we should touch on.
AMD's Mendocino Harnesses Zen 2 And RDNA 2 Graphics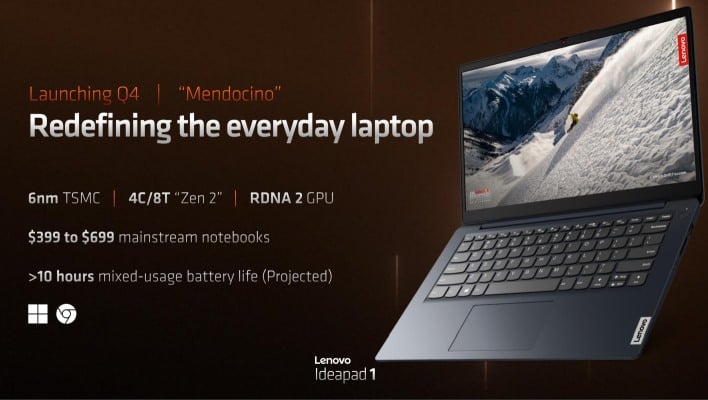 It was a blink-and-you'll-miss-it moment, but AMD officially announced its "Mendocino" microprocessors—sort of. We say "sort of" because AMD didn't give any model numbers or indeed any official branding at all, referring to the processors exclusively by their codename, which probably sounds familiar to geeks of a certain age: Mendocino was the codename for the second generation of Celeron processors, including the legendary
Celeron 300A
.
Like Intel's Mendocino, AMD's version is a low-cost processor intended at entry-level systems, although it's meant more for laptops than desktops. It will be fabricated on TSMC's 6nm process, and it will use four Zen 2 cores alongside RDNA 2 graphics for entry-level and mainstream laptops. AMD says that it has "essentially everything from Ryzen 6000", it's just based on Zen 2 instead of Zen 3.
The company went with Zen 2 for these processors because it allowed for a significantly smaller die size. While performance will suffer compared to the Ryzen 6000 series processors, it should still be plenty fast for the target market. Moreover, AMD says laptops using the chips should have "over 10 hours" of battery life, and that this was a design goal for Mendocino.
AMD SmartAccess Storage Takes Microsoft's DirectStorage Even Further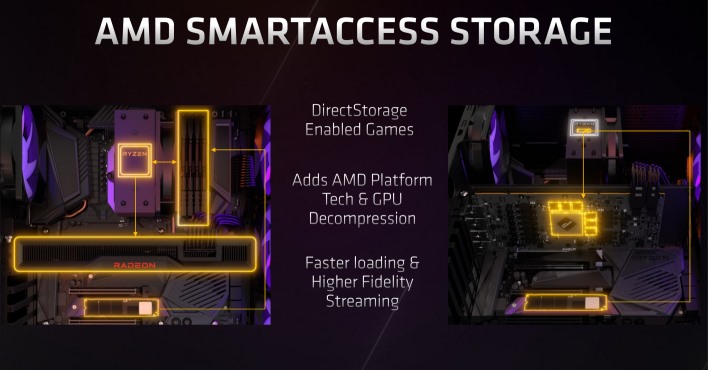 In another brief reveal, AMD announced the latest news of its
Smart
technologies: SmartAccess Storage. Hardware enthusiasts are probably familiar with
SmartShift
, SmartAccess Graphics, and SmartAccess Memory, but this new one is a bit different. SmartAccess Storage can be seen as a superset of Microsoft's own DirectStorage API, and it enables GPU-accelerated decompression for game assets.
AMD was clear to explain that SmartAccess Storage is not just AMD applying its own branding to Microsoft's API. Indeed, SmartAccess Storage will require game-specific support from developers, although the company says that it's trivial to add if the game already supports DirectStorage. The company didn't elaborate much on the potential benefits of SmartAccess Storage beyond "faster loading and higher-fidelity [asset] streaming," but did say that we can expect to see it in the back half of this year.
AMD's Zen 4-Based Ryzen 7000 Details Debut To Very Bold Claims
From there, it was all about the news everyone was waiting for—again. Amidst much fanfare, AMD provided some more details on its upcoming Ryzen 7000 series processors and their associated
Zen 4
microarchitecture. Much of the information shared helped flesh out some of the high level take-ways the company has teased previously.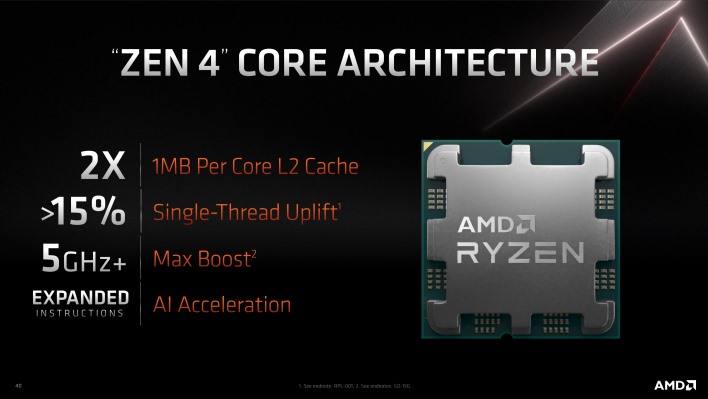 Dr. Su's presentation included the first official performance claim with regard to Zen 4, that being a greater than 15% boost in single-threaded performance. Some portion of that is going to come from increased clocks, which will top out somewhere over 5 GHz, which will be be a first for AMD Zen. Doubling the L2 cache per core will help with single-threaded performance, too, although 1MB is half of what Intel's
Raptor Lake
will reportedly have.
Notably, AMD says that the Zen 4 core architecture will have new instructions for
AI
acceleration. Given that the company didn't introduce a new logo or brand name, we expect that this probably refers to new support for Intel
DLBoost
instructions. If so, that would also imply
AVX-512
support for these CPUs, something that's been rumored for awhile. AMD didn't mention it though, so this is all speculation on our part.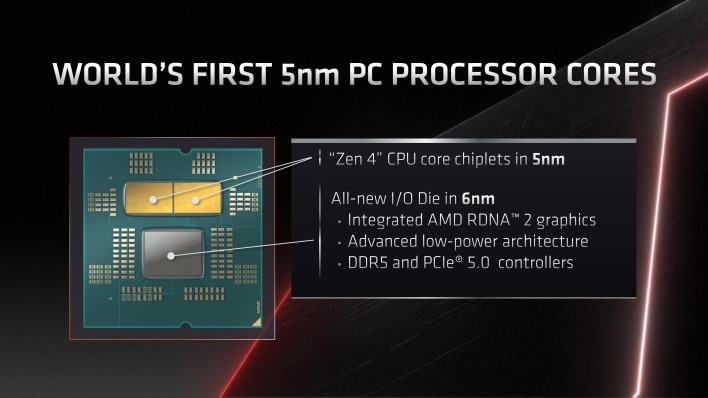 AMD Ryzen 7000-series processors that will be the first to ship with Zen 4 cores will include one or two 5nm Zen 4 CCDs—topping out at 16 cores, just like Zen 3—as well as a new cIOD fabricated on 6nm chip process technology. The new cIOD will include PCIe 5.0 and DDR5 support, as well as an
RDNA 2
-based GPU for basic display support.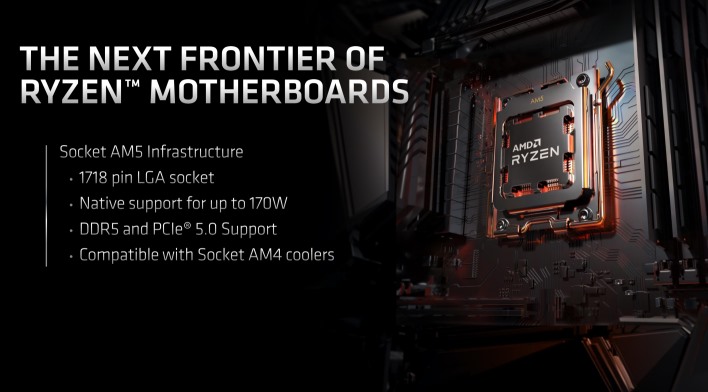 AMD released the first official shot of a Zen 4 CPU installed in Socket AM5 (even if it's just a render), and also shared some details on the new socket. AM5 will be a 1718-pin LGA socket with native support for up to 170 watts of power delivery. We
already knew
that Socket AM4 coolers would be supported on the new socket, although that does require a significant asterisk as it will depend heavily on the mounting mechanism used by the cooler—most aftermarket through-board heatsink mounts that use a custom backplate will actually not be compatible with every motherboard.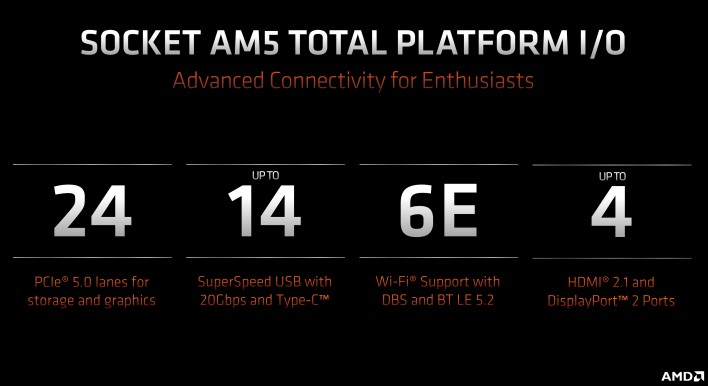 External I/O on Socket AM5 is looking pretty robust. AMD lays out the numbers in the slide above: twenty-four PCIe 5.0 lanes, fourteen USB 4.0 ports, and four display pipes from the CPU socket, with support for HDMI 2.1 and DisplayPort 2 in any configuration. AMD also notes
Wi-Fi 6E
and Bluetooth LE 5.2 support, although it's not clear if this is integrated into the system chipsets or AMD is simply listing it as an option on the platform.
AMD's Sock AM5 Platform - Three Chipset Amigos Ride Again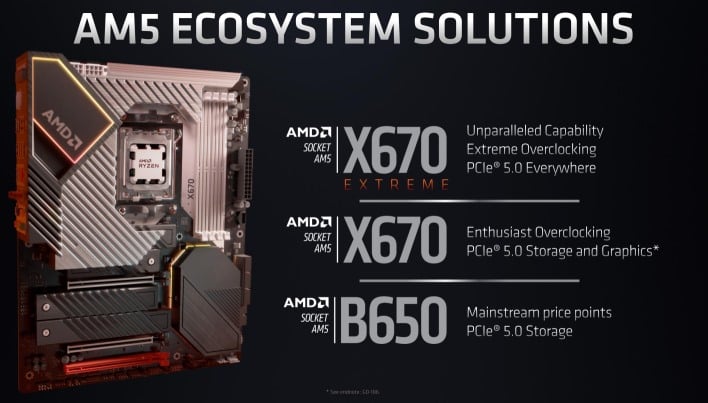 In what is perhaps the biggest news, AMD revealed that there will once again be three chipsets for the Ryzen 7000-series processors, although instead of X, B, and A, we're getting a mainstream B650 chipset, a high-end
X670
chipset, and an "X670 Extreme," frequently abbreviated as "X670E". It's very simple: the only difference between the X670 and X670E is that the latter will use PCIe Gen 5 connectivity
everywhere
.
This means that boards based on X670E will have the option of using PCIe 5.0 for all of their devices, including graphics, storage, and other hardware. The standard X670 will only have PCIe 5.0 for graphics and/or storage, leaving the rest of the devices to connect via PCIe 4.0. AMD also emphasizes that X670E boards will probably have better overclocking abilities due simply to being better-built boards with more robust components.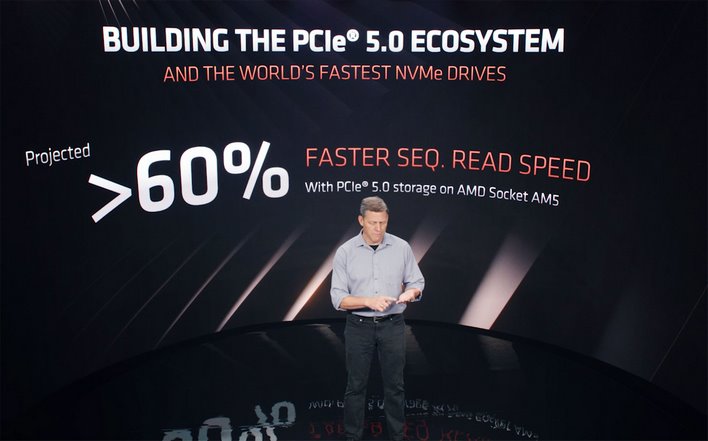 As it relates to PCIe 5.0 for storage, AMD also announced that it is working closely with
Phison
to ensure the first wave of PCIe Gen 5 NVMe solid state drives hit the market alongside socket AM5 and the Ryzen 7000. Partners Corsair and Micron are likely to be among the first to offer Gen 5 NVMe SSD, but many other will follow shortly thereafter. In terms of performance, great than 60% faster sequential reads are projected out of the gate. However, like the first wave of PCie Gen 4 drives, it's highly probable that follow-on
SSDs
will end up being even faster.
But Wait, One More Thing - A 5.5GHz Ryzen 7000 Is Here LIVE With Benchmarks
Initial performance claims regarding solid state storage weren't the only ones made during AMD's Computex keynote, however. As the keynote was wrapping up, Dr. Su showed two demos powered by a Ryzen 7000 series processor.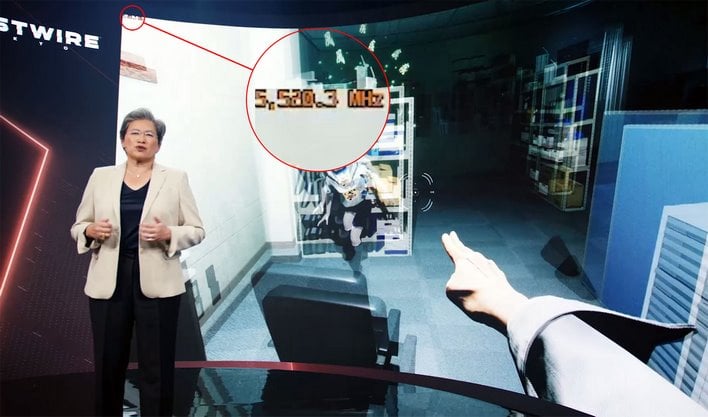 In the first demo, the just-released game
Ghostwire Tokyo
was shown running on a 16-core Ryzen 7000 series desktop CPU. The framerate was smooth and fluid during the demo, but the performance Dr. Su called out had to do with the processor's frequency. During the demo, the CPU's clock was visible in the upper-left corner of the screen and the processor often surpassed 5.5GHz. We don't know if this was stock or overclocked performance, but overclocking wasn't mentioned, nor was the type of cooler being used.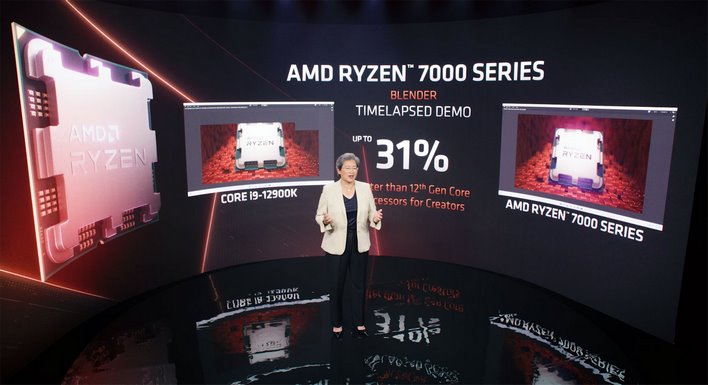 In the second demo, a custom Ryzen 7000 3D image was being rendered in Blender, with an Intel Core i9-12900K 16-core / 24-thread processor running alongside an AMD Ryzen 7000 series 16-core / 32-thread processor. In the time-lapsed demo, the Ryzen 7000-based system finished the render 31% faster than the Intel system.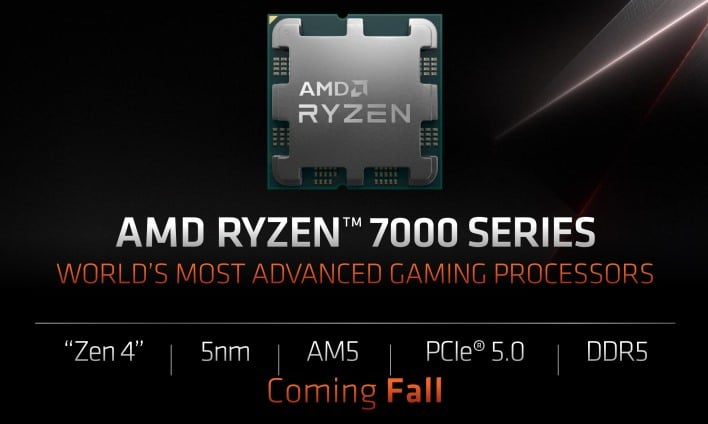 While AMD wasn't willing to commit to any specific date, the company did confirm that Zen 4 will be here this year, and well before the holiday shopping season. Dr. Su set a timeframe of "Fall" for availability of the new Ryzen 7000 CPUs, as well as the motherboards that will help enable the entire platform.
You can catch the entire AMD Computex 2022 Keynote presentation right here...
Scrub to the 29:10 mark for the AMD's Blender benchmark vs Intel Core i9-12900K
Regardless, Stay tuned to
HotHardware
for more details on AMD's Zen 4-based Ryzen 7000 processors in the days ahead.