Watch A GeForce RTX 4070 Paired With A Pentium CPU Play Games With Surprising Results
A TechTuber has been testing a system based upon one of NVIDIA's newest GeForce RTX 40
Ada Lovelace
graphics cards available, but driven by one of Intel's weakest CPUs. The results are surprisingly good, but don't give the 2C / 4T Pentium too much credit – it looks like NVIDIA's DLSS 3 saved the day.
Balance is very important to PC DIY builds on a budget. GPU reviewers often ensure that the CPU is the absolute best available at the time of reviewing to minimize bottlenecks on the tested graphics card, but finding where bottlenecks lie is more challenging to determine. Thus, it isn't very often we see a video like the one embedded below, where Random Gaming in HD explores a PC build mixing the charms of a shiny new $599 NVIDIA GeForce RTX 4070 with the humble $89 Intel Pentium Gold G7400 – but it is fun to see the results.
After his intro outlining the mismatch that we have here,
RG in HD
went straight into his usual portfolio of gaming titles. The first title you will see running on this curate's egg of a PC is
Forza Horizon 5
. This is well known to be a very well optimized title and provided an average 83FPS at 1440p, with 1% and 0.1% lows around the 40FPS mark – very acceptable given the CPU and GPU combo.
Read Dead Redemption 2
was also a pretty good experience at 1440p but its average 64FPS was nearly halved when areas were busy with NPCs or other CPU heavy segments, for example.
Moving along to less well optimized games, RG in HD opined that
Kingdom Come
would be a more typical experience. What he meant was that while the game seemed to be tunable to an acceptable FPS rate at 1440p, there was a stark contrast between average and the 1% and 0.1% low frame rates.
Deciding to "try something else," RG in HD thought that NVIDIA's latest frame generation technology might be able to save the day. So, he picked otherwise demanding games like
Cyberpunk 2077
,
The Witcher 3
,
Marvel's Spider-Man Remastered
(sticking with 1440p). With
Cyberpunk
, DLSS Frame Generation boosted the average frame rate from 43 to 70FPS. It sounds great, but the 1% and 0.1% lows weren't helped a great deal. Nevertheless, the YouTuber felt that the gameplay was "a lot more bearable."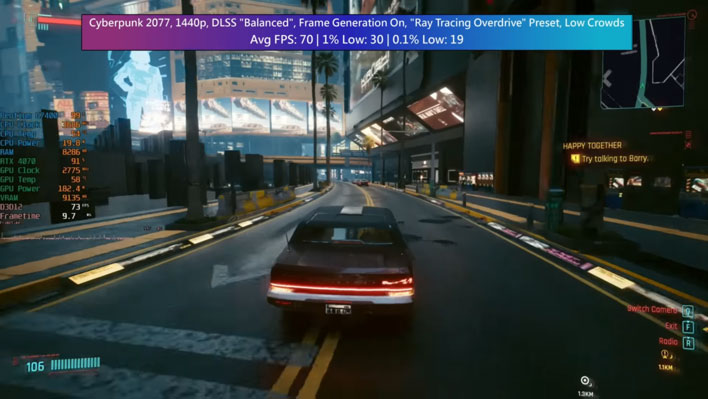 The Witcher 3
's gaming experience couldn't be saved with DLSS 3, as despite the OK average frame rate, the percentile lows and frame times were not helped enough. A similar experience was to be found in
Spider-Man
, with a good headlining frame rate (84FPS), but the 1% and 0.1% lows of 29 and 6FPS killed enjoyment. These games were just too much for the dual-core CPU to handle when scenes got busy. Toward end the video, RG in HD pondered if the move to an older gen Core i7 with 4C / 8T could provide a worthwhile uplift.
NVIDIA launched its first RTX 40 mid-range GPU last week in the form of the GeForce RTX 4070. We were lucky enough to have both the
NVIDIA GeForce RTX 4070 Founders Edition
and the MSI Ventus 3X GeForce RTX 4070 in the lab for our extensive five-page review. These RTX 4070's gained an Approved award, with the negatives mostly being due to price positioning – putting the new card into territory where gamers might easily ponder over the
Radeon RX 6800 and 6900 XT
, instead (both with 16GB VRAM).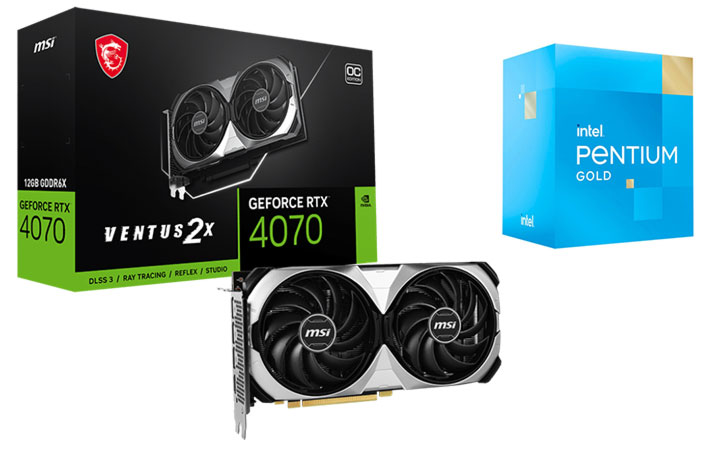 We've never reviewed the
Pentium Gold G7400
, but it arrived alongside other Intel 12th Gen Core
Alder Lake
non-K CPUs in Q1 last year. As such, it brought the Golden Cove architecture (the Performance cores, or P-cores) to the classic Pentium line. This processor features two cores and four threads, binned from a chip which would have natively supported 6C / 12T if it had been up to scratch. Clocked at 3.7GHz (whether single- or multi-core workload) the Pentium comes with 6MB of L3 cache and has a TDP of 46W.