Watch As Rivian Truck Demos R1T Tank Turn Mode That Will Spin You Right Round Baby
With all of the hoopla surrounding the
Tesla Cybertruck
in recent weeks, the Rivian R1T has relegated to the shadows in the electric truck world. While the Cybertruck looks like something out of Bladerunner, the R1T -- for better or worse -- looks more like a regular pickup.
However, don't let those looks fool you; Rivian is showing off a new feature of the upcoming quad-motor version of its R1T that no other production truck can pull off at this point. Rivian is calling this new feature the "Tank Turn", and it allows the R1T to basically spin 360 degrees in-place.
This might be handy for pulling off a bad-ass "u-turn" to impress your friends, or to get out of a tricky spot on the trail. Rivian is able to do this Tank Turn spin move by turning the wheels on the driver's side and passenger's side in opposite directions. This is only possible with the flagship R1T's four individual hub motors, so you're going to have to pay top dollar to show off this party trick.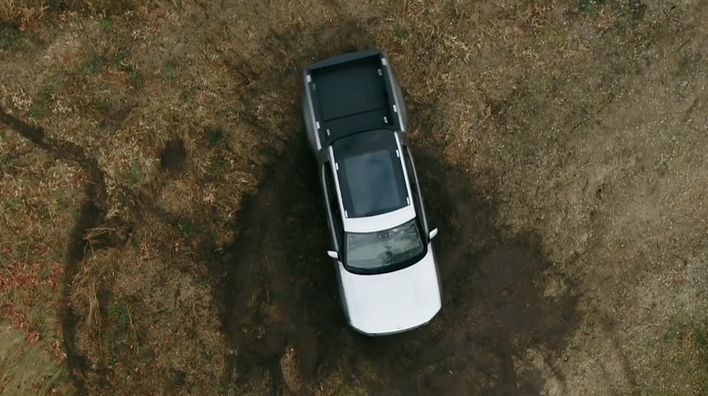 The Rivian R1T is an impressive beast; at least on paper. There will be three different battery configurations -- 105 kWh, 135 kWh and 180 kWh -- that will provide a driving range of 230 miles, 300 miles and 400 miles respectively. The flagship, quad-motor variant will deliver 750 horsepower and is said to accelerate from a standstill to 60 mph in just 3 seconds. The base configuration, which starts at $69,000 before state/federal tax credits/rebates, will have "just" 400 horsepower on tap. Complementing the R1T will be the R1S, which is a crossover SUV using the same skateboard platform.
Rivian has scored some big-name backers since it first burst onto the EV scene, including Amazon, which has infused the company with $750 million (Ford poured in $500 million). Amazon also announced that it will be purchasing 100,000 Rivian delivery vans that will first go into service starting next year.