Super-Rare Legendary Commodore C65 Is About To Be Resurrected For Retro Gaming Glory
Perhaps somewhere in a parallel universe, the Commodore 65 kept the good times rolling for Commodore, and was even more successful than the legendary
Commodore 64
that old folks like myself cut their teeth on way back when. In this universe, however, the C65 never made it past prototype status, leaving us to wonder what might have been. We'll never know, but a modernized resurrection of the little-known prototype is up for pre-order, and may actually see the light of day.
Prototypes of the original
C65 pop up on eBay
from time to time, with sellers looking to score a big payday for the vintage hardware. In 2018, for example, a Commodore 65 prototype (also known as C64DX) was listed for around $28,000. And in 2019, there was a listing in the UK that, at the time we wrote the article, was up to around
$17,100 in bids
.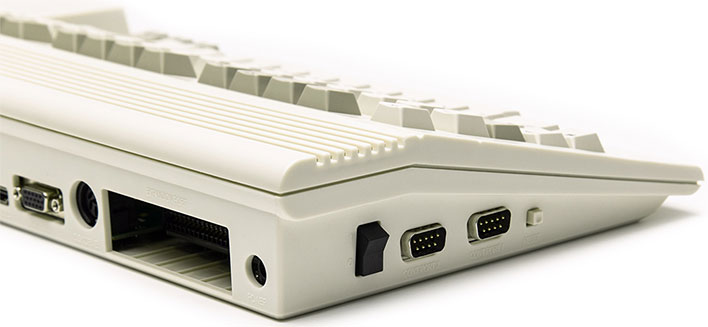 The C65 never actually released to retail, but it still holds retro appeal for collectors and geeks alike. Among those who are passionate about the PC-that-never-was is Paul Gardner-Stephen, who in 2014 began collaborating with the Museum of Electronic Games & Art on bringing it back to life. Hence the Mega65 project was born.
Mega65 is not an emulator, but an open-source, FPGA-based design with an 8-bit foundation. It's about 40 times faster than a Commodore 64, which may qualify it as the fastest 8-bit computer of all time, the developer says.

"The MEGA65 is designed to offer both C64 and C65 compatibility and is already highly compatible. Because it is open-source, compatibility will continue to improve over time," Gardner-Stephen notes.

Here's a rundown of the hardware...
Powerful Xilinx Artix A7 200T FPGA for main integrated circuit, additional MAX 10 FPGA for recovery
Incredibly high quality Cherry MX based retro keyboard with metal frame
Double shot keycaps that will last forever
Professional molded C65-style plastic case with support for additional ports and other modifications
Modern features like 100Mbps fast LAN, dual SDHC card slots, digital video and more
Awesome chiptune potential: 4 SIDs, OPL2 (wip), 4-channel 16-bit DMA-based Audio in FPGA
Keyboard FPGA allows for easy control and reconfiguration to individual needs
40MHz 8-bit CPU, 384KB fast RAM, 8MB serial RAM (wip)
VIC-IV video controller with VGA and digital video connectors
Digital and analog video output usable at the same time
3.5 mm 4-pin stereo audio socket. Audio is also sent on the digital video connector
Internal Pmod connectors for additional expansions like Tape, Userport, extra memory or real SIDs
JTAG/FTDI programmer port for quick testing + flashing of bitstreams, debugging and coding
Supports real 1541, 1571, 1581 Commodore drives via IEC Port
Battery-backed real-time-clock (battery CR1220 not included)
Keyboard fits original Commodore 65 case
You can see some of the modern amenities in the spec sheet, such as Cherry MX key switches and an SD card slot. And while not listed, it also boasts an HDMI output. Some of the core specifications have also been beefed up for the modern.
The original C65 prototype was said to feature CSG 4510 R3 processor running at 3.54MHz (archaic now, but the C64 ran at 1MHz), a VIC-III graphics chip, 128KB of expandable RAM, and an internal 3.5-inch floppy disk drive.