Preorder Thrustmaster's Ferrari 488 GT3 Racing Wheel Add-On To Dominate The Track
Thrustmaster is introducing a new add-on racing wheel to its collection known as the Ferrari 488 GT3 Wheel Add-On. Inspired by Ferrari's very successful 488 GT3 racing car, the wheel is an exact 1:1 replica of the steering wheel found on the real GT3 race car, sporting a carbon fiber finish. The wheel is compatible with current and future Thrustmaster wheelbases and is compatible with PC, PS5, PS4, Xbox Series X/S, and Xbox One consoles.
The wheel itself measures 12.2 inches in overall diameter, with two grips on either side for holding the wheel. The wheel includes 11 buttons in total, as well as a single D-pad and 4 rotary controllers for assigning key bindings in-game. As a result of the wheel's modeling after the real GT3 race car, the buttons, and the button labels are all identical to the real wheel, giving it added realism compared to other wheels. However, some buttons won't be fully replicable in-game for obvious reasons, like the A/C button or the drink button.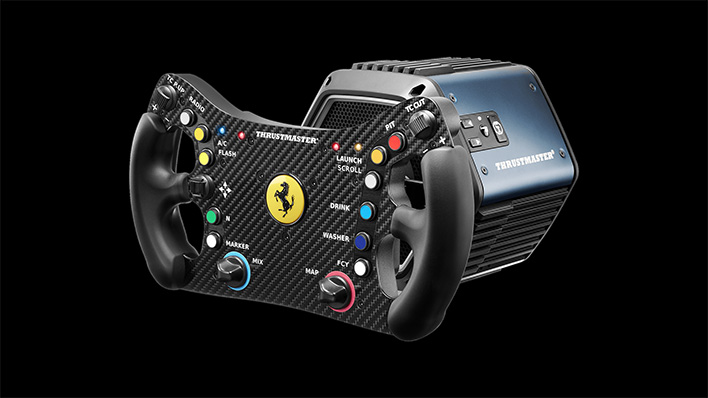 For shifting, the wheel sports two magnetic paddle shifters with customizable positioning so your fingers always have access to the paddle shifters when driving at the wheel's maximum turning angle. Four shift lights are also present, which will indicate the optimal RPM range to shift and tell additional information about pit window openings in a race. The RPM lights can also be toggled to adapt to either
GT cars
or single-seater cars (like Formula 1/2/3, or Super Formula cars).
The Ferrari 488 GT3 wheel is backward and forward-compatible with all of Thrustmaster's racing wheelbases. The wheel comes with two quick-release holders allowing you to connect the wheel to one of Thrustmaster's wheelbases without the need for an adapter. According to Thrustmaster, this attachment system ensures direct transmission between the base and the wheel rim.
Thrustmaster's new
add-on wheel
is available for pre-order currently, with a listing price of
$249.99
. Availability will begin on October 26. For reference, the price only includes the wheel, meaning you'll need to purchase a separate Thrustmaster wheelbase, or a base and wheel combo if you don't have one already. Thrustmaster wheelbases start at $229 and can go up to $1099.99 in the case of base and wheel combos like the
T818 Ferrari SF1000
Simulator.