Is Your PowerColor Radeon RX 7900 XTX Red Devil GPU Overheating? Here's A Fix
PowerColor has admitted that a "small percentage" of its Radeon
RX 7900 XTX Red Devil
graphics cards have an issue that results in a significant delta between the average GPU temperature and the hot spot temperature. The firm has already made a helpful statement on the issue, but many will be happy to fix the problem in situ, with a few spare minutes and a dollop of fresh thermal paste.
PowerColor's
Red Devil GPUs
are sought after by many PC enthusiasts and DIYers looking for a new GPU. However, the firm appears to confirm that it has made an elementary production mistake concerning the thermal compound application on a batch of its Radeon RX 7900 XTX Red Devil cards.
After
Igor's Lab
approached the AMD graphics card partner, in the wake of observing GPU vs hotspot temperature deltas as high as 30°C, PowerColor responded as follows:
"We have identified an issue on our production line where some of the cards are experiencing higher hot spot temperatures than usual. We verified that this happens to a small percentage of the total output, and we are already in the process of replacing the thermal grease. With the new input from Igor's Labs we are also verifying if changing the way we mount the cooler onto the card adds to improved thermal performance. We are working to resolve this issue as quickly as possible to ensure that our customers receive only the highest quality products. If anyone is experiencing this issue, please reach out to info@powercolor.com."
Enthusiasts with a modicum of experience of applying / repasting thermal compound on their CPUs and GPUs should feel pretty comfortable about fixing this hotspot differential issue at home. There are plenty of guides and videos, which will walk you through this process, but if in any doubt please leave the job to a professional - to avoid any expensive mistakes and potential warranty issues.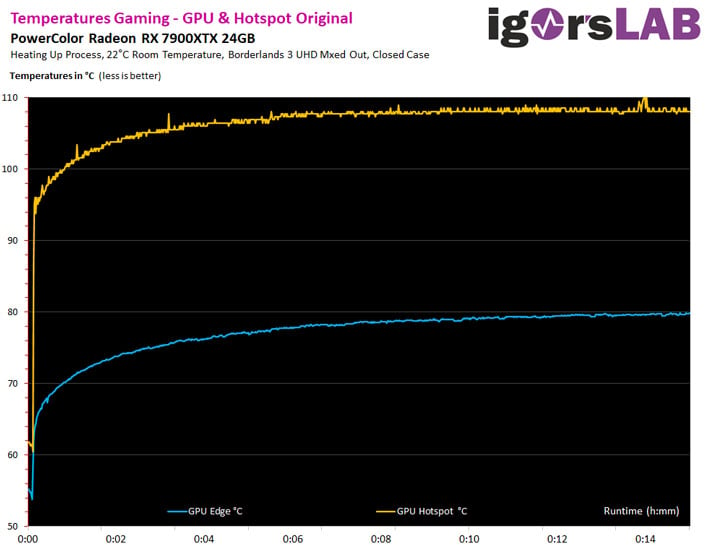 Igor noticed and remedied the GPU hotspot issue which, in his case, meant the PowerColor Radeon RX 7900 XTX Red Devil was hitting an 80°C GPU temperature under load when installed in a test case, with a 110°C
GPU hotspot
. A differential in double digits is pretty normal, but 30°C is nearly double what most will observe. The toasty temperatures meant that the Red Devil fans would "howl like hungry wolves in a Siberian full moon night." Perhaps more importantly, the GPU was also throttling.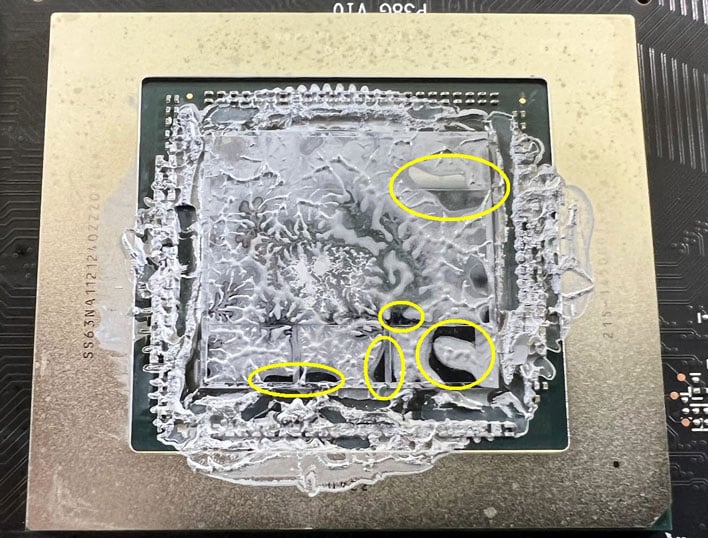 In the analysis of the thermal paste application, it seemed the TIM used by PowerColor was lacking in quality (the biggest criticism was that it was too liquid) and it was applied inconsistently. Therefore, the next steps were to clean away the old compound, and repaste the GPU. The highly regarded Alphacool Apex compound was used, with instruactions regarding application quantity, technique, and how to re-attach the GPU cooler to ensure correct and evenly distributed pressure.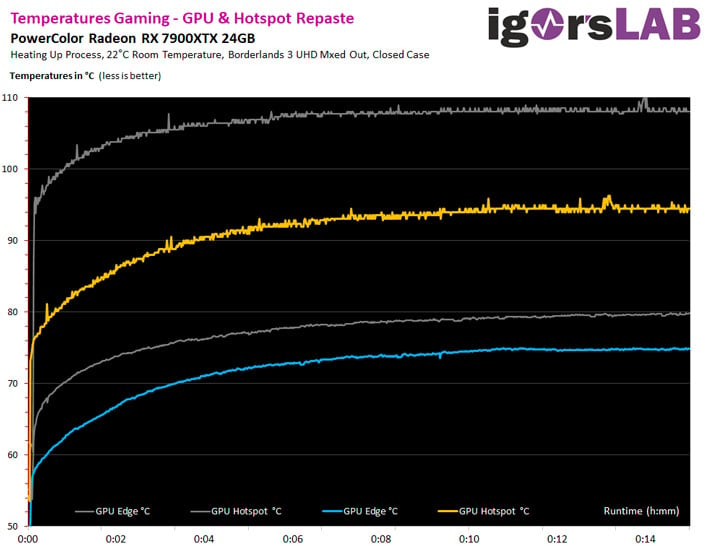 Above you can see the considerably improved results of the repasting work. The new GPU and hotspot temperatures were 75°C and 94°C, respectively, moving the differential under to under 20°C. It also meant that the GPU throttling behavior should be avoided.

To follow up this investigation, which was based in the publication's premises in Germany, Igor will be visiting the PowerColor manufacturing facilities in Taiwan for a tour. Hopefully, his visit will make a lasting impression, as it is a shame that such a well-designed card is let down by cheap / sloppy thermal paste application.