PCI-SIG Reveals New CopprLink Naming Scheme For PCI Express 6.0 And 5.0 Cables
There are a variety of PC hardware components that can exude a feeling of joy and excitement by the mere mention that something new may be coming. While gamers have recently been enthralled with the possibility of a new lineup of
NVIDIA GeForce RTX Super
GPUs, we have news of some future PCIe cables, too.
No, gamers aren't suddenly becoming cable aficionados like their audiophile counterparts and obsessing over gauge sizes. PCI-SIG has announced the naming of their PCIe 5.0 and PCIe 6.0 cables slated for a 2024 release. Spelled "CopprLink", these cables were announced at the SC23 event for HPCs. These high performance computers will be the first target market for this development, as consumer graphics card companies such as NVIDIA have yet to announce any PCIe 5.0 GPUs.
While CopprLink is likely linked to bandwidth improvements and data transfer, and not necessarily for supplying power, it certainly does incite some curiosity as to what a potential successor to the 12VHPWR cable or connector may look like.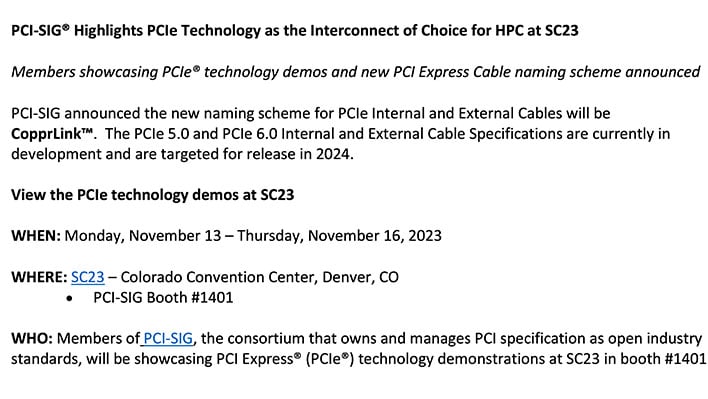 The average consumer is likely more aware of the existence of PCI-SIG due to the earlier incidences of
melting cables
for GPUs such as the NVIDIA GeForce RTX 4090. One of the key areas that consumers will seek an upgrade in for the next generation of graphics cards will be on the PCIe connector itself. The 12VHPWR connector and cables that ship with PCIe 4.0 power supplies has certainly simplified the installation process down to one cable, with some caveats.
Uncertainty with the standard itself and the potential for a damaged GPU, even if a very small incidence rate, have made some consumers apprehensive. While PCI-SIG will focus the first upgrades for high performance computing, it still stands as a curious indication of what may occur in the PCIe 5.0 and beyond iterations of the standard.
There is no more information released at this time as to the details or specifications, other than that we should expect internal and external cables with CopprLink in 2024.
Artificial intelligence and high performance computers have drawn big attention en masse recently, with some expectations that some of these technologies will trickle down to the consumer universe eventually.