You Can Overclock AMD's Radeon RX 5500 XT To 2.1GHz On Air With This New Tool
AMD is ending 2019 with a mad dash to the finish, having just recently launched its
Radeon RX 5500 XT
in 8GB and 4GB flavors for 1080p gaming, and dished out a major overhaul to its
Radeon Software Adrenalin Edition
driver package for 2020. Now it's up to users to have fun with it all. To that end, there is a new overclocking tool available.
Before we get to that, let's talk about the Radeon RX 5500 XT. It's the newest addition to AMD's
7-nanometer Navi
lineup and it boasts 1,408 stream processors, 22 compute unites, 32 ROPs, and a 128-bit memory bus. Reference Game and Boost frequencies are set at 1,717MHz and 1,845MHz, respectively.
In our testing, Marco found that
AMD's
own Auto Overclocking feature in the latest Adrenalin Edition build was able to push the boost clock to 1,980MHz, while the Game clock mostly fluctuated between 1,880MHz to 1,890MHz. Those results were obtained on a Sapphire Pulse Radeon RX 5500 XT.
Using MorePowerTool To Overclock A Radeon RX 5500 XT Graphics Card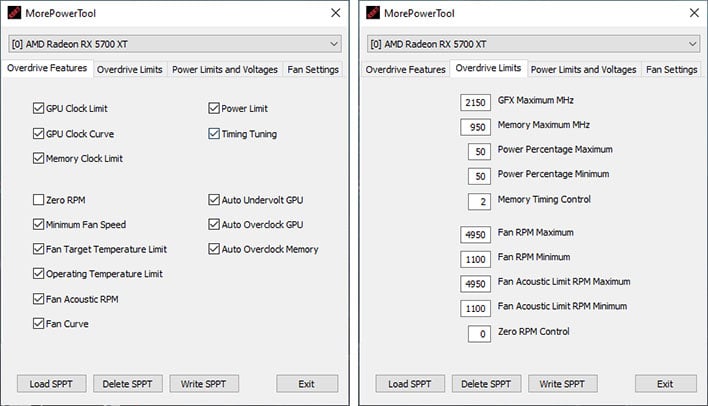 Over at Igor's Lab, community member "hellm" put the finishing touches on a custom overclocking utility called MorePowerTool (MPT). It's designed to help squeeze out as much overclocking performance as possible, though as always with these sort of things, users are cautioned that they proceed at their own risk.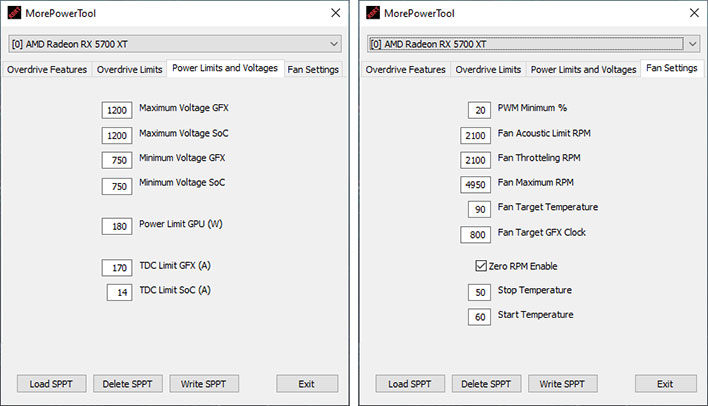 The tool is described as being experimental and "not suitable with all settings for 24/7 use in productive systems!" Users should also take note that there is a section to muck with voltages, which "must be used with particular care." In our opinion, this is a tool that only experienced overclockers should try.
That said, MPT can apparently yield some impressive results. Igor told
WCCFTech
that MPT allows users to overclock their Radeon RX 5500 XT and
Radeon RX 5700 XT
graphics cards up to 2.1GHz on air, and that it's been tested up to 2.2GHz. In general, Igor says every card should be able to hit 2GHz and beyond using MPT.
The magic happens by writing SoftPowerPlayTables and increasing the available power to the GPU (which in turn means you would be jumping past the TDP limits). In doing so, better overclocking results can potentially be achieved.
We have not tested this tool, but if you are fine with the risks involved and want to give it a whirl, hit the link in the Via field below to read more about and download MPT.