OnePlus Teases Concept Smartphone With Trick Invisible Camera Tech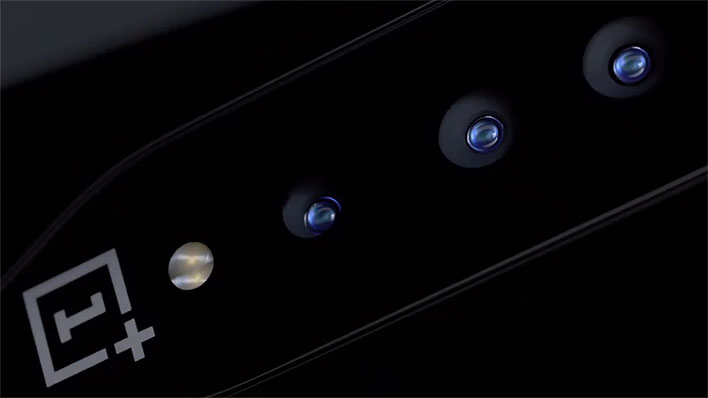 For years, smartphone makers have concentrated on delivering premium-looking designs, even for mid-range and entry-level models. More recently, the focus has shifted towards cramming as many camera sensors as possible into these portable gadgets, and in some cases, they are eyesores. What's the solution? Based on what
OnePlus
is working on, a parlor trick could be the key.
Over on Twitter, the smartphone maker teased a glimpse of a prototype phone it is calling the
OnePlus Concept One
. It uses "groundbreaking 'invisible camera' and color-shifting glass technology" to essentially hide the multiple camera sensors and LED flash that are plopped into a circular protrusion on the rear of the phone.
"We're bringing the #OnePlusConceptOne to #CES2020, but you don't have to wait: you can get a sneak peek at it right here, along with its groundbreaking 'invisible camera' and color-shifting glass technology," OnePlus writes.
If you watch the short clip, you can see the sensors and LED flash come into view as the phone tilts forward. OnePlus shared some details with
Wired
about the design, explaining that it is working with McLaren, a British automotive company, to incorporate the same glass technology it uses in its high-end car sunroofs and aircraft windows.
Even though the video clip shows the lenses and LED flash coming into view when tilted, it has nothing to do with the angle. Instead, the special glass on the OnePlus Concept One hides the items underneath until an electrical signal triggered by opening the camera app makes the cameras appear. After closing the camera app, they disappear again.
"With this approach, we'll be able to produce smaller amounts of the product and, with feedback from a small group of users, look at the possibility of making a device that's available for users more widely," said Pete Lau, co-founder and CEO of OnePlus.
For the time being, this is just a concept phone and not something the company plans on releasing in the immediate future. There are still some challenges to work through. Speed and reliability are both concerns, and of course cost—the aforementioned sunroof is a $9,100 add-on. Nevertheless, this is certainly interesting, and who knows, it could be a common feature one day.