NVIDIA Unveils Tiny Jetson Orin Nano AI Robotics Kits And Powerful New Dev Tools
NVIDIA's GPU Technology Conference (GTC) is underway and CEO Jensen Huang just wrapped up the
company's keynote
, full of software and hardware announcements. It seems the company is working pretty hard to make sure that robotics and AI engineers can view
NVIDIA
as a one-stop shop with not only the brains behind the operation, but also the tools needed to build applications that users need. Huang announced upgrades and huge new features for just about every step of the process of creating and training AI models and deploying them in autonomous robots.
Long before building a robot, designers need a software platform from which to build the brains. Just like humans, robots need to be able to see where they're going, interpret what they see, and adjust to situations based on what's happening. These days, robots rely on AI models and some onboard cameras to handle that task. NVIDIA intends for its Isaac robotics platform to speed up the process of design, development and deployment, and that starts with those very AI models.
Isaac in the Cloud with Omniverse
NVIDIA has been pushing its cloud solutions as the way to train models for a long time now. Isaac Sim is NVIDIA's environment simulation tools that generate photorealistic and accurate virtual environments for AI training. These are compute-intensive tasks that take a lot of horsepower, but it might not make sense for a business to own the server hardware since it will sit dormant for long periods of time, so a cloud solution makes sense. NVIDIA says that Isaac Sim is available on multiple cloud platforms, including Amazon Web Services, Google Cloud, and Microsoft Azure. The same is now true of Omniverse for Enterprise, which includes its Replicator suite of training data generation tools, too, as they're making the cloud leap starting today.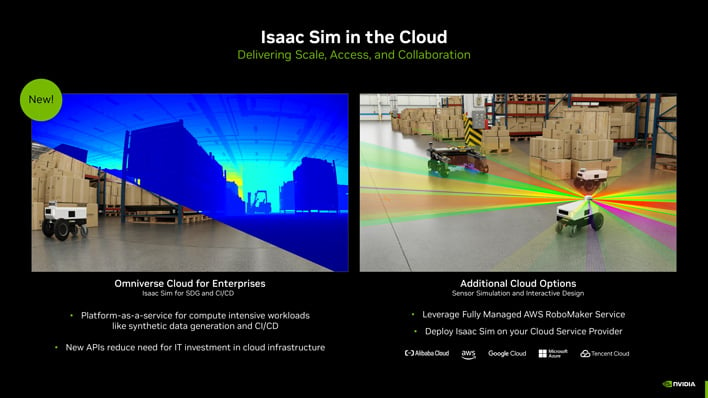 New hardware acceleration features have been made available to vendors with the release of Robot OS 2 (ROS 2). Those companies have been hard at work creating software that can leverage those new features, and we saw some of that at work when we looked at the
AMD Xilinx Kria KR260
Robotics Starter Kit. Today, NVIDIA announced that Isaac ROS, its own software layer for accelerating robotics applications, is available. The green team has published its
NITROS source on GitHub
, so interested developers can clone the repo and get started straight away.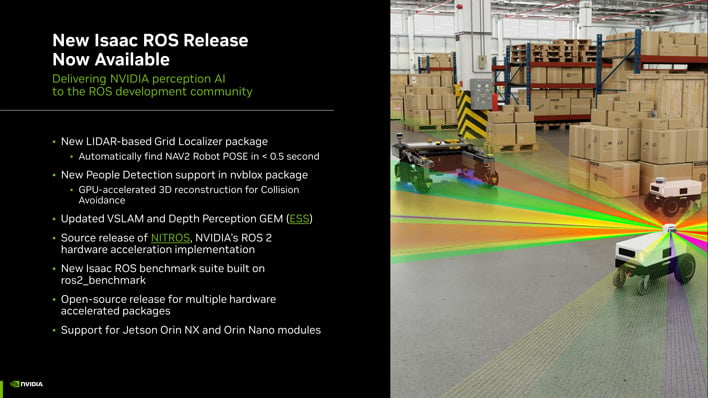 All of this ties into the rather robust robotics and AI software chain that NVIDIA has been providing since the start of its AI push. Omniverse Replicator takes the data generated by Isaac Sim and can procedurally create annotated images and other training data that can hone an AI model prior to being deployed. All of NVIDIA's tools leverage commonly used AI development kits, like PyTorch and TensorFlow, too.
New Jetson Hardware
Robots are more than software, however, they need to be driven by those AI models that we spent so much time training. We've seen some of the more powerful edge devices from the company, including the particularly impressive
Jetson AGX Orin Developer Kit
, but many robots don't need quite so much horsepower. There are now six members of the Jetson Orin lineup arranged into three groups. We've got this handy chart that shows the differences.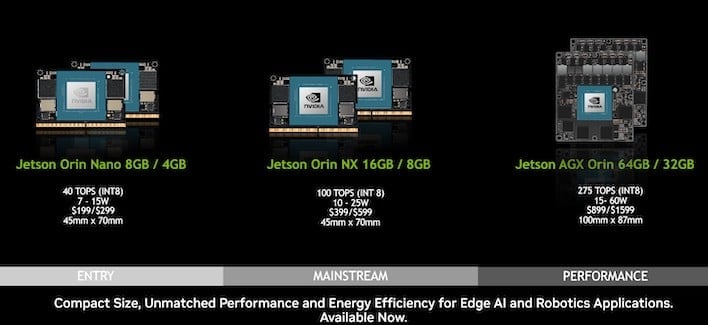 There's a wide range of performance and a wide range of pricing available on these production units. The Jetson Orin Nano is brand new and is available starting today. It's based on the same Volta GPU family that Jetson Orin NX and AGX use, just scaled down to fit a lower power requirement and price point. And of course, production modules are great, but the tools to build software need a little more than that, so there are new developer kits too.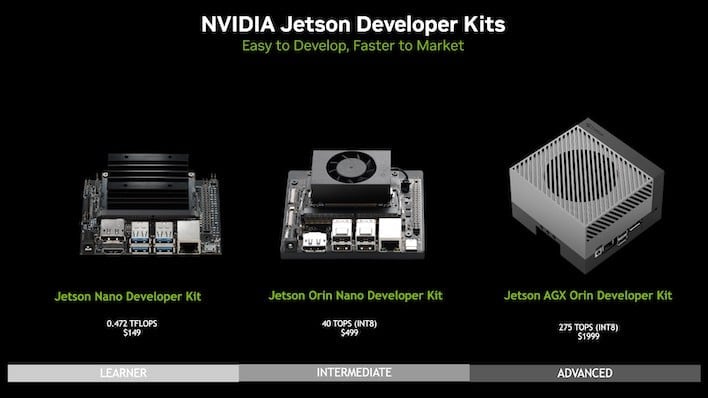 Just like the Nano production module, the Jetson Orin Nano Developer Kit is new, neatly slotting itself in between the existing Jetson Nano Developer Kit (we looked at the 2 GB version a while back; this is the fancier 4 GB model) and the Jetson AGX Orin Developer Kit. Pricing on the new Jetson Orin Nano kit is $499, but education users will get a $100 price break, at $399. These are available for order direct from NVIDIA as well.
Automated Spaces with Metropolis
The last big announcement for robotics from NVIDIA today is Metropolis. The company envisions a future where all major infrastructure and spaces are automated. Given the huge steps taken by AI in the last several years it's hard to see how that wouldn't be the case. Metropolis is NVIDIA's tools to help automate what it calls "the world's most valuable physical processes and infrastructure." They're talking about warehouses, traffic management, healthcare, transportation, and a whole lot more.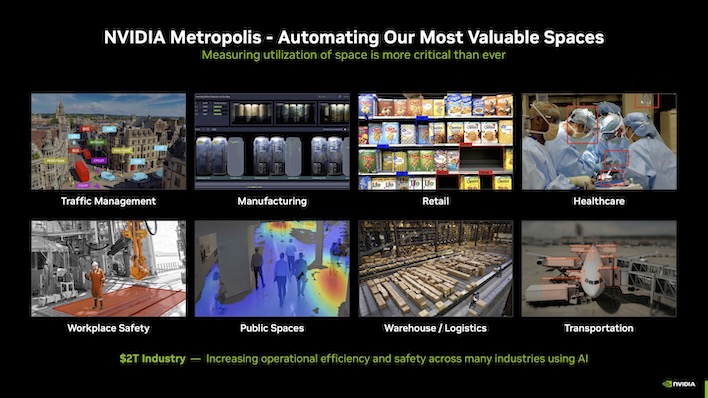 Metropolis itself isn't new, and the company touted some really big names that are already relying on it for logistics, including John Deere, Proctor and Gamble, Siemens, and around 1,000 other companies relying on Metropolis to develop and deploy vision AI applications. NVIDIA has recently released updates for all of the components that go into this suite, including TAO computer vision tools, DeepStream sensor networks, and its Metropolis Microservices and Workflows.
GTC Robotics Summary
NVIDIA has pushed really hard over the last 12 months to provide a one-stop shop for software and hardware. The company's Isaac robotics platform already covered the whole process from design to implementation. Making some of these tools available in the cloud will potentially save some money for businesses who need to create and attain models. NITROS for ROS 2, and its accompanying source code, should make it easier for developers to makes the most of the operating system's new acceleration features. The new Jetson Orin Nano Developer Kit should help drive the cost of entry down even further, too. All of this software and hardware comes together to push us towards a more automated and computer-assisted future. Keep your eyes glued to
HotHardware
, though; GTC is just getting started, and there's surely more to come.