GeForce RTX 3080 Unboxing: NVIDIA's Ampere Beast Unleashed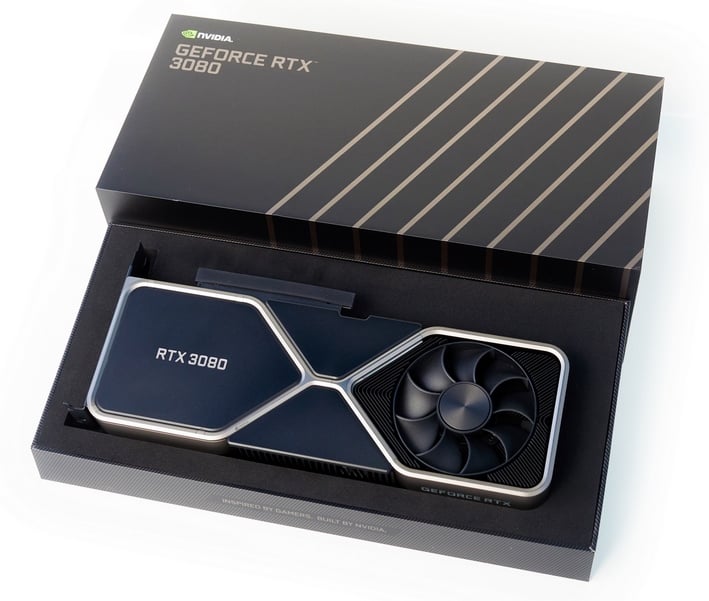 Last week, NVIDIA officially announced its
GeForce RTX 30 Series
of graphics cards, which consists of the
GeForce RTX 3070
, GeForce RTX 3080 and GeForce RTX 3090. Luckily for us, we have the "flagship" GeForce RTX 3080 in our hands right now along with an unboxing video for you to enjoy.
As we detailed before the GeForce RTX 30 Series was even revealed (thanks to leaks), the GeForce RTX 3080 uses a push-pull cooling system with a blower exhausting hot air through the PCIe slot (as we've typically come to expect). However, there is a second fan on the opposite side of the board that draws air through the actual graphics card and exhausts it on the side of the card closest to your CPU.
NVIDIA says that this new fan arrangement not only vastly improves cooling performance, but also results in quieter operation. We should mention that this new cooling design is only applicable to NVIDIA's own cards; we've seen more traditional dual- and triple-fan cooling setups for third-party cards from the company's board partners.
Other items of mention include a design that still takes up two expansion slots, and a new 12-pin power connector that replaces the old 8-pin design. On the GeForce RTX 3080 reference design, the 12-pin connector is mounted in the middle of the card at an angle due to the truncated nature of the PCB. Finally, there are three DisplayPort connectors that are joined by a single HDMI port. The USB-C port dedicated to VirtualLink on the GeForce RTX 20 Series has been removed, as the universal VR headset connection standard never took off and has since been abandoned.
The GeForce RTX 3080 comes with 8,704 CUDA cores, a base clock of 1.44GHz, and a boost clock of 1.71GHz. It also includes 10GB of GDDR6X memory operating on a 320-bit interface. NVIDIA claims performance of 30 shader TFLOPs, 58 RT-TFLOPS, and 238-Tensor-TFLOPS. All of this adds up to a card that will be twice as fast as the previous generation GeForce RTX 2080, at least according to NVIDIA's benchmarks. The GeForce RTX 3080 will be priced at $699 when it launches on September 17th, so stay tuned for our upcoming review.