TESTED: NVIDIA GeForce Driver Update Promises A Major Performance Lift For DX12 Gaming
Right on cue, NVIDIA has issued an updated GPU driver release to officially support its beastly new flagship graphics card, the
GeForce RTX 4090
. That's not all, though. The GeForce 522.25 WHQL driver release also purportedly includes key optimizations that could benefit GeForce RTX 30 series owners in a big way when playing DirectX 12 games.
"This Game Ready driver also includes significant DirectX 12 performance optimizations which can dramatically improve performance for GeForce 30 series GPUs," NVIDIA coyly states in the driver's release notes.
It's rare for NVIDIA to make such a broad sweeping claim, and in a related blog post, the company gets a little more detailed. Among the improvements made are shader compilation optimization, reduced CPU overhead, and Resizable BAR profiles.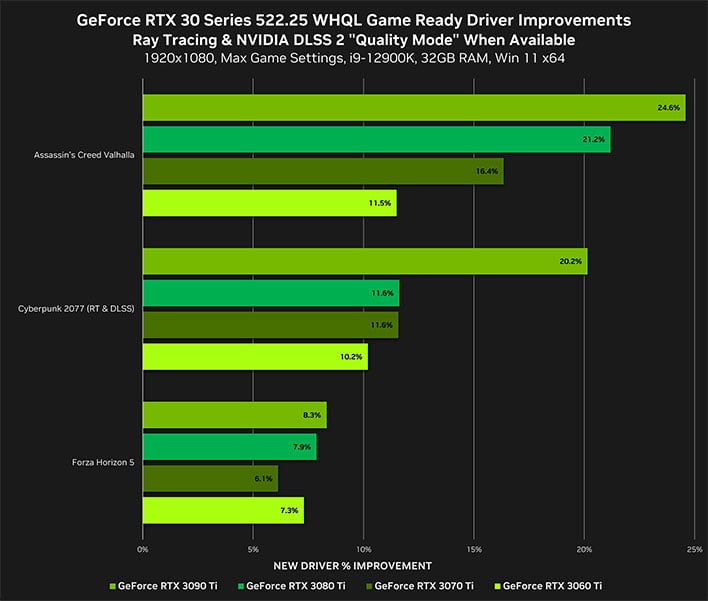 Source: NVIDIA

All combined, NVIDIA says its latest driver can "accelerate performance by double digits in a wide array of games" on both desktop and laptop GPUs. Specifically, NVIDIA says its testing showed up to a 24 percent jump in
Assassin's Creed Valhalla
at 1080p, up to 20 percent in
Cyberpunk 2077
at 1080p, up to 17 percent in
F1 22
at 4K, and up to 12 percent
Call of Duty: Vanguard
at 4K.
NVIDIA also provided a bunch of single-digit performance numbers for a range of games at 1080p, 1440p, and 4K. We're working on testing the driver for ourselves and will update this article when we have some numbers to share.
Beyond the DX12 performance claim and support for the GeForce RTX 4090, the 522.25 WHQL release brings 'Game Ready' optimizations for some of the latest DLSS games, including
Gotham Knights
,
Uncharted: Legacy of Thieves Collection
, and
Dakar Desert Rally
.
In addition, NVIDIA baked in support for the first new
DLSS 3
games, including
A Plague Tale: Requiem
,
Justice, Loopmancer,
F1 22, Bright Memory: Infinite
,
SUPER PEOPLE
,
Microsoft Flight Simulator
, and
Marvel's Spider-Man Remastered
.
Fixed And Open Issues In The 522.25 WHQL Driver Release
So there's quite a bit in the way of game optimizations and DLSS support. The same can't be said for bug fixes—there are just a few this time around. They include...
[Teardown] Resolves lower performance observed when MSI Afterburner overlay is used.
Tiny Tina's Wonderlands displays texture corruption after extended gameplay on NVIDIA GPUs.
UE5.1 crashes when enabling path tracing on some drivers.
The list of open issues is three times longer and includes the following...
Toggling HDR on and off in-game causes game stability issues when non-native resolution is used. [
Videos played back in Microsoft Edge may appear green if NVIDIA Image Scaling is enabled upon resuming from hibernate or booting with fastboot.
[DirectX 12] Shadowplay recordings may appear over exposed when Use HDR is enabled from the Windows display settings.
Monitor may briefly flicker on waking from display sleep if DSR/DLDSR is enabled.
[RTX 30 series] Lower performance in Minecraft Java Edition.
[Forza Horizon 5] Rainbow like artifacts in game after driver update.
Dell XPS 9560 may crash and reboot when using desktop applications.
Maxon - Cinema4D + Redshift3D vidmemory allocations cause TDR or Driver Crash.
RedCine-X Pro potential crash while working with effects during video playback.
Stay tuned as we test NVIDIA's
performance claims
. In the meantime, you can grab the driver through the GeForce Experience utility, or from NVIDIA's
driver download page
.
---
Update 10/13/2022 3:40pm ET
As promised, we explored some before and after results using the new 522.25 WHQL release. Our test system consists of an Intel Core i7-12700K with 32 GB of DDR5-5200 and a GeForce RTX 3070. We chose a couple titles with ray tracing enabled so we could examine performance with and without this tech. We tested against August's 516.94 WHQL release.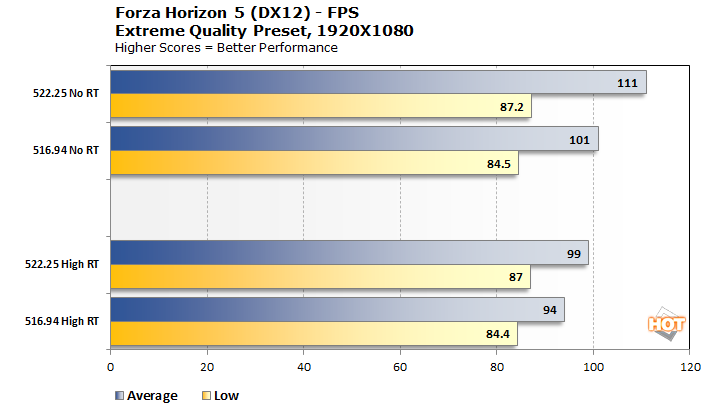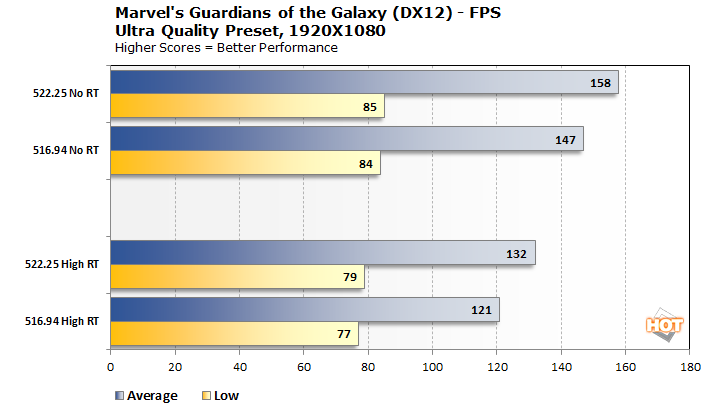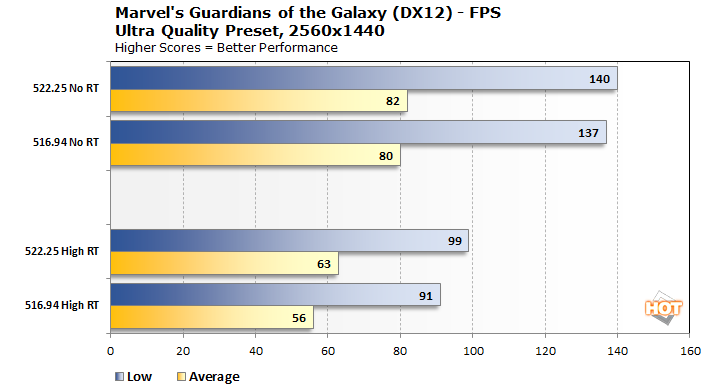 We tested both titles at 1080p and 1440p resolutions as well. True to promise, the update does appear to improve performance by a significant amount across the board. The uplift generally seems to favor lower resolution gaming more, which could be a boon for eSports titles which tend to favor framerates over resolution. Gains in some places reached almost 10%, which is very impressive to see from driver updates alone.