Stuck In Nintendo Switch OLED Preorder Purgatory? Walmart Rep Says Now Shipping (Updated)
Update, 10/13/21: After the quoted pre-order delivery date came and went without actual delivery of the Switch OLED, my order status changed from "Placed" to "Delayed," where it remains at the time of this article update. However, I have some potentially good (nay, great) news to share.
I spoke on the phone with a representative from Walmart, who said there were some initial logistic issues (not uncommon during the pandemic), but that those have been sorted out. I'm told Switch OLED pre-orders have already begun shipping. Furthermore, the rep told me orders will go out by end of today for everyone who pre-ordered the console (a point I wanted to clarify, as I wasn't just inquiring about my own order).

When asked if the order status would change soon for people who pre-ordered the Switch OLED, the rep wasn't sure, but was going to track down an answer and get back to me. With any luck, however, it will be a moot point by this evening or tomorrow morning, by which time hopefully everyone who pre-ordered a Switch OLED will have some clarity on when it will arrive.

____________________
Original Article:
Under different circumstances, I might be writing to tell you my impressions of Nintendo's retooled
Switch OLED
, with its upgraded display and twice the built-in storage as the launch model (as well as the small revision that came after it with longer battery life). Instead, I find myself stuck in preorder purgatory, sent there by Walmart, which has yet to ship the Switch OLED I ordered back on July 16, 2021. This probably won't come as any consolation, but if you're in preorder purgatory too, you're far from alone. Who brought the snacks?
As I've discovered in researching my own situation, there are many others who have virtually voiced their frustration on Twitter. And hey, I understand that delays happen. Especially in the current climate, what with the
global shortage of silicon
and rabid demand for the latest electronics. These are challenging times, for consumers, retailers, manufacturers, and suppliers alike. That's fine. But what's not fine is the lack of communication about what's going on.
I Preordered A Switch OLED From Walmart And Don't Know Where The Hell It Is
Let me explain my own experience, because obviously it is the only one I am intimately familiar with, as it applies to this situation. Like many others, I pounced when preorders went live several months ago, struck out, and kept trying. And trying, and trying, and trying...until finally I managed to secure a spiffy Switch OLED in tuxedo white and black (it's not actually called 'Tuxedo' but it should be!). Achievement unlocked.

My arrival date was confidently listed as Monday, October 11, 2021, three days after the Switch OLED was to release on Friday, October 8, 2021. I would have to wait through the release weekend while others, depending on where and how they ordered their own Switch OLED consoles, would receive theirs the day it was due to come out (as was the case for a former colleague of mine). Fine—I would be waiting nearly three months anyway, so what's an extra weekend?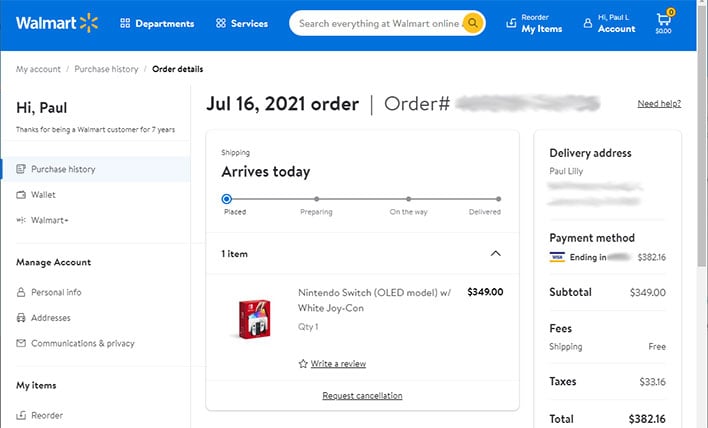 It says "Arrives today" but it turns out that really means "Arrives someday, your guess is as good as ours"

The status never changed—it was to arrive on October 11th. Then Friday, October 8 arrived, and in eager anticipation, I checked my order status one more time. To my dismay, it still showed as "Placed," the first link in the order status chain. Surely this would update by the middle or late in the day, right? Wrong. It never transitioned to "Preparing," let alone "On the way" or "Delivered." Uh oh.

Concerned, I initiated an online chat with Walmart's customer support. I didn't save the first transcript, but to loosely paraphrase, "No worries buddy, this is such a hot item that you may not see the status change, but I checked and yours is due to be delivered by end of day Monday!" I thought to myself, 'Okay, cool, that makes sense', and while I wanted to believe that thought, the truth is, I was skeptical. Turns out it was for good reason.

By late Monday afternoon, my order status still hadn't advanced. Concerned once again, I initiated another online chat, and was told a very different story.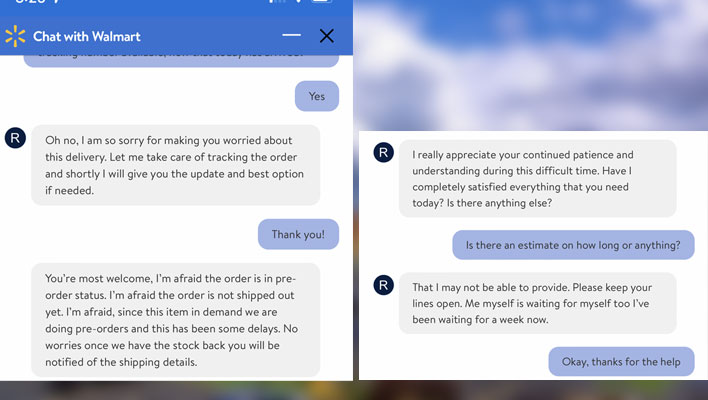 Well now I'm just afraid


"I'm afraid the order is in preorder status. I'm afraid the order is not shipped out yet. I'm afraid, since this item in demand we are doing preorders and this has been some delays," the rep told me. "Me myself is waiting for myself too I've been waiting for a week now."

Sloppy English aside, the message was clear—my Switch OLED order was not going to arrive at the promised time, and instead will get here...um, whenever it gets here, I'm afraid. And I should take solace in the camaraderie of the rep who is waiting on their own preorder to arrive, supposedly.

Customers Who Preordered A Nintendo Switch OLED From Walmart Voice Their Frustration On Twitter
Hog. Wash. After posting my experience on Twitter, radio DJ @radiohouston replied to say a rep told him basically the same thing, that they too were waiting for their prerder. "It's in their script, with liberties," the DJ surmised. It sure seems like it.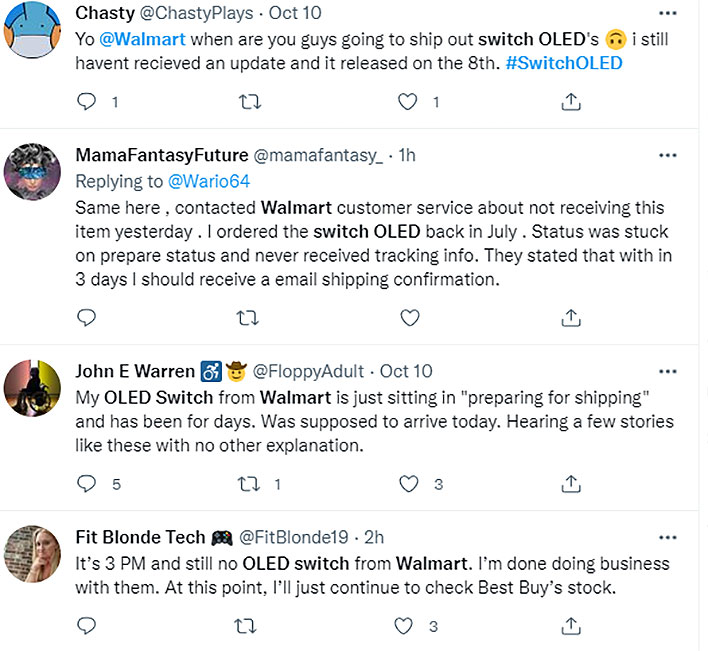 I quickly found there are lots of similar complaints on Twitter, from people who preordered a Switch OLED from Walmart. In some cases, reps offered up a later delivery date—I saw one that mentioned October 25. But for the most part, it amounts to a shoulder shrug.
Adding insult to injury, there are the usual inventory tracking accounts reporting availability here and there. Yo, Walmart, how about fulfilling preorders before offering up more units for sale?
It's not lost on me that this is very much a first world problem—preorders not arriving on time, and the such. But that doesn't excuse retailers from handling things this way. And to be fair, it's not just Walmart, as others have
complained on Reddit
about similar experiences with GameStop and Best Buy. If it's ultimately Nintendo's fault, say so, rather than keeping preorder customers in the dark.
To that end, I've reached out to Walmart for an update on the situation as a whole (not just my own) and will update this article when/if I hear back.