Netgear Is About To Make Your Wi-Fi 6E Setup Obsolete With The First Wi-Fi 7 Router
Netgear just strutted into the home networking scene proud as a peacock with what it claims is the world's first Wi-Fi 7 router, the Nighthawk RS700. In doing so, your fancy
Wi-Fi 6E
you just upgraded to is now obsolete—sorry! Just kidding (sort of). Anyone rocking a Wi-Fi 6E or Wi-Fi 6 network shouldn't feel compelled to upgrade straight away, but with the release of the Nighthawk RS700, the next-gen protocol is officially here in the consumer space.
That's at least true on the router side of the equation. Just as important, you'd need devices with compatible wireless adapters to take full advantage of
Wi-Fi 7
, the same of which is true of Wi-Fi 6E and Wi-Fi 6. Nevertheless, these kinds of releases are important to avoid getting stuck in a chicken or egg situation, where one side is waiting for the other.
It can also be a little frustrating, in that wireless protocols are coming out at a faster pace than in previous eras. But that's a rant for another day. So, what exactly are we looking at here?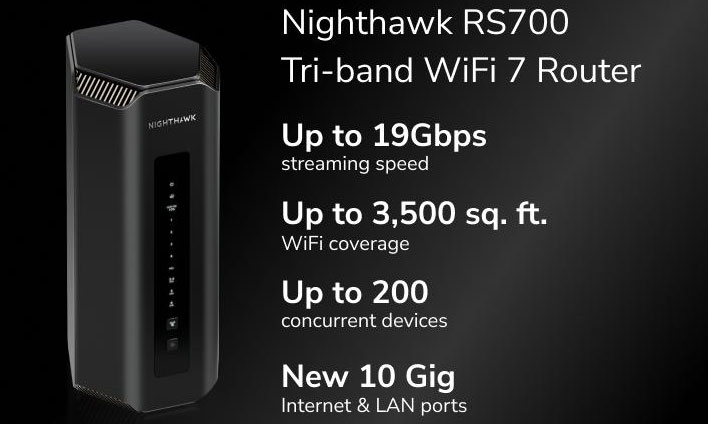 The Nighthawk RS700 is "packed with unprecedented power" to deliver to up 19Gbps of Wi-Fi connectivity spread across three bands. Router makers like to advertised the maximum collective speeds of every available band, though you can't actually combine them into a single super-connection of sorts. Still, you're looking at some fast connectivity options—up to 11.5Gbps on the 6GHz band, up to 5.8Gbps on the 5GHz band, and up to 1.4Gbps on the 2.4GHz band.
"With the launch of our Nighthawk RS700 Router, we're setting the pace for adoption of the next generation WiFi," said David Henry, president & GM of Connected Home Products and Services at Netgear. "The RS700 is purposefully constructed for the highest possible performance. We've deployed our decades of RF expertise to maximize antenna range within a compact design that minimizes interference while fitting flawlessly into any home environment."
One thing that's immediately apparent from a visual perspective is a streamlined design. Netgear traded an aggressive profile for a sleek tower design that would look right at home with a modern decor. It's no less powerful though, with eight high-performance internal antennas with high-powered amplifiers beaming out wireless signals—Netgear says its latest router is strong enough to provide wireless coverage for up to 3,500 square feet.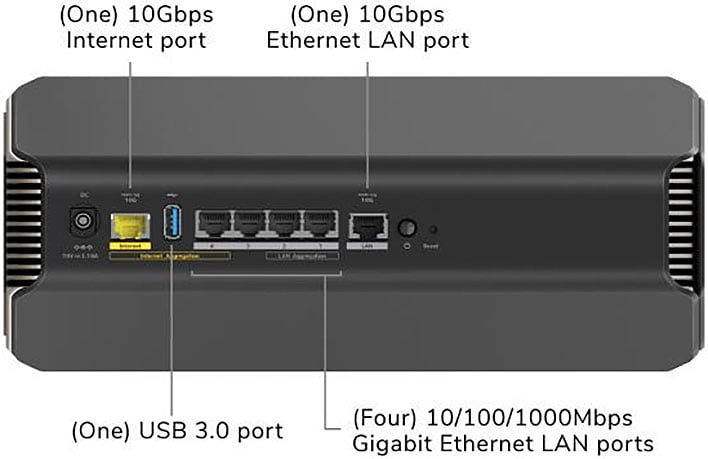 The spine of the tower is home to four gigabit (1Gbps) Ethernet LAN ports with the option of aggregating two ports for a 2Gbps connection. Users will also find a 10Gbps LAN port, 10Gbps internet port, and a USB 3.0 Type-A port for sharing storage or a printer across a network.
Internally, the Nighthawk RS700 is powered by Broadcom's BCM6726/3 Wi-Fi 7 chip. It also sports a quad-core processor clocked at 2.6GHz, 1GB of RAM, and 512MB of NAND flash memory.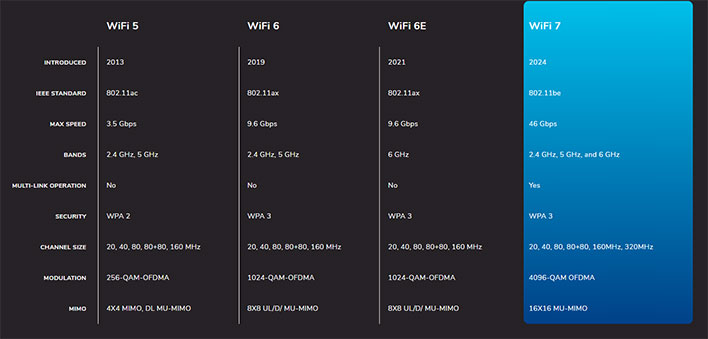 Wi-Fi 7 (also known as 802.11BE) is not yet ratified by the IEEE standards body but is expected to be soon. Like Wi-Fi 6E, it enables access to the 6GHz spectrum, but in up to a 360MHz channel width as opposed to 160MHz. This enables a standout feature called Extremely High Throughput (EHT), with the protocol pushing the maximum theoretical speed to 46Gbps (Wi-Fi 6E's maximum speed is 9.6Gbps).

Outside of faster Wi-Fi connectivity, Wi-Fi 7 also makes use of Multi-Link Operation (MLO) for devices to send and receive data across different bands at the same time. It's basically aggregation across wireless signals.
Early adopters who want to future-proof their network (as much as such a thing is truly possible) with the
Nighthawk RS700
will be able to do so in the second quarter of this year, though it won't be cheap—Netgear is
accepting preorders
for the router at $699.99.