Netflix Fires Off First Warning Emails To Thwart Password Sharing, Here's What It Says
There was always a lingering hope that Netflix might abandon its enforcement of disallowing account sharing outside of the household amid
delays in the US
rollout. But after testing the waters in a few overseas territories, Netflix has officially begun cracking down on password sharing in the US. The first wave of emails to US households that violate Netflix's password sharing rules have gone out, officially putting streamers who run afoul of the policy on notice.
Netflix doubled down on its newly enforced policy in a blog post, reiterating that streaming accounts are only valid for users living under the same roof.

"Everyone living in that household can use Netflix wherever they are—at home, on the go, on holiday—and take advantage of new features like Transfer Profile and Manage Access and Devices.
What Netflix takes issue with is sharing an account password with people outside of the account holder's household, regardless if they're family members (like a son or daughter who may have moved out to attend college), friends, or anyone else.
Users who violate the
password sharing
policy will receive an email outlining Netflix's rules and some alternative options, such as signing users out of their accounts or adding extra members to account. That latter option costs $7.99 per person, which is cheaper than Netflix's Basic, Standard, and Premium plans, but a buck more than its baseline Standard with Ads tier.
Here's the email in full...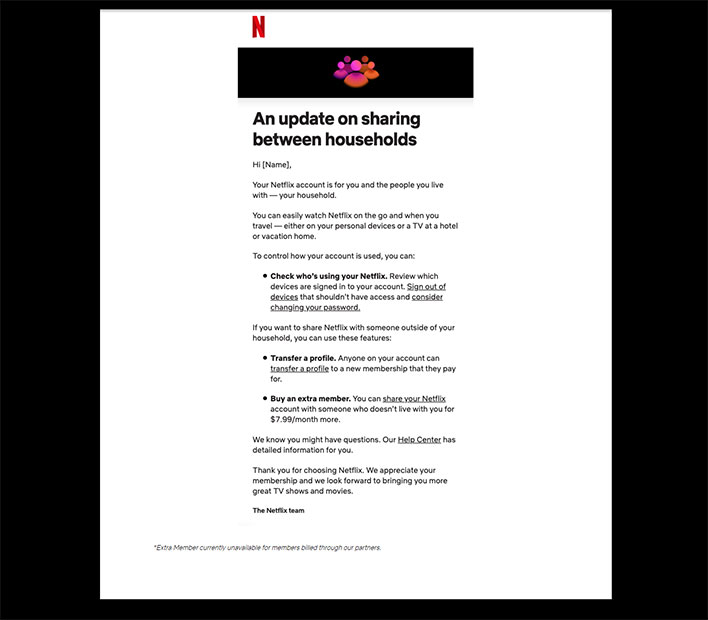 Anyone added as an extra member will have their own account complete with a separate profile and password, but the membership fee will fall on the person who invited them to join. There are some limitations, though, compared to signing up separate.
Key differences include restricting extra members to watching Netflix on a single device at a time, being able to download titles to just one phone or tablet at a time, and limiting them to a single profile. Additionally, extra members must activate their account in the same country associated with the primary account holder.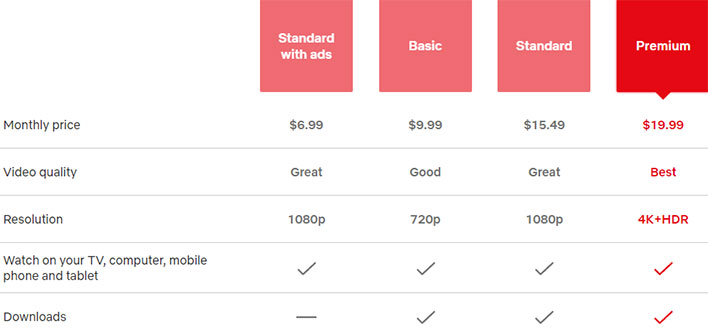 The value proposition of adding a member for $7.99 per month to comply with the new
enforcement policy
depends on the tier. Current membership pricing can be seen above, with the most costly plan topping out at $19.99 per month for access to 4K and HDR streaming.
Members on the Premium plan can add up to two extra users for $7.99 each, while the Standard tier allows for adding a single extra user. The option is not available on the Basic plan, and obviously doesn't make sense to allow it on the Standard with Ads tier.