NASA's SpaceX Crew-4 Astronauts Get Ready To Dock On ISS, Watch It Live Here
NASA's SpaceX Crew-4 astronauts are preparing to dock with the
International Space Station (ISS)
, and you can watch live. Jessica Watkins will make history as she becomes the first Black woman to join the ISS crew on a long-term mission.
SpaceX
launched four astronauts into space early this morning headed to the ISS. The SpaceX Crew Dragon capsule is scheduled to dock with the ISS around 8 pm ET this evening, 4-27-2022. One of the passengers along for the ride will make history as the first Black woman to ever be a part of the ISS crew, Jessica Watkins.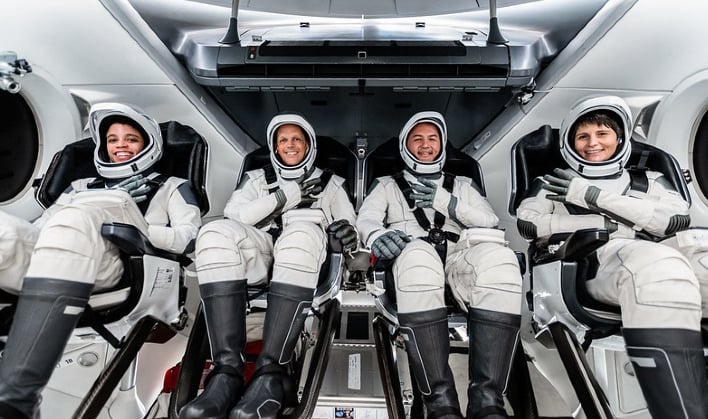 More than a dozen Black Americans have made their way into space, including four Black women. However, Jessica Watkins, or "Watty" as her crewmates call her, will become the first Black woman to live and work in space for an extended period of time aboard the ISS.
"This is certainly an important milestone I think both for our [space] agency and for the country," remarked Watkins during a press conference this past month. "I think it really is just a tribute to the legacy of the black women astronauts that have come before me as well as to the exciting future ahead."
The four astronauts are traveling aboard a SpaceX Crew Dragon capsule, which has launched seven crewed missions since entering into service in 2020. While the SpaceX Crew Dragon capsule is designed to be reused, this is the first mission for this particular spacecraft. The astronauts nicknamed their capsule Crew Dragon "Freedom".
Once the crew arrives, they will be joining three NASA astronauts, an ESA astronaut, and three Russian cosmonauts. This will bring the number of people on the International Space Station to eleven. However, after a five-day handover period, Crew-3 will board their own SpaceX Crew Dragon capsule for a return trip home.
Crew-4
is slated to work on new scientific research in areas such as materials science, health technologies, and plant science in order to prepare for human exploration beyond low-Earth orbit (LEO).
"NASA, SpaceX and our international partners have worked tirelessly to ensure that the International Space Station continues conducting important research in microgravity, and working on a whole host of activities that benefit humanity and opens up access to more people in space," said Kathryn Lueders, Associate Administrator for NASA's Space Operations Mission Directorate in Washington. "Crew-4's launch, less than two days after the return of the first all-private mission to station, exemplifies the spirit and success of the Commercial Crew Program to help maximize use of low-Earth orbit for years to come, testing the technologies we need for the Artemis program and beyond."
You can watch as the SpaceX Crew-4 dock with the ISS via the link above on
Hot Hardware
, or on
NASA's website
.
Top Image Courtesy of NASA