NASA's $100K Toolbag Lost In Space Can Be Seen With A Pair Of Binoculars
A NASA toolbag worth an estimated $100,000 is floating in space after being lost during a recent spacewalk from the
International Space Station
(ISS), and it can be seen from Earth with the aid of a pair of binoculars. Astronauts Jasmin Moghbeli and Loral O'Hara were conducting maintenance on the space station when the toolbag escaped the duo.
Moghbeli and O'Hara were removing electronics gear and replacing hardware supporting the station's solar arrays during their November 1st spacewalk. The two astronauts arrived at the space station earlier this year and are both crew members of Expedition 70. It was the first
spacewalk
for both astronauts.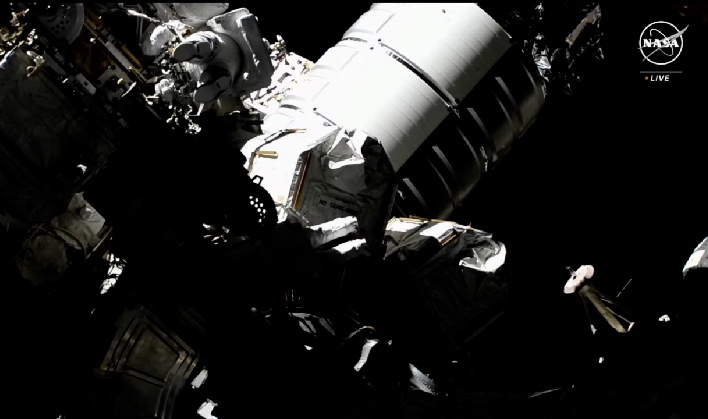 According to
EarthSky
, the elusive toolbag is orbiting Earth just ahead of the International Space Station. Due to the brightness of the bag, it can be seen with a pair of binoculars at around magnitude +6. It is estimated that the bag will remain in orbit for a few months before disintegrating in Earth's atmosphere. Preliminary estimates show that the toolbag should reenter Earth's atmosphere around March 2024.
Luckily, the toolbag was no longer needed for the remainder of the spacewalk. Flight controllers eyed the bag using external station cameras, with Mission Control analyzing the bag's trajectory and determining the risk of the toolbag hitting the space station as being low and that it required no further action on the part of the astronauts.
Anyone wishing to try and catch a glimpse of the toolbag should observe the trajectory of the ISS, and then scan the sky in the area just ahead of the space station. As the bag loses height, it should appear between two and four minutes ahead of the ISS during the next few days.
For those who may be wondering if this is the first time for an astronaut to
lose a toolbag
, it is not. On November 18, 2008, astronaut Heidi Stefanyshyn-Piper performed a similar repair and accidentally lost a toolbag during her spacewalk.