Move Over Photoshop, Microsoft Paint Is Getting Layers And PNG Transparency
Paint has been part of Windows since time immemorial, but it's never been able to hold a candle to more robust image editors like Photoshop. It's making an important step in the right direction, though. Microsoft has announced that Paint is getting a major update, adding support for layers and PNG transparency in a test for
Windows Insiders
.
Anyone who's tinkered with photo editing knows how important the venerable PNG format can be. A transparent PNG makes it a snap to mash two image files together in your app of choice. However, Paint has not played nice with transparency until now. With the latest version, Microsoft has rectified this shortcoming. You can even merge multiple transparent images together with the new layer support.
The updated Paint borrows some basic layout elements from Photoshop. On the right, you will see a vertical list of the layers in your image. You can hide, merge, duplicate, and delete them on an individual basis. Paint also uses the checkerboard pattern like Photoshop to indicate when an image has a transparent background. The support for transparency also means the eraser tool is getting an upgrade. In past versions of the app, erasing something just replaced it with white. Now, the eraser actually removes pixels so you can see any layers that might be under it.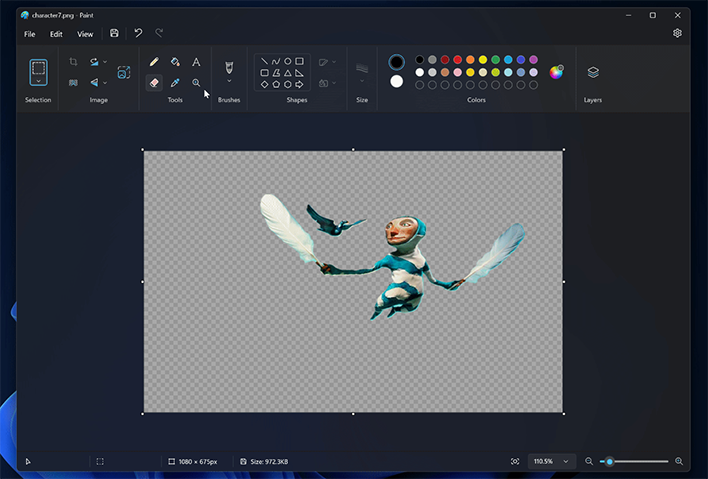 Microsoft announced a
background removal feature
in Paint earlier this month, and it works swimmingly with the new transparency support. The background tool, as well as the layers and transparency, are not available in the version of Paint you've probably got installed. Microsoft
has started releasing these features in the Insiders Canary and Dev channels
. You'll get the full raft of test features in version 11.2308.18.0 or higher. These features still need to make their way through the Beta channel before they could be released to the majority of users.
If you think Paint can save you from
Adobe's monthly subscription
, head into the Windows Update settings to join the Insiders program. Microsoft notes it's rolling the features out slowly, so even after joining, you may not see them right away. It's still missing a lot of the features that make Photoshop indispensable, but transparency and layers could be enough for less demanding users.