Motorola One Hyper Android 10 Phone Launches With Notch-Free Display, Pop-Up Selfie Cam
Motorola's
newest Razr phone
lately has been making waves, with a foldable design reminiscent of its mid-2000s predecessors. However,
Motorola
just recently dropped another smartphone that is more similar to the devices we have become accustomed to. The Motorola One Hyper is a smartphone that is intended to "enhance your next great adventure."
The
Motorola One Hyper
includes a
Qualcomm
Snapdragon 675 octa-core processor, 4 GB of RAM, 128 GB of storage, and up to 1TB expandable storage. The device is Motorola's first one to have an edge-to-edge screen (6.5 inches, 2340x1080), with a 90% screen-to-body ratio. The One Hyper also ships with
Android 10
and even includes a 3.5mm headphone jack.
Users may be the most intrigued by the One Hyper's charging power and camera set-up. The One Hyper incorporates a 4,000 mAh battery that can reportedly power your device for 38 hours of continuous use. The device also includes 45W Hyper Charging technology which is intended to speed up the charging process. The technology will supposedly give you 12 hours of battery life after 10 minutes of charging and charge your device up to 75% within 30 minutes.
The One Hyper features a 64-megapixel ultra high-resolution main camera, an 8-megapixel 118-degree ultra-wide lens, and a 32-megapixel selfie camera.The 64-megapixel and 32-megapixel cameras include Night Vision mode and Quad Pixel technology. These technologies are intended to improve clarity, color accuracy, and light sensitivity.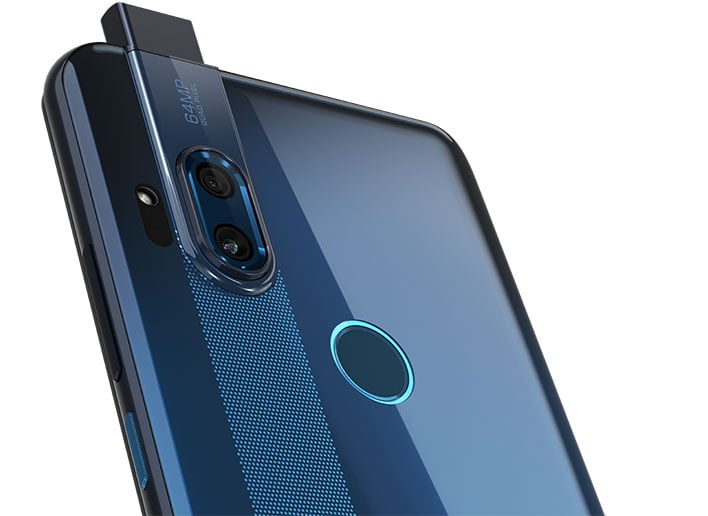 Interestingly, the "selfie-camera" is a pop-up camera. Motorola argues that this new design saves space and also allows for the notch-free display. They also noted that the camera includes a drop protection mechanism that will cause the camera to retract if the device is dropped or flipped.
Consumers will likely be the most impressed with the device's price tag. The One Hyper rings in at just $399.99 and comes in three colors: Deepsea Blue, Dark Amber, and Fresh Orchid. It is available today in the United States and select Latin American and European countries at Motorola.com. It will be available in the Middle East in the upcoming months.