Motorola Calls Razr's Folding Display 'Bumps And Lumps' Normal As Preorders Commence
Today is a big day for fans of the
next-generation Razr
. Motorola has just opened up pre-orders for the folding Android smartphone, which has a starting price of $1,499. The device will officially start
shipping on February 6th
.
In the meantime, Motorola has posted a new video on its YouTube channel entitled "Caring for Razr" in which the company talks about how to... well... care for your Razr. In the video that runs for less than a minute, Motorola explains that the Razer is water repellant and can be wiped dry with a cloth. But then, the company goes on to state that the "screen is made to bend; bumps and lumps are normal."
The Motorola Razr uses a complex hinge mechanism to allow the screen to fold completely flat. But that also means that the plastic display is highly flexible; likely more so than the Samsung Galaxy Fold that still has a rather large gap that prevents it from folding completely flat. That extra flexibility is likely what introduces the possibility for lumps to appear in the display. There's no word yet, however, as to whether there will be a crease in the display of the production fine (as seen on the Galaxy Fold and Huawei Mate X).
Although Motorola says that the Razr's display has a protective coating, the fact that it's made out of plastic means that you have to be extra careful -- much more so than you have to be with Gorilla Glass-covered smartphones -- and it tells future customers to avoid sharp objects, do not use a screen protector, and make sure that you close the phone before putting it in your purse or pocket.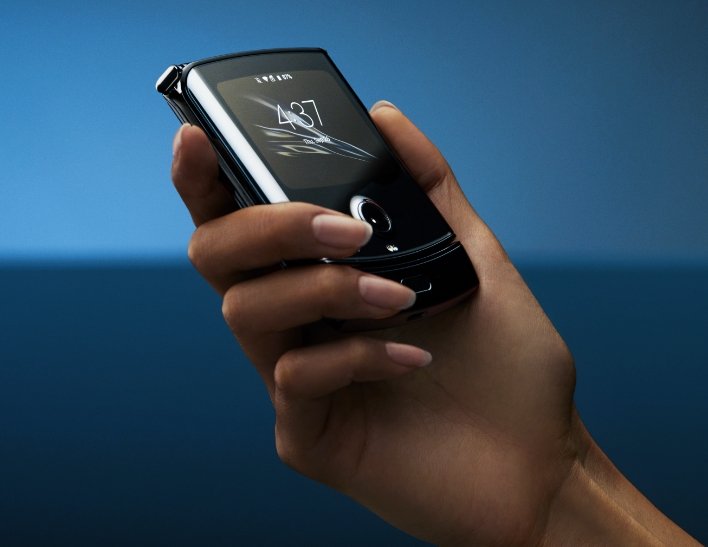 All of this seems pretty self-explanatory for a device with a plastic screen that folds, but Motorola is laying it out on the table for anyone that decides to plunk down so much money for the novelty of having a folding smartphone.
The Motorola Razr is powered by a mid-range Qualcomm Snapdragon 710 SoC with 6GB of RAM and 128GB of internal storage. It features a 16MP primary camera and a rather small 2510 mAh non-removable battery. It also incorporates a fingerprint reader, 15W TurboPower charging and will unfortunately only be available as a Verizon Wireless exclusive.