Minisforum Releases An Upgraded HX99G Mini PC With A Ryzen 9 6900HX For Gaming Dominance
Mini PC specialist, Minisforum, has released its newest Neptune series computer. The new Minisforum HX99G has a lot in common with the
HX90G we reviewed
last November, as you might guess from the single digit model name increment. However, there's more to it than a Ryzen 9 6900HX upgrade. It also offers faster DDR5 RAM, PCIe 4.0 SSD storage, and up to 8K display output.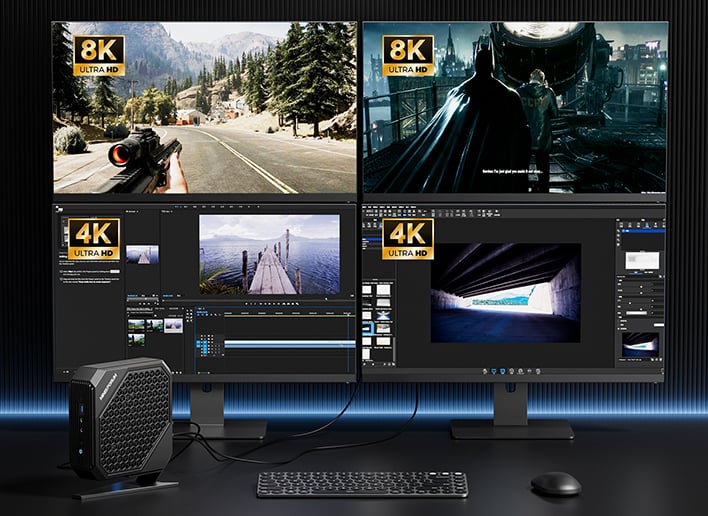 Like it's very recent ancestor, we expect the new HX99G to be a compact, reasonably quiet Mini PC with excellent performance. It should certainly be good enough for 1080p gaming, and could be pushed to higher resolutions in less demanding titles and using technologies like FSR 2.
The headlining processor upgrade targets the wrong component, in our opinion. It would have been a better balanced machine with more budget going into the GPU. However, we think this was probably an opportunistic update to the HX90G. There is a relatively small addition to the bill-of-materials (BOM) required to deliver a generational AMD mobile CPU update, compared to what it would cost to upgrade the design to something like an
RX 6000M refresh
, or even one of the new
RX 7000M series GPUs
.
So, what are the Minisforum HX99G specs? Please check out the full details in the table below.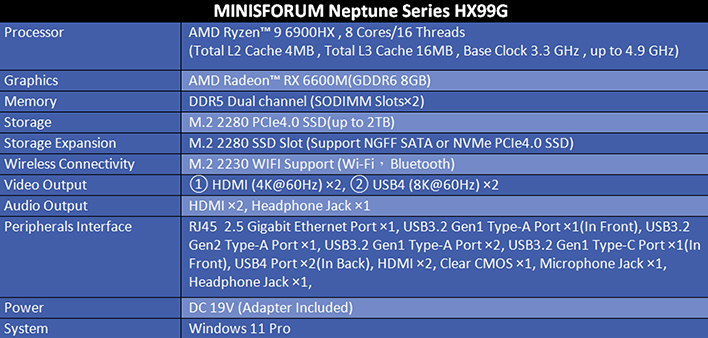 At first glance there doesn't look like there is much new here, beyond the HX90G specs, but dig a little deeper and there are some very worthwhile changes to the configuration, while keeping the basic compact physical form the same. Alongside the new Zen 3+ CPU cores running at up to 4.9GHz, and pepped up Radeon 680M integrated GPU with 12 CUs / 768 shaders, users will benefit from the platform upgrade.
Specifically, the memory and storage subsystem is upgraded to newer and faster DDR5-4800 SO-DIMMs, and NVMe PCIe 4.0 SSDs. Others will see more benefit in the
addition of USB4
. Minisforum has removed the twin full-size DP ports present in the HX90G design, and instead there are twin USB4 connectors with DP-Alt mode which provides the option to drive twin 8K@60 monitors, in addition to the twin 4K@60 monitors connected to the HDMI ports.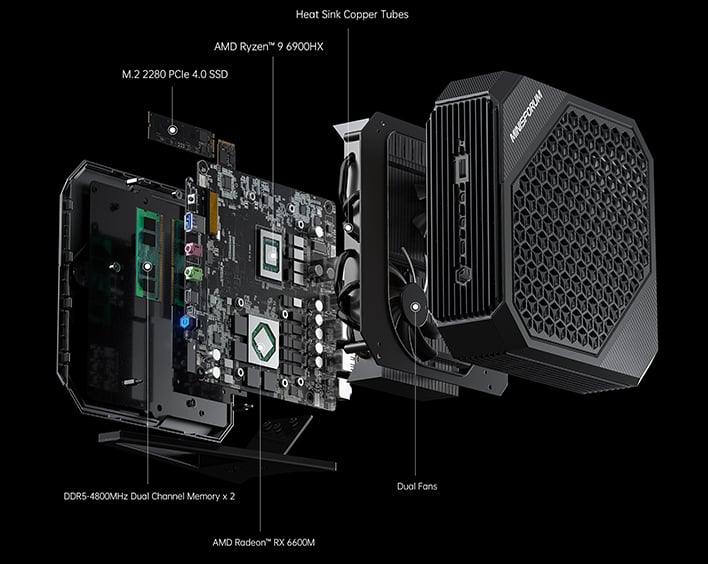 As per our headline, this new
Minisforum HX99G
system has been released and went up for sale today. The price for a barebone system (no RAM, no SSD and no OS) starts at $839 USD, which is only $40 more than the HX90G if the upgrades appeal to you. Minisforum also offers up to 64GB RAM and 1TB SSD configuration options. However, there is a 10% off voucher pop-up on the site. At the time of writing, the new HX99G doesn't appear to be listed on the
firm's Amazon US store
.