After A 30 Year Run, Microsoft Is Putting A Bullet In WordPad For Windows
After a 30-year run, Microsoft WordPad is being put out to pasture in favor of newer software. Microsoft says there is no need to worry, however, as it offers two options to take its place.
As Microsoft has updated its
Windows
OS through the years, certain features and functionality have been deprecated or simply fallen to the wayside in favor of newer or different options. Most recently, users switching from Windows 10 to Windows 11 saw a number of changes to their user experience, such as Cortana no longer being included in the first boot experience or even pinned to the Taskbar. Now, the tech giant has given Microsoft WordPad a pink slip.
Microsoft says that WordPad will no longer receive updates and will eventually be removed from future releases of Windows altogether. For those who may still be using the software, there are still plenty of options to take advantage of to replace it. Microsoft suggests switching to either Microsoft Word, or for those who do not want to shell out the monthly cost of a subscription, the free-to-use
Microsoft Notepad
.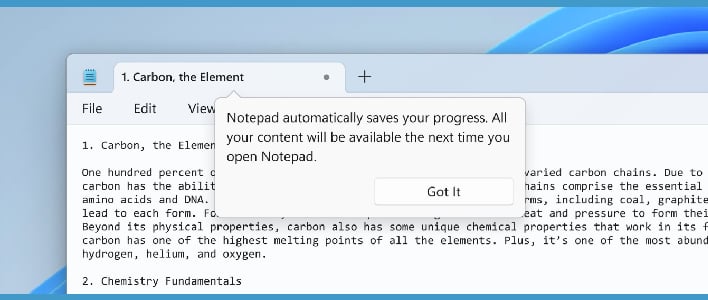 Wordpad was first introduced as part of Windows 95 nearly 30 years ago. Since then, Microsoft has added the more familiar Notepad, which has finally been getting a few new upgrades of its own. One major update that users have been asking for was recently added to Notepad, that being the ability to open multiple tabs within the same session. Future updates include an autosave feature and the ability to restore previously open tabs as well as unsaved content and edits across those open tabs.
Another feature that will be getting an update in the near future is Microsoft's Snipping Tool. The company announced that it is "introducing the combined capture bar, making it easier to switch between capturing screenshots and screen recordings without having to open the app." This will be able to be achieved via pressing Print Screen or Win + Shift + S on a keyboard. Users will also find that pressing Win + Shift + R will open the capture bar for recording.
While it may be sad news for anyone who still utilizes
WordPad
in their daily routine, there are plenty of viable alternatives to choose from. Which option do you currently use? Let us know in the comments.