Microsoft Lifts The Veil On Grand AI Plans Starting With Bing Chat
The AI wars are raging. Google announced the inclusion of PaLM in development tools and
Google Workspace
just a couple of days ago. Now, Microsoft has released its latest update in the AI revolution. While not officially announced, the ChatGPT-powered Bing Chat tool is now available for everyone, but there is far more AI-news that Microsoft has announced for productivity as well.
The Large Language Model (LLM)-based Bing Chat is finally available to everyone with a Microsoft account. There has been a waitlist for anyone who wanted to test-drive the tool early, even with an existing account. As a result, Microsoft has done something no one thought it could do, make people clamor to use Bing.
You still have to sign up to access the new feature, and a waitlist is still implied, but it seems like the wait is short because those who recently signed up have gained near-immediate access. This is leading some to speculate that the Redmond software maker is gearing up to lift the sign-up process altogether. These changes to Bing Chat seem to have come up right ahead of Microsoft's AI event that the
company held today
.
That AI event unveiled the company's long-term plans of integrating stronger AI functionality into its Office suite of products. Specifically revolving around Office 365 and Office 365 apps, the company announced its new AI-driven service, called Microsoft 365 Copilot.
YouTube of Microsoft's AI Event
The plans for Copilot are to include the service within all of the products that Microsoft offers through the 365 programs, including a new feature called Business Chat. Business Chat is designed to work across multiple 365 applications, all of the Office Suite systems, and even directly within Teams.
One example provided in the promotional video for Business Chat and Copilot is to ask it to provide you with preparations for your upcoming meetings. This seems to imply that the LLM-based utility will have access to scan through everything housed on Microsoft 365, including cloud items, user e-mails, and calendar items – some company policies make take issue with that.
A computer's ability to provide accurate contextual responses to our stored data, which is typically meant to be private or securely stored, sounds impressive, but seems a little unnerving for the security conscious among us. The usefulness is pretty undeniable, though.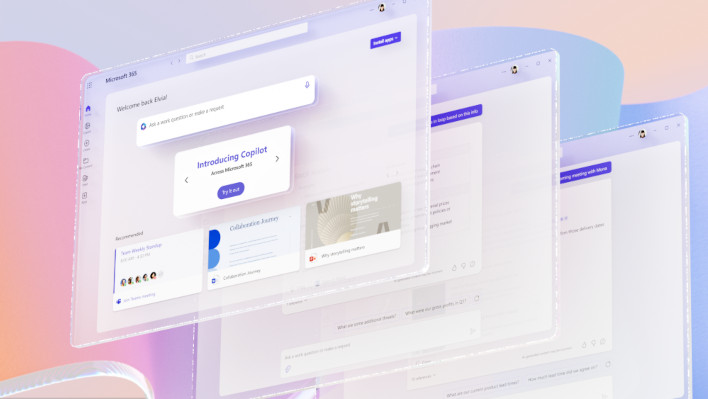 Microsoft Co-Pilot Promo Image
AI has been and will continue to be used to write documents, develop tools, and enhance our work life. Are there any ways you can think of that these AI implementations haven't been utilized and should? How about areas that should remain off limits? Let us know in the comments below.