Microsoft Flight Simulator 2020 Tech Alpha 1 Wave 2 Invites Coming Next Week
Microsoft has issued an update on the status of its highly anticipated video game: Microsoft Flight Simulator 2020. Microsoft says the second wave of invites will go out between January 13 and January 17. All fans of the game that registered for Tech Alpha 1 Wave 1, but didn't get selected, need to make sure to keep an eye on their inbox for an invite.
Microsoft is also in the final testing phase for Tech Alpha 2 and expects to have the build ready to release "shortly." The timeline for Tech Alpha 2 is currently set to begin sending invitations on January 20. All Tech Alpha 2 invites will be sent by January 27, and on that date, the Tech Alpha 2 game will be ready for download, and build access email will go out. By January 31, all Wave 1 Tech Alpha 2 emails will be sent.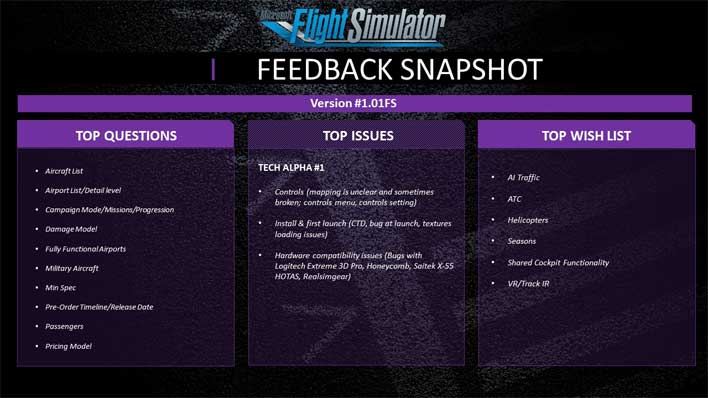 Microsoft is also reminding users that if they are participating in Tech Alpha 1, they automatically get access to Tech Alpha 2. Along with the new details, Microsoft also has a feedback snapshot that hits on some top questions and issues. The image above can be clicked to see all the information.
Top questions included the aircraft list, airport list, campaign modes, damage model, military aircraft, and min PC spec, among others. Top issues include broken controls, bugs at launch, and hardware compatibility issues. Wish list items include AI traffic, ATC, helicopters, seasons, and others. This looks to be one of the coolest games ever and certainly the most detailed flight sim out there.