This Latest Microsoft Flight Simulator In-Game Footage Is Absolutely Breathtaking To Watch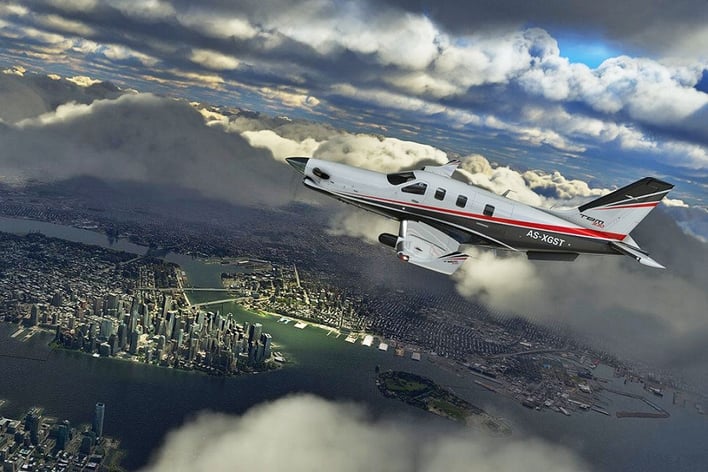 Microsoft has been making its Flight Simulator for decades now and the latest version, Microsoft Flight Simulator 2020, brings a massive upgrade in realism. The game will use satellite imagery that was gathered by Bing and gives users the opportunity to fly over actual, lifelike representations of buildings.
New video of Microsoft Flight Simulator 2020 has surfaced that is of pre-alpha gameplay, and the game looks incredible. The first video shared by NVIDIA UK via its Twitter account shows an aircraft lining up for landing at an airport complete with cars driving by on the roadway below. It looks like footage someone shot from within the cabin of a real-life aircraft during landing, not a video game.
The second video is a YouTube embed from the Microsoft Flight Simulator account that shows the game over New York City as it snows, and the quality of the graphics is simply stunning. Reports indicate that the quality of the graphics depends on your internet speed as the world is streamed to your PC via the cloud. Microsoft started to register some players of the game for its Alpha in November.
Is this real life... 🤯 pic.twitter.com/Q9Dnp3Mnda

— NVIDIA GeForce UK (@NVIDIAGeForceUK) December 30, 2019
The game is expected to launch in 2020, but the exact launch timeframe is unknown. If the game is still in early alpha stage now, the assumption is a late 2020 launch assuming nothing goes wrong and delays the project. Sim fans are ecstatic about the game as it marks the first time since Flight Simulator X launched in 2006 that Microsoft has brought us an all-new game. Flight Simulator X has a very robust community that loves the iconic game.
We hope the tech that Microsoft is using to give the photo-realistic cities, towns, and terrain will make it other game genres, as we'd love to drive in Forza through the real streets of NYC.