MGM Casinos And Hotels Go Dark After Security Breach, Where's Danny Ocean?
As it turns out, it does not take a team of
highly specialized criminals
led by one Danny Ocean to disrupt a massive casino network these days. It only realistically takes a team of hackers to bring things to a grinding halt and potentially get away with personal data or money in the era of the digital heist.
From Sunday into the mid-to-early morning of September 11th, MGM Resorts International customers began to notice an outage of resort and casino systems across many MGM locations. Further, some customers noted that they were unable to log into their MyMGM accounts for rewards and other information. Shortly thereafter, MGM Resorts posted to X a message explaining that the company "identified a
cybersecurity
issue affecting some of the Company's systems."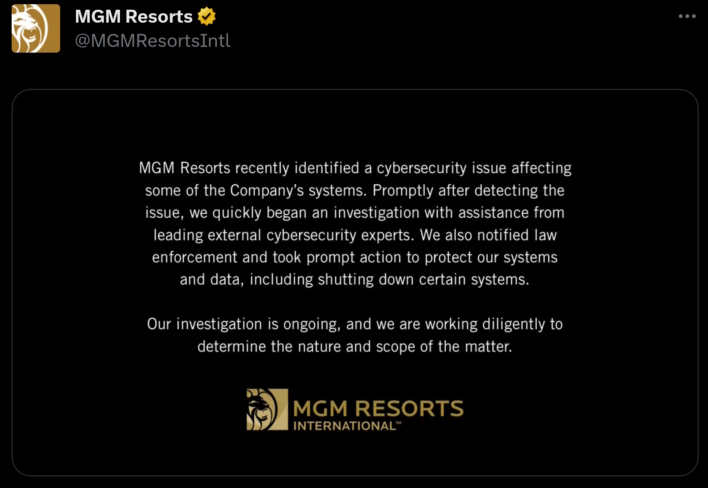 Given what
sounds like a data breach
, MGM shut down certain systems to protect them and the data therein while also notifying the proper authorities. With these shutdowns, outage notifications then went up on some of MGM's websites, stating that they were unavailable but that the MGM team was working to restore services. In the meantime, customers are purportedly still able to call MGM locations and handle any reservation or ticketing issues.
While it is unclear what the nature of the attack is, we can speculate that given the severe clamp-down, personally identifiable information (PII) may have been touched on MGM systems. This is of particular concern given the data that MGM has, such as payment methods, billing addresses, and much more. However, we will have to wait for MGM Resorts to release official comment on the matter to truly know what caused this issue. Clearly, though, it was not a well-planned and executed robbery of the shared vault between MGM Grand and other nearby casinos.