LG Takes Cord Cutting In A Different Direction With A 97-Inch Wireless OLED TV
When most people talk about
cutting the cord
, they're referring to dumping to their traditional cable or satellite TV service in favor of streaming platforms, such as Netflix, Hulu, and YouTube TV (to name a few options). LG, however, is cutting the cord in a different way—its Signature OLED M (model M3) TV announced at CES says goodbye to cables dangling from the actual display unit for a wireless form factor.
This is kind of playing fast and loose with the "wireless" moniker and for a couple of reasons. For one, the M3 still needs to be tethered to an electrical outlet, unlike
Displace's battery-powered 4K OLED TV
we wrote about a few weeks ago. And secondly, the other cables aren't so much
gone
as they are
relocated
to a separate 'Zero Connect' box.
Still, we see the appeal of what LG is offering, which is a cleaner setup and an ultra-thin panel. Those traits come by way of completely removing (relocating) the inputs—the HDMI ports for plugging in set-top boxes and game consoles like the
PlayStation 5
and
Xbox Series X
reside on the Zero Connect box. The box then sends both audio and video signals to the TV wirelessly. It also responds to voice commands.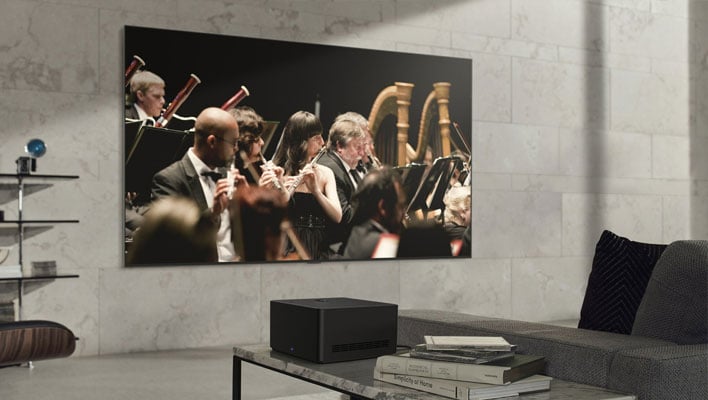 "LG's wireless solution leverages state-of-the-art technologies to provide reliable video and audio transmission to the M3's self-lit OLED screen—allowing users to enjoy content at 4K 120Hz, and clear, crisp sound, without interruption or degradation of quality," LG states.

LG is also trumpeting a special algorithm designed to "instantly" identify the best transmission path to reduce or avoid interference hiccups, like when a person walks in front of the TV (rude!) or a pet meanders by (what are you going to do?). When those things happens, it switches paths accordingly, LG says.
As for the display itself, the M3 is a massive 97-inch unit with an OLED screen, 4K resolution, and 120Hz refresh rate. Other details are not yet known, such as the brightness level. It's worth noting, however, that LG has been a champion of OLED TVs with its well-received C-series and G-series models, which are especially sought after by gamers.
We'll have to wait and see how the
97-inch M3
compares to LG's other models. Same goes for pricing (undoubtedly this will cost a mint) and availability.