Lenovo Retools ThinkStation And ThinkPad Workstations With Latest Intel And NVIDIA Chips
Lenovo just revealed its next generation of ThinkStation and ThinkPad workstations to
"push the limits of creative productivity."
These systems have been updated with
Intel's latest processors
and support
NVIDIA's professional RTX
graphics cards. They're also designed to support Windows 11 (obviously), but several flavors of Linux as well, including both
Ubuntu
and Red Hat Enterprise Linux.
New Desktop ThinkStation Models
There are three ThinkStation P3 (desktop) variants: the Tower, Ultra, and Tiny. The ThinkStation P3 Tower (pictured top) is an "expanded chassis" with support for power supplies up to 1100W and can be configured with up to 26TB of storage across 6 drives. It supports up to an Intel Core i9 CPU with the W680 chipset and up to the NVIDIA RTX A5000 (Ampere) professional GPU with 24GB of VRAM. It also houses up to 128GB of DDR5-5600 memory via 4x
UDIMM
slots. I/O options sound adequate with an array of USB-A and USB-C ports with optional Serial, PS/2, and Flexible IO ports, although the single gigabit ethernet port may be limiting to some users. The tower measures 7.1 x 14.6 x 16.3 inches (180 x 370 x 415mm) which really is not all that large.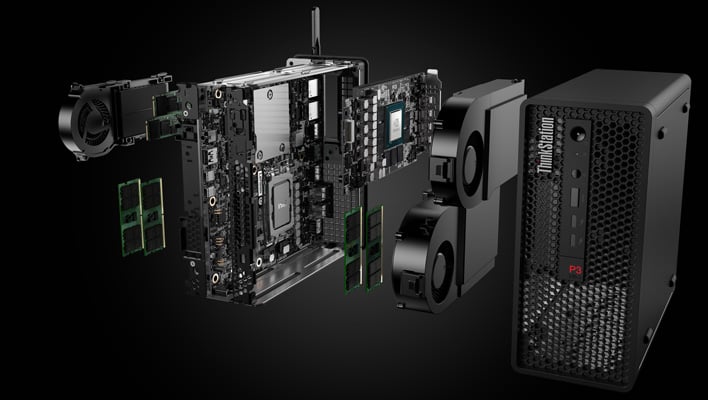 If space is a constraint though, the ThinkStation P3 Ultra measures just 3.4 x 8.7 x 7.9 inches (87 x 223 x 202mm), but matches the larger P3 Tower in several respects. It offers the same top end CPU choices of an Intel Core i9 with the W680 chipset and can leverage up to 128GB of DDR5-5600 memory, though it uses 4x SODIMM modules instead. It substitutes in the mobile variant of the NVIDIA RTX 5500 GPU at the top end with 16GB VRAM, but can also be configured with an NVIDIA RTX A2000 12GB or even an Intel Arc Pro A40 6GB for those who prefer it. Maximum storage is also cut down but can still span up to 9TB across 3 drives and the whole system sips under 300 watts of power. This is the only model with native
Thunderbolt support
listed via 2x TB4 ports on the front.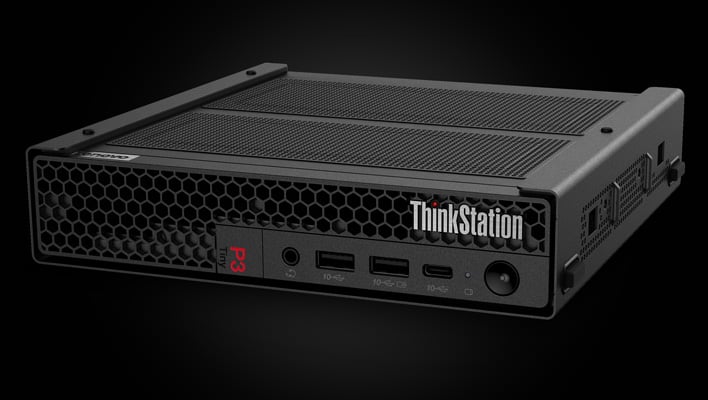 Smaller still, the ThinkStation P3 Tiny lives up to its name with diminutive 1.5 x 7.2 x 7.0-inch (37 x 183 x 179mm) dimensions, but makes some more concessions. Lenovo still advertises support for up to an Intel Core i9 CPU, but uses the Q670 chipset. Its graphics offering tops out at the NVIDIA T1000 with just 8GB of VRAM, but this can still be very capable for a range of uses. Memory capacity is also halved to 64GB of DDR5-5600 with 2x SODIMM slots and storage tops out at 2x 2TB drives for 4TB of total capacity. I/O options are surprisingly healthy with its mix of USB-A and USB-C ports (up to 3.2 Gen 2), and a single expansion slot can be used for Serial/DP/HDMI/Type-C+DP/USB/LAN/Thunderbolt 4.
Fresh Mobile ThinkPad Models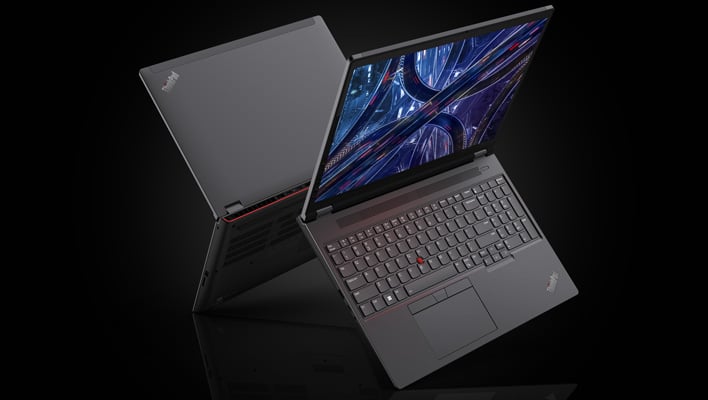 Lenovo's mobile options are more plentiful, and potentially every bit as powerful. The ThinkPad P16 Gen 2 is the flagship model, featuring up to Intel Core i9 HX-series processors and able to wield the NVIDIA RTX 5000 Ada Generation GPU for mobile workstations with 16GB GDDR6. It can be outfitted with even more system memory, up to 192GB of DDR5 using 4x 48GB SODIMM modules. And it features a 16-inch 16:10 display with multiple resolution options, up to a UHD+ OLED Touch panel featuring HDR500 True Black and Dolby Vision certifications. While it does house a 94Whr battery, we wouldn't expect much in the way of extended outings when configured with all that horsepower.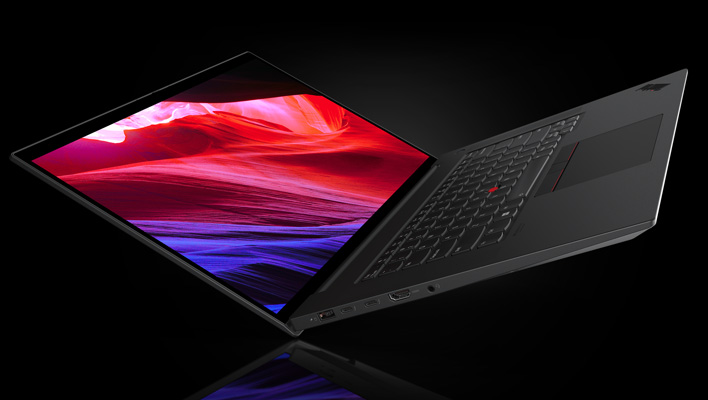 The ThinkPad P1 Gen 6 sits just a notch down. It offers up to Intel Core i9 H-series processors but retains the top end NVIDIA RTX 5000 Ada Generation compute option. Memory is halved to 96GB with 2x SODIMM slots and offers up to PCIe Gen 4 storage where the P16 Gen 2 supports PCIe Gen 5. Its top end UHD+
OLED
panel drops touch and trades the HDR500 True Black certification for HDR400 instead, but otherwise appears to be comparable at 16-inches with a 16:10 aspect ratio. It does offer a significant weight reduction in turn, starting at 3.9lbs (1.78kg) to the P16 Gen 2's 6.5lb (2.95kg) heft.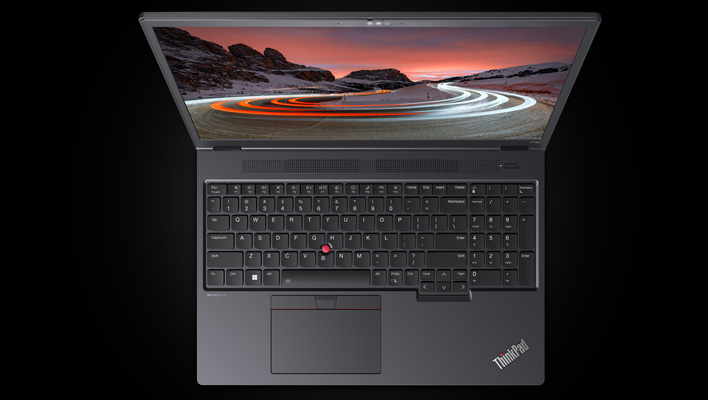 The ThinkPad P16v
i
Gen 1 is more value oriented as a midrange mobile workstation. It still offers up to a 13th Gen Core i9 H-series processor, but the graphics are limited to an NVIDIA RTX A2000 8GB (Ampere) GPU. It is not too dissimilar from the ThinkPad P1 Gen 6 otherwise, with support for up to 96GB of DDR5 memory and trades the top end OLED panel option for IPS with otherwise comparable specifications. It is a little heftier with a starting weight of 4.85lbs (2.2kg) which is not too unreasonable.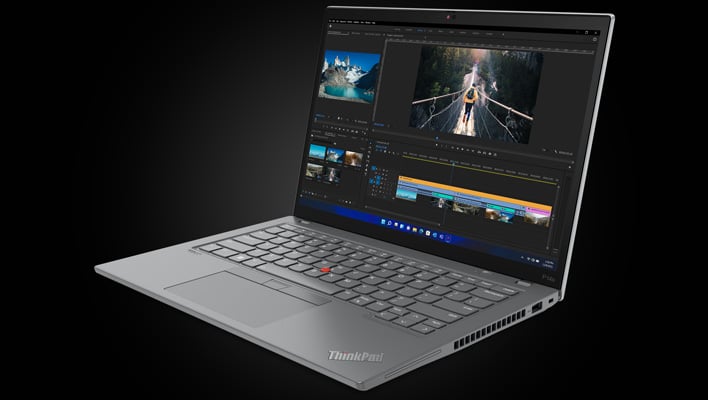 The ThinkPad P14s
i
Gen 4 and P16s
i
Gen 2 bring up the bottom of the stack and are mostly differentiated from each other by size. Both offer up to a 13th Gen Core i7 processor, up to the NVIDIA RTX A500 4GB for graphics, and up to 2TB on a single Gen 4 NVMe SSD. System memory configurations are divided by whether a discrete GPU is selected or not. The discrete GPU route offers up to 64GB LPDDR5x memory while the integrated GPU option is limited to 48GB of DDR5. These are available in both the traditional Thunder Black or in Storm Grey as shown.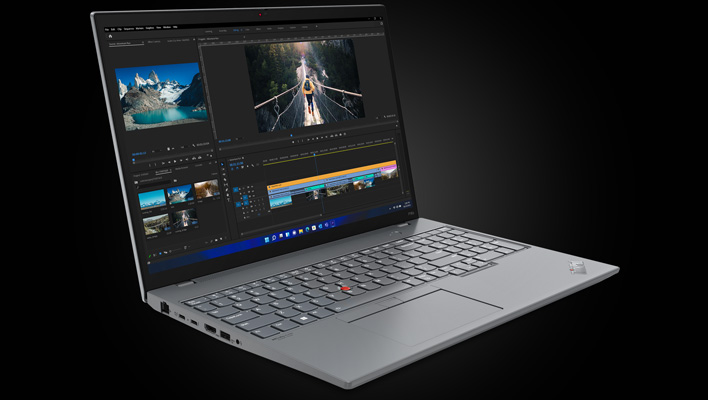 The P16s
i
Gen 2 can be configured with up to a 16-inch UHD+ OLED panel but it lacks touch and HDR certifications altogether. The P14s
i
Gen 4 uses a 14-inch panel that tops out with a 2.8K OLED option with similar drawbacks. Touch is only available for either of these models (and the ThinkPad P16v
i
) with FHD-class WUXGA resolution IPS panels. All of Lenovo's mobile workstation offerings include 2x Thunderbolt 4 ports in addition to an HDMI output (2.0b or 2.1 depending on the model), and all but the P14s i Gen 4 and P16s i Gen 2 include a full-sized SD Express 7.0 card reader.
Availability Of Lenovo's Latest Creations
Every system mentioned here can, of course, be customized to suite the user's needs. Lenovo also offers these systems as part of its TruScale Device as a Service (DaaS) model which it says can allow organizations "a broad range of digital workplace solutions, flexible payment options, and the ability to easily scale IT in line with their evolving business needs." That may be an attractive option to some companies as high-end workstations like these
can be very costly
, which may deter organizations from keeping up with upgrade cycles.
Lenovo says these new workstations will be available starting this month. You can
visit its website
to learn more.