Kioxia Showcases Cutting-Edge PCIe SSDs And XL-Flash At CES
Kioxia showed off an array of new technologies and high-performance solid-state storage products, some with fresh form factors, at this year's CES. Some of the products the company highlighted at CES 2023 include its scalable BiCS FLASH 3D flash memory technology solutions, including XL-FLASH and its 4-bit per cell, or quad-level-cell (QLC) NAND.
"Whether it's the next connected vehicle, the next personal mobility device, or the next smart city, we keep advancing flash memory to make the next thing possible," remarked Alex Mei, Vice President of Corporate Marketing for Kioxia America, Inc. He continued, "Countless consumer devices and applications require flash memory and
SSDs
, and we are committed to continued innovation."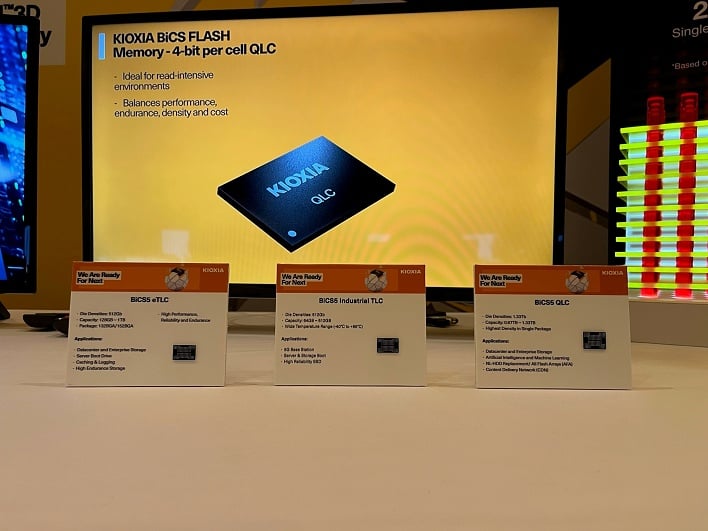 BiCS FLASH is unique with its three-dimensional (3D) vertical flash memory cell structure. The company's TLC 3-bit-per-cell 1TB BiCS FLASH is an industry first and enhances the reliability of write/erase endurance while simultaneously increasing write speeds. Kioxia is also showing off the first 3D flash memory device to ever feature 4-bit-per-cell, or quadruple-level-cell (QLC) technology, in its 1.33TB BiCS Flash.
Kioxia XL-FLASH storage class memory features a 16-plane architecture and improved latency. According to Kioxia, XL-FLASH has a fast page read and program time, as well as high cell reliability. It includes scalable BiCS FLASH 3D technology and 4KB page size for more efficient operating system reads and writes, but unlike conventional flash memory products, the word bit lines are addressed in short dimension and optimized for the unique circuit structure, which reportedly reduces read/write latency.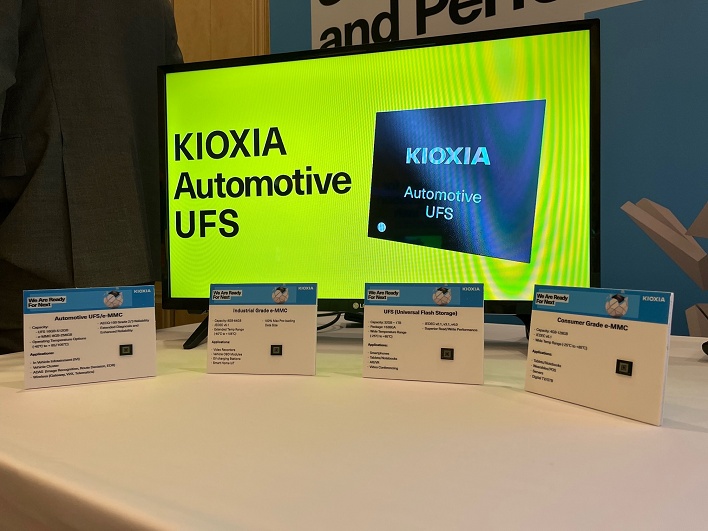 Kioxia also featured its flash memory solutions for automotive, consumer, and industrial applications, which included SLC NAND, UFS 4.0, and XFMEXPRESS. UFS will likely be the successor to e-MMC for many applications. Compared to e-MMC, UFS delivers a faster interface, higher performance for reads and writes, higher density, better power efficiency, and support for full duplexing.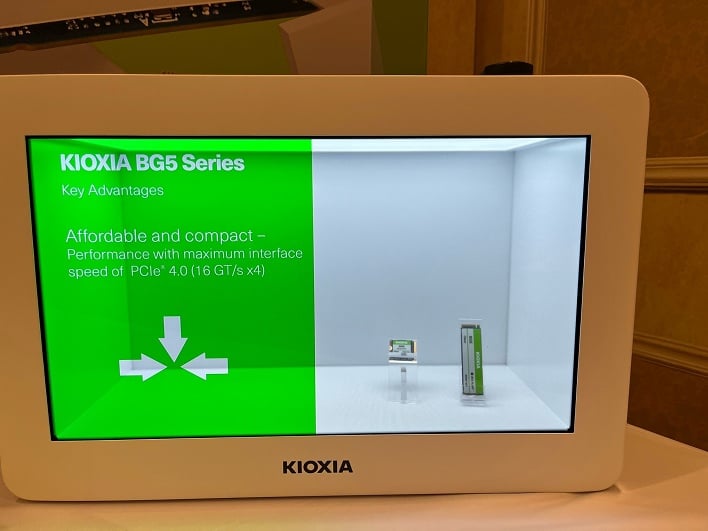 In terms of client SSDs, Kioxia had
its latest XG8
and BG5 Series NVMe SSDs. The BG5 Series is a line-up of compact form factor NVMe SSDs that feature capacities up to 1TB, and the XG8 is a high-performance PCIe gen 4 NVMe, targeted at OEMs and ODMs.