Japanese Startup Built A 3-Ton Gundam-Like Robot You Can Wear, All You Need Is $3M
A Japanese startup has built a 3-ton Gundam-like
robot
that anyone can wear if they have an extra $3M to purchase one. The ARCHAX was designed to maintain its unique look while not compromising function.
Tsubame Industries developed a 4.5-meter tall, four-wheeled
robot
that gives onlookers the thought of being able to make their wildest Gundam dreams come true. The name ARCHAX was derived from the avian dinosaur archaeopteryx. It has two modes, the upright 'robot mode' and a 'vehicle mode,' which allows the user to travel up to 10km (6 miles) per hour.
"Japan is very good at animation, games, robots, and automobiles, so I thought it would be great if I could create a product that compressed all these elements into one," remarked Ryo Yoshida, Chief Executive of Tsubame Industries. He added, "I wanted to create something that says, 'This is Japan.'"
The company says that the ARCHAX was designed with international standards for mechanical safety in mind. It added that their responsibility as a developer and manufacturer is to provide robots that can be "operated with peace of mind." The company conducted risk assessments based on ISO and JIS to produce a highly reliable and safe-to-use robot.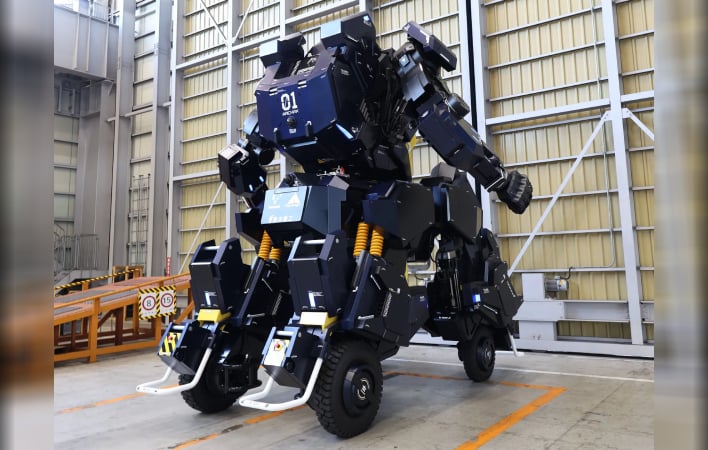 The
robot
is comprised of a boarding hatch, double arms, and four legs (wheels). It is battery-powered with front-wheel steering and rear-wheel drive. Its frame is a welded structure of iron pipes and steel plates. It has sufficient strength and rigidity to withstand changes in load conditions due to mode changes and the movement of various parts. The company says it was designed to give the user a sense of unity with the robot.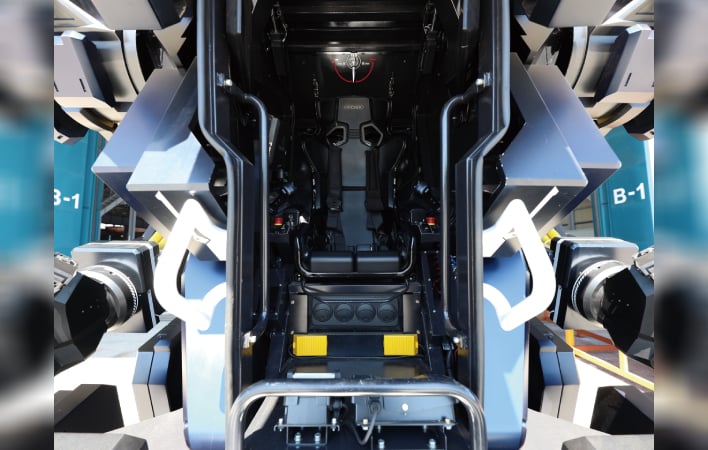 Ladders and handrails lead the way to the cockpit at the front of the ARCHAX. A three-point support enables users to get on and off the vehicle stably, but is also incorporated into the design so as not to spoil the overall design. Inside the cockpit are four displays that show images from the built-in cameras that are arranged to match the orientation of the front, rear, left, and right side cameras. Nine cameras automatically switch to provide the best visibility according to the pilot's operations. The displays also provide necessary information such as speed, tilt angle, remaining battery, and arm and aircraft status.
Tsubame hopes to sell at least five
ARCHAX
units to consumers. Yoshida hopes it can be implemented for disaster relief or in space in the future.