Your iPhone With The Old Twitter Logo Could Be Worth $25K Or More
Some used-phone sellers are trying to cash in on certain iPhone models still bearing the now-defunct Twitter logo, and for quite a load of money. With Elon Musk
rebranding Twitter to X
, something to match his sub-brands' naming convention, a trend to obtain older iPhones still with the Twitter app installed could be on the rise, especially in the collector's market.
Several Apple devices with the old Twitter app logo have been listed between $800 to $1,000, which are pretty decent, but some sellers are asking for substantially more. At the most extreme, we saw another going for $25k—props to anyone for having that kind of spare change lying around. That listing for an unlocked Twitter icon
iPhone 11 Pro Max
has since been taken down due to an error in the listing, however, it wasn't the only 5-figure ask. An iPhone 13 with original Twitter logo is currently flaunting
a $15k "Buy It Now"
option on top of its $10k starting bid.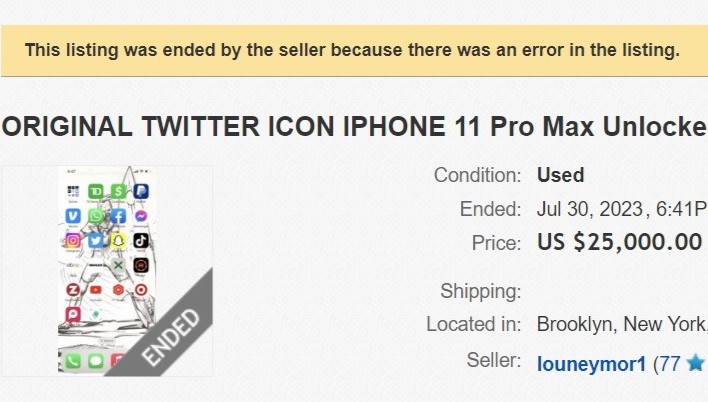 This collector trend (if it ever becomes one) echoes a similar time when the fan-favorite Flappy Bird was removed from the Apple App Store and Google Play Store. The popular game had such a huge following when the app
was finally rescinded
that phones with the game still installed started to blow up in value in the used market. One example was a space gray AT&T 16GB iPhone 5s that was listed at a $650 starter that eventually bloated to $99,900 74 bids later.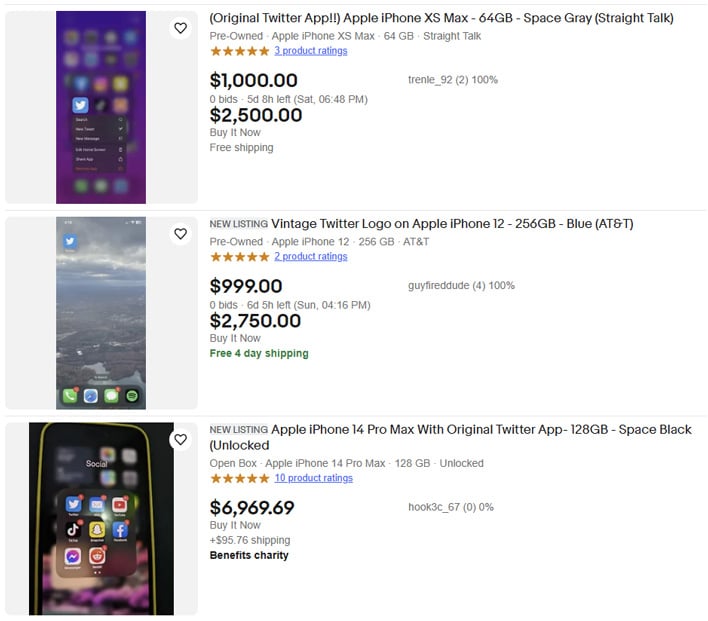 On the flipside, Android devices with either of these older apps on eBay are harder to come by—not because of rarity, but because it would be a harder sell. This is due in part to Android allowing users to easily sideload older APKs (Android Application Packages) if they want to opt out of latest app updates. While you can sideload apps on iOS devices, it requires significantly more legwork to make it happen.
As a tip to any would-be buyers or sellers, make sure to keep the device in airplane mode, disconnected from any networks, and disable app auto-updates. It may not allow you to actually use the Twitter app, but you wouldn't want an over-the-air update spoiling your precious investment, would you?