Say Goodbye To Twitter And Its Iconic Bird Logo, And Hello To X Powered By AI
Elon Musk has shown off the new branding logo for the upcoming move from Twitter to Musk's self-proclaimed "everything app," X. While Twitter CEO Linda Yaccarino praised employees and said the company was "moving at the speed of light" in an internal memo, some security experts worry that the rapid change could also pose
security risks
to users.
Musk
sent Twitter abuzz yesterday after announcing that X.com now redirects users to twitter.com and that the interim X logo would go live later in the day. Yaccarino gave a little more insight through a tweet into what the "everything app" would consist of. In part, she remarked, "Powered by AI, X will connect us all in ways we're just beginning to imagine."
ChatGPT
. The official website for the new AI company states, "The goal of xAI is to understand the true nature of the universe." The announcement came after Musk had called for a pause in an "out of control" AI race, and remarked that AI could cause "civilization destruction," according to a report by
CNN Business
.
At one point, the billionaire challenged the Twitter community, saying that if someone came up with a good enough idea he would launch the new logo later that day. After thousands of people tweeted how they imagined the X logo should appear, it was a design by
Sawyer Merritt
that caught the attention of Musk. The simplistic, yet elegant, logo design was later made official as it was projected onto the side of Twitter headquarters (see top image).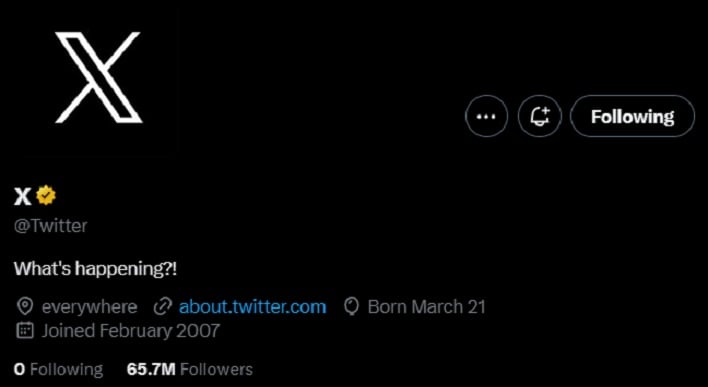 While the move to X has some excited at the possibilities it could bring, some security experts are concerned that the hurried rebranding could expose users to a flurry of security issues. The problem lies in the fact that it appears Musk was in such a rush to make the move more official, that the company did not even secure the x.com web address until very recently, with some still seeing that the x.com domain was still available on GoDaddy yesterday.
"Due to the soft launch and limited information online and even initial DNS problems, people searching for the new URL could potentially come across copycat sites wanting to steal Twitter login details," explained Jake Moore, global cybersecurity advisor at security firm ESET, in an interview with Forbes. He added that the race to rebrand presents "the perfect opportunity to send a phishing email requesting users to sign in via the new URL. This could trick multiple users into handing over their credentials without their usual level of due diligence."
In Yaccarino's memo, she told employees, "Please don't take this moment for granted. You're writing history, and there's no limit to our transformation." She added, "With X we will go even further to transform the global town square -- and impress the world all over again."
Elon and Yaccarino vow to keep the
Twitter/X
community up to date as to what can be expected with the rebranding. As more information is made available, it will be interesting to see how many actually decide to jump ship for one of the competitors, such as Meta's Threads app, Mastodon, and the still very exclusive Bluesky. For now, it seems that X = Twitter + PayPal + AI, with more to come.