Intel-Powered Hackboard 2 Bites Off A Piece Of Sweet Raspberry Pi
Single-board computers seemingly get more powerful by the day. The
Raspberry Pi 4
gets all the attention and a lot of software support, but there are plenty of other alternatives out there that also deserve your attention. One new SBC will run x86 Windows 10 or most Linux distros without any need for platform-specific support, and promises to hit a low enough price point to give the Raspberry Pi serious competition. Not only that, but a Windows version for not a whole lot more money looks like a real winner.
The Hackboard 2 is a newly-announced tiny x86 PC powered by an
Intel
Celeron N4020 processor. This is a dual-core CPU based on Intel's Gemini Lake Atom architecture with a base clock of 1.1 GHz, maximum turbo speed of 2.8 GHz, and 4 MB of cache. Intel's integrated UHD 600 graphics handle video output duties. While that's not the beefiest CPU around, it's soldered to a completely integrated motherboard that measures just 120 x 80 millimeters (4.72 x 3.15 inches). There's 64 GB of eMMC storage, 4 GB of system RAM, and a pair of NVMe slots that accommodate SSDs for up to 4 TB of extra space.
As a small SBC, the
Hackboard 2
has a 40-pin GPIO pin header to connect all sorts of external gear, making this system a relatively powerful home automation tool. There's also a 21-pin camera header to use the Hackboard 2 as the backbone of devices with integrated cameras. For networking, the Hackboard 2 has integrated Wi-Fi, Bluetooth, and Gigabit Ethernet, and there's optional 4G LTE and 5G support as well. HDMI 2.1 and a 30-pin eDP connector with a touch input support handles video output, and USB 3 allow the Hackboard to connect to input devices, as well. Its small size and high expandability make it a likely candidate for industrial applications, home security monitoring, and a homemade media streaming box.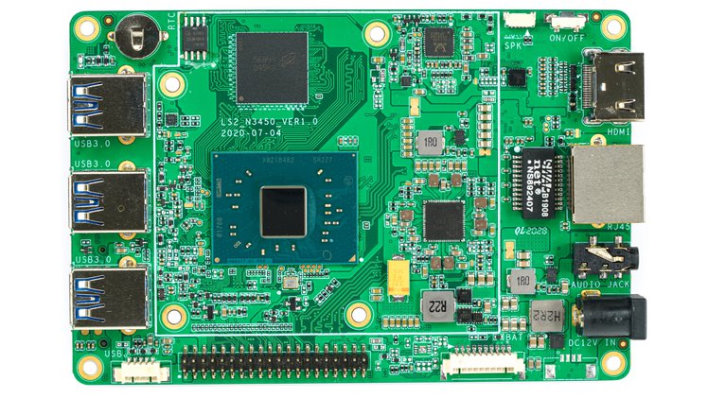 Hackboard (the confusingly-named company behind the Hackboard and Hackboard 2) says this is the most powerful device in its class, and it's kind of hard to argue against that point. The system will only cost $99, and it's available to pre-order from
Hackboard's Crowd Source
page. That price gets the Hackboard 2 computer running Ubuntu Linux, a 36-watt power supply, a heatsink, and antennas for the onboard wireless communications. Hackboard also offers multiple different kit configurations, including a $140 option with Windows 10 Pro or a $180 Starter Kit that also adds a wireless keyboard with an integrated touch pad, case, and video camera. Lastly, the Complete Kit adds a 13.3" 1080p IPS touch display and a protective cover that also doubles as a case. All Hackboard 2 kits are scheduled to ship at the end of April, 2021.
Hackboard 2 seems to offer an awful lot of power and value for just $100, the real kick for us seems to be in the Starter Kit. Not only does that include a Windows license, but also what seems like a nice ABS enclosure and keyboard. It seems that this might make a really nice living room PC capable of streaming
Netflix
, Hulu, and any other services thanke to its integrated wireless communication. It also looks like a nice, inexpensive system that could act as a useful classroom computer, as well.