Intel NUC X15 Laptop Kit With An Arc A730M GPU Breaks Cover At A Great Price
It's been a couple months since Intel announced it was
halting investments
into its popular NUC business while simultaneously hammering out a non-exclusive license agreement with ASUS to manufacture, sell, and support current and future NUC devices. Be that as it may, a new (sort of) NUC device has launched in Europe, though it's not a mini PC.
Bestware, the e-commerce platform of Schenker Technologies GmbH, announced that it is now offering the Intel NUC X15 Laptop Kit with Arc A730M graphics at a reduced starting price of €899 "for a limited time at launch." This is the higher-end configuration of the two NUC laptop designs with Arc Alchemist GPU hardware inside, the other being a version with an Arc A550M GPU.
It's not clear to us when exactly Intel launched its NUC X15 laptop line with Arc graphics. The Arc A730M and Arc A550M configurations leaked out a little over a year ago and either never released to retail or flew under the radar. We found a few listings for the Arc A730M config (LAPAC71H) at Newegg starting at $860.90, though all are from marketplace sellers in China.
The NUC X15 actually dates back even further, though the first models that
released in 2021
paired Tiger Lake CPU hardware with GeForce RTX 3060 and 3070 graphics. Those were discontinued around the time the Arc-powered variants leaked out.
These are essentially reference gaming laptops that manufactures can custom configure. The baseline specs of the NUC X15 Arc that's now available in Europe sports a 15.6-inch IPS display with a 1920x1080 resolution and 144Hz refresh rate, Core i7-12700H
Alder Lake
processor, Arc A730M graphics with 12GB of GDDR6 memory, 16GB (2x8GB) of DDR5-4800 RAM, 500GB Samsung 980 SSD, Wi-Fi 6 and Bluetooth 5.2 wireless connectivity, and an RGB-backlit keyboard.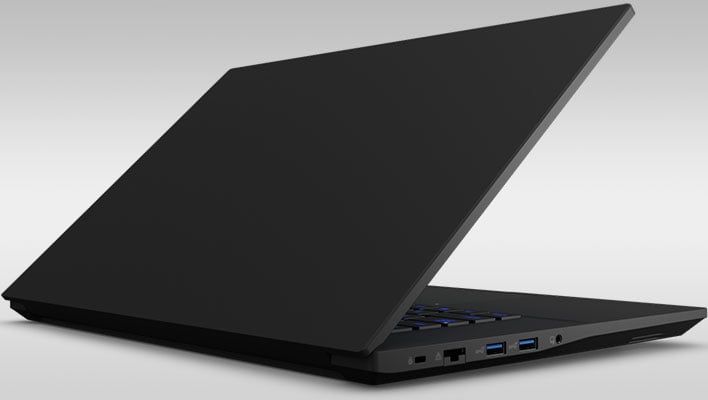 Bestware is offering a limited amount of customization; specifically, buyers can select more RAM and/or storage (up to two M.2 SSD slots). Also of note is that these laptops do not come with an OS installed by default, so that's a potential additional cost.

You can find Windows licenses pretty cheap if you know where to look, though. Bestware's
introductory €898.99 price
is valid until the end of the month, after which it goes up by €100. The discounted price is really good for what can be considered a capable 1080p gaming laptop. That's partially because it's based on last-gen CPU hardware, though Alder Lake does bring with it a hybrid architecture that has become Intel's de facto standard in CPU design.
If you live in the US and want to try your luck with a marketplace seller, you can find the same config for even
less on Newegg
, and it comes with Windows 11 Home to boot.