Intel Issues Temp Workaround For Stuttering Ethernet In Windows As It Scrambles For A Fix
Intel has provided motherboard makers with a patch to sidestep stuttering and disconnecting issues with certain Ethernet controllers, including the one found on many of the newly launched 700 series boards for
Raptor Lake CPUs
. However, it's only a temporary workaround while Intel continues to investigate the situation and work on a permanent fix.
In a post on Intel's community forum, a company employee said engineers were able to reproduce the problem but have not yet identified the root cause. However, they have come up with a potential short-term solution.
"Intel has reproduced the issue and is diligently working on a root cause and fix. For any of our customers experiencing this problem, a mitigation option to explore is to disable the 'Energy Efficient Ethernet (EEE)' mode in the Advanced Windows/ Linux driver setting. We believe this should help. We are continuing to assess the situation and will follow-up accordingly," the employee stated.
The employee is also asking affected users to share their experiences and specs in the thread. There are a dozen replies at the time of this writing, with users reporting issues on various ASUS and MSI motherboards, each of which is based on the
Z790 chipset
.
These all stem from Intel's i226-V 2.5 Gbps and Killer E3100 2.5Gbps Ethernet controllers. Based on Intel's workaround, something is clearly awry with the baked-in energy saving mode that's designed cut energy consumption in half when idle. It seems to be initiating even when a connection is active, resulting in annoying stutters and even complete disconnects.
This is not something a potentially affected user would notice if they're connected via Wi-Fi, as it only affects the wired LAN port(s).
If you're affected by this, you can check your motherboard manufacturer's website to see if a patch is available. A quick glance shows it's hit or miss—we found one for the MSI's MPG Z790 Carbon WiFi, but not for the ASUS ROG Strix Z790-A Gaming WiFi D4, both of which sport affected LAN controller hardware.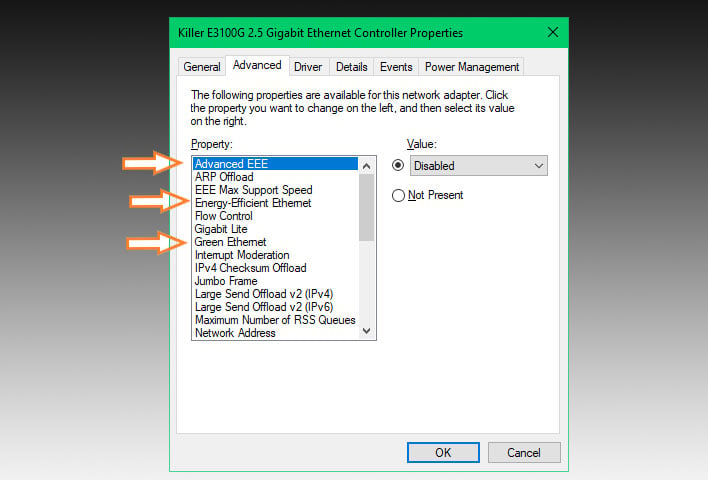 Source: kougar (via EVGA's forum)
Alternatively, you can try manually disabling energy saving features associated with your Ethernet controller. Credit to kougar on EVGA's forum for sharing a screenshot of the appropriate settings. You can find them by following these steps:
Fire up the Task Manager (type "Task Manager" in Windows Search)
Expand the Network adapters tree
Right-click on the affected adapter and select Properties
Select the Advanced tab
Highlight the appropriate settings and change the value to Disabled
If you go the manual route, just remember to revert back whenever Intel and its partners ship out a proper fix for the
Ethernet bug
. Or if you don't care about the energy management feature, go on with your bad self.